In a world of influencers and Instagram models, consumers are either more skeptical or more naïve than ever. Scroll through any social media page and you'll be met with a brand or sponsored post, only some of which are called out as advertisements. The lines between branded and non-branded content have never been blurrier. It has changed how we define a commercial, and how we define celebrity sponsorships.
Look no further than the music industry. In the past ten years, the industry has gone through monumental shifts in how music is distributed, and therefore, how much revenue artists receive (by and large, less). Looking at the chart below, it is clear to see how quickly the subscription and streaming model has grown as a source of digital revenue. From no notable revenue from this source until 2010, it steadily grows to roughly $4 billion in 2016.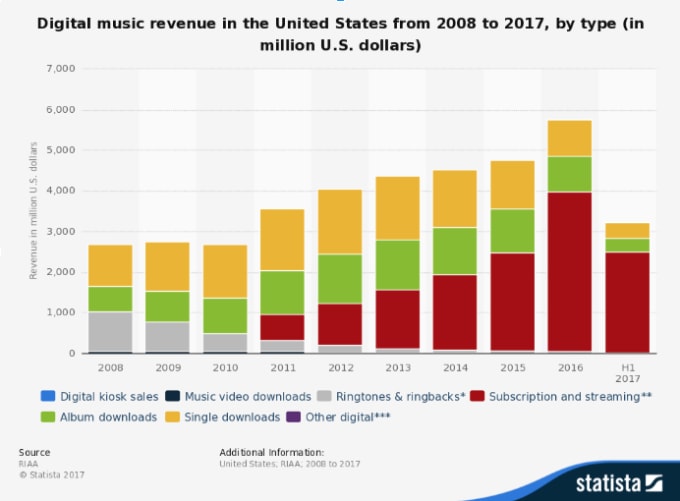 As the RIAA states, "At wholesale value, the industry was up 14.6% to $2.7 billion... but overall market revenues are still significantly below the levels they were in 1999." That was the U.S. industry's biggest year ever, when revenues approached $15 billion. Still, there's cause for optimism. The RIAA's most recent data shows that 62% of industry revenue in the first half of 2017 is from streaming services.
Meanwhile, brands in 2017 are waking up to the fact that consumers need something more convincing than loyalty schemes and advertising. Brands have developed personalities, to the extent that their social handles get into petty Twitter wars, just like us. In a time when content is king, and social platforms are threatening traditional advertising, brands are seeking out ways to gain customers without just filling space on a screen. If product placements were for Gen X, branded content and experiences are for Gen Y and Z.
Dr. Reece Akhtar, an Applied Psychologist at University College London, says "brands endorse and collaborate with music artists and influencers in order to infiltrate subcultures, and cement themselves as integral members of the community."
IF PRODUCT PLACEMENTS WERE FOR GEN X, BRANDED CONTENT AND EXPERIENCES ARE FOR GEN Y AND Z.
The meaning behind brand and artist partnerships has evolved quickly within the new music landscape. When you think of the following partnerships, what comes to mind? Diddy and Ciroc, Nicki Minaj and MYX Moscato, Vince Staples and Sprite. You can likely see these artists holding said products in various posts and ads, and recall mentions on tracks: "Myx Moscato and vodka, I'ma mix it."
These artists are brand ambassadors—they are paid to spread the brand's image using their influence. Nicki and Diddy both have stakes in the companies, which means co-branding is even more in their interest, irrelevant of how much they might actually enjoy the product. 
Maurice Bernstein, the founder of brand agency Giant Step, told Paste Magazine, "The old model of sponsorships has been replaced by partnerships creating a much more collaborative and symbiotic relationship… In the late '90s, we found that artists were very skeptical of a potential relationship with a brand. Many artists were concerned that fans would see them 'selling out.'"
What does selling out mean in 2017? Twenty years ago, there was less of a need for artists to attach themselves to a third party when physical sales revenues were providing a solid income. The chart below shows the increase of revenue between 2000 and 2016: live music, music publishing, merchandise, branding, and sponsorship all increased. But there is a significant percentage drop from recorded music: 53% in 2000 compared to 38% in 2016.

And as the lines of digital and physical worlds blur, the power of an artist co-sign is weakening. Ten years ago, you only knew if one artist liked another when you heard them on a track, or they got shouted out in an interview. These days, it could be as simple as a late night tweet or snap. Fans become used to seeing established artists with rising stars, and because the incidence is higher, the association is less powerful.
FANS BECOME DESENSITIZED TO SEEING ESTABLISHED ARTISTS WITH RISING STARS, AND BECAUSE THE INCIDENCE IS HIGHER, THE ASSOCIATION IS LESS POWERFUL.
The purest form of co-sign is where the artist is actively involved in the design of the product they are promoting. Skepta and Nike recently got together to create SKAir. Dr. Akhtar comments, "When grime fans think of Skepta, Nike Air Max instantly comes to mind. This creates a symbiotic relationship between the consumer, the artist and the brand, where each supports the other in promoting a tribe, lifestyle and identity."
Skepta confirms this connection in a recent interview with Hypebeast. "Fresh Air Maxes, especially being from London, is something that we've always known," he said. For Skepta, Air Maxes are part of the culture he has taken globally with Boy Better Know. 

Kojey Radical is an artist from East London and a man of impeccable style. Kojey is no stranger to brands asking him to wear their clothes. He has forged a collaborative partnership with Adidas EQT (a sub-brand that promises "everything that is essential, nothing that is not") and we asked him how his relationship with Adidas is different. 
"When I worked on the EQT launch," Kojey said, "Adidas helped me set up a poetry workshop and Q&A that allowed me to connect directly with fans of work and give back something that can be valued in the future. I've worked with other brands in the past that have been quite strict on what you can and can't say. But my relationship with Adidas [is] based on what I want to do and how they can help facilitate."
Granted, brand involvement doesn't necessarily leave the classic artist co-sign out in the cold. If someone like Jay Z or Kanye puts you anywhere near an album, you'll get a few calls. Most importantly, an artist co-sign does something a brand cannot; it is making a direct comment on the music itself, not just on their image. 
Allan Kingdom's followers skyrocketed after featuring on Kanye's "All Day," and Kendrick Lamar got a huge co-sign from one of his childhood heroes, Dr. Dre. And sometimes it is as simple as a shoutout: Migos' "Bad and Boujee" climbed the Billboard 100 to number one after Donald Glover mentioned it in his Golden Globe acceptance speech, not to mention a 243% increase in Spotify streams.
Thank You Donald Glover! #Culture 01.27.17 pic.twitter.com/BzSwDZdEPi

— MIGOS™ (@Migos) January 9, 2017
Artist co-signs can also go one step further, to actual label signings. A signing from an artist-founded label is the most solid support an artist can show to a peer, as they are risking their personal and business brands, not to mention financial liability. Labels like Roc Nation, GOOD Music and Dreamville Records are founded by a selection of the most successful artists of our time. As an artist-created entity, these labels are giving a co-sign from both an artist, and from a brand.
AS AN ARTIST-CREATED ENTITY, THESE LABELS ARE GIVING A CO-SIGN FROM BOTH AN ARTIST AND FROM A BRAND.
One label that has taken this model to new commercial heights is OVO. Seeing artists in head-to-toe OVO merch on Instagram is a co-sign, as is having a track played on OVO Sound Radio. None of these involve appearances from Drake, but his approval is implied; the owl is Drake's eyes and ears. With the omnipresence of the OVO brand comes the "Drake effect." Most recently, he's made his mark on the U.K. music scene by collaborating with the likes of Skepta, Giggs, Jorja Smith and Dave.
Some brands are similarly invested in the future of an artist, and provide them with the physical tools to elevate their career. Red Bull Music Academy (RBMA) is a standout example of this. They describe themselves as, "a global music institution committed to fostering creativity in music. We celebrate music, its culture, and the transformative minds behind it." They host events, lectures, festivals, studio sessions, broadcast radio, and produce an online magazine.
From a study of "Brands and Bands" by frukt, 68% of artist managers said that, "Brand partnerships are an increasingly important factor in adding value to an artist's career." When asked why artists partner with non-music brands at all, beyond the monetary value, Kojey Radical says, "It's very easy to get lost in the name sake, but in reality brand partnership is good indication of your worth and what you have the potential to achieve on your own in the long run."
He's right—artists should see their brand match as at least on their level, if not an aspirational level or two up. If the brand isn't propelling an artist forward by extending their reach, then perhaps it's not worth the paycheck.
Building a brand is how artists succeed, because in reality, quality music isn't always enough. With tools like Spotify for Artists, unsigned artists can make informed and strategic moves. Artists can bring their vision to life without a label, opting instead to seek the help of a carefully chosen co-brand, and a steady stream of music. Or maybe they just need a feature or co-sign from the right artist. Regardless, the idea of "selling out" doesn't mean what it once did. There are more options than ever—the only question is which path to pursue.