In February, Lana Del Rey returned with her brand new single titled "Love." In the time since its release, Lana has been dropping subtle hints here and there about her forthcoming album. However, today she's back with much bigger teasers for her patient fans.
In a newly released trailer, Lana delivers a short speech detailing her absence, creative process, and what it's like to live amongst the stars of "Hollyweird." The trailer features what seems like a few riddles, possibly hinting at her new music, or perhaps just speaking on the music industry in general. 
Before the trailer ends with the reveal that her new album—titled Lust for Life—is due out soon, there are a few quick glimpses of symbols floating above her head that seem to give away more answers. The Weeknd's famous XO symbol can be seen momentarily, and earlier this week she simply tweeted: "XO," which seems to confirm that The Weeknd will definitely return the favor of making a guest appearance after she appeared on his recent Starboy album.
Yet, the other symbols that float around her heard during the same time we see The Weeknd's symbol leaves us few unanswered question. What's the reason for the whisk and pot? Is that seemingly angelic symbol also another feature hint? It's difficult to tell at the moment, but Lana is surely building up the anticipation for Lust For Life.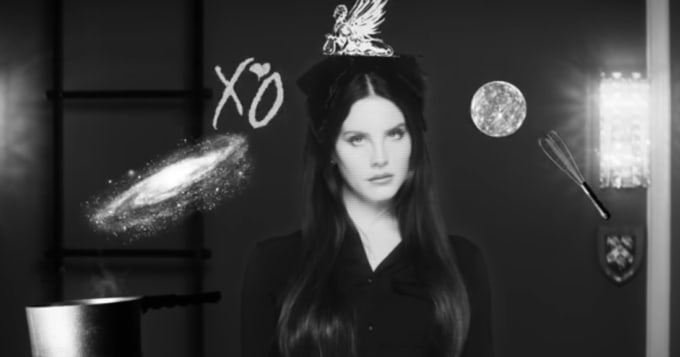 Watch the full trailer above.
Related: Lana Del Rey Interview