At a studio on New York's Upper East Side, I've just met up with Wyclef Jean, ostensibly to talk about new music, but at the moment, Clef's mind is 1,500 miles away, in his native land of Haiti—and understandably so. Only a day before, Hurricane Matthew had become the latest disaster to befall the Western Hemisphere's most hard-luck nation, striking Haiti's isolated southern peninsula, leaving tens of thousands homeless and claiming hundreds of lives. 
Wyclef has been one of Haiti's most visible ambassadors in the past two decades. He's repeatedly drawn on his Haitian roots in his music; he organized a hugely successful telethon in response to the nation's devastating 2010 earthquake; and he even fielded a short-lived run for president of the country, until his candidacy was ruled ineligible. In the studio, Clef is excited to play me "Lady Haiti," an ebullient new addition to his EP J'ouvert, out next month. And, without a doubt, one of the most memorable trips I went on in my time at MTV News was a 1997 homecoming visit to Haiti with Wyclef and The Fugees, riding high at the time on the success of their acclaimed LP The Score. 
That album turns 20 this year, and while a possible Fugees reunion is still up in the air, Wyclef is re-energized about getting himself back in the music game. It's been seven years since his last album, From the Hut, To the Projects, To the Mansion, and six since the EP If I Were President. But next summer will bring Carnival III: Road to Clefication, the third installment in the musician's series of albums that mix genres and generations, and often feature unlikely collaborators: the new record includes contributions from Joey Bada$$, Emeli Sandé, and Daryl Hall teaming with Pusha T, on a re-working of the Hall & Oates nugget "Rich Girl." But no current collaborator has Wyclef more excited than Young Thug, who's featured on the track "Kanye West" from Jeffery—a mixtape that also included a track called "Wyclef Jean." Thug returns the favor on Clef's J'ouvert on the bright and bouncing reggaeton opening song "I Swear." 
The two artists seem to have quite the mutual admiration thing going—in our conversation with Wyclef, he speaks glowingly of Thug's love for Haiti, calls the Atlantan a "revolutionary," and even likens him to Tupac and David Bowie. We also discuss Clef's own entry into what he calls "acoustic trap" on the autobiographical new song "Hendrix" and the very timely "Life Matters." A month before a very consequential presidential election, the man who named his band after refugees also weighs in on a xenophobic candidate who wants to ban Muslims, deport Mexicans, and build a wall. But we begin, as so many conversations with Wyclef do—with Haiti—and the most recent catastrophe to befall his homeland. 
Wyclef, it's been a long time. What's the latest with the hurricane, and do you have plans to go to Haiti?
 
When you live in these regions, you're not going to avoid natural disasters. But somehow different islands are able to manage it in a way that they're able to prepare for it through logistics, before it happens. The situation in Haiti, the whole southern coast—it's sort of like the levee situation that happened in New Orleans. Very low-lying, there are cars floating, lots of destruction and the amount of deaths, they are not sure yet. [Ed. Note: It's now estimated at over 1000.] The urgency right now is for shelter, wearables, and food and medicine. When you first met me, at the time [1997] I felt like, "I can save the entire island!" Like, "I can take 15 million people and save 'em." But what I've found out since is, you have to be calm and figure out who's already down there, like the UN, because the shit gotta get to the people. So we're figuring it out.
The focus for me has not been the music. You can basically see when I checked out of music and had my John Lennon moment.
For years now you've only had a few singles out here and there—two with Avicii, the infectious "My Girl" earlier this year. But with the new EP you're making a return. Why's it been so long? 
The focus for me has not been the music. You can basically see when I checked out of music and had my John Lennon moment. So similar to John Lennon, I might put a song out here, a song out here—but the idea of a complete body of work, it takes a certain amount of focus, and sacrifice. I could put a song out here or there, I could do that. But now, my brain has been concocting what is starting to sound like Carnival III. And it starts off with the new EP called J'ouvert, to celebrate the culture. 
J'ouvert is the name of a celebration? 
Yeah, so J'ouvert is the carnival. The start of the carnival is called the J'ouvert. So the full-length Carnival album is going to come out in June, and this is saying this is the start of the carnival. And because I have so much music that I'm working on and sitting on, now I'm feeling like I can concoct this into a crazy album.
"Hendrix" is already out, and it's got this dusky "acoustic trap" vibe that's new for you—but the majority of J'ouvert is very upbeat and celebratory. So people shouldn't be thinking, "Oh, Wyclef has gone trap." 
Keep in mind that Wyclef is known as an innovator. Through my whole career there hasn't been any form of music as a producer that I haven't tapped into. I mean listen to The Carnival or Shakira "Hips Don't Lie," Santana "Maria Maria," Whitney Houston "My Love Is Your Love," Lil Wayne, Akon—any real Wyclef fan would not be like, "Oh did Wyclef go trap?" They automatically know that this is a transition. I love sonics, so for me, this was branded "acoustic trap," and that's what it was: a fusion of acoustic guitar against the trap sonics, you know what I mean? Those who know me know this is what I do. I cross genres. And if I'm inspired by a certain sound, I'm gonna do that sound.
And of course Young Thug is over time revealing himself to be more than a one-trick artist too. He's on your new song "I Swear" but it began when you appeared on the Jeffery mixtape. 
My management gets the call and they're like, "Yo, Jeffery's trying to track you down, because there's a track that he needs you on." And he's got everybody like, "Find Wyclef, find Wyclef." So I go down to Atlanta, and the first thing he's playing me is his mixtape. And he's like, "You're one of my greatest inspirations." He shows me his tattoo, it says "Haiti." He says, "Yo I named my daughter Haiti, my projects are named Haiti."
Sometimes you don't realize who you are affecting. But he's from a project, I'm from a similar background. And he has a natural love for Haiti, understanding the history of Haiti. Haiti is the first black republic. He reminded me of a modern Tupac, in a sense—in a revolutionary sense. I mean that by, alright, you might see a thug, but his connection to history seemed similar to what Pac understood, of like, "This is who the Black Panthers are. Read this book, read that book." This kid understands. I sent him the Ghosts of Cité Soleil documentary. He must have seen it like 10, 15 times. He is like a sponge when it comes to history. He likes to absorb a lot of information, and actually wants to learn.
So you've got your verse on "Kanye West" where you kind of play the wise adult to his thirsty main vocal, and you're also this voice in the background going, "Jeffery"…
Like a lullaby, yeah! [Laughs] 
Exactly. 
Yeah so, we went in the studio, and he plays me the track called "Wyclef Jean." And then he says, "But I have this other idea, it's called 'Kanye West,' and this is the concept." And I hear it, and I go in there, and I do what I do. Now, if you know the record, you know that don't sound like trap. That sounds like reggae. So keep in mind, now, Thugga can step out of his comfort zone. And he's like, "You know, I only just discovered how to do trap music recently. Let me play you what you inspired me." He started playing me some of the best music I've heard in my life! Acoustic guitars against 808 drums, vocals, like Paul Simon hooks.
When he got signed, they didn't sign him for trap stuff. They signed him cause he was writing these songs. This is what's incredible about him, and he's moving in this reggae space like crazy. And so it was magic. It was his birthday, and he just plays me the track. I was just wrapping my head around like, "How am I gonna approach this?" And I thought, "I'm gonna approach it from being like the elder, the adult, saying, "Okay man, there ain't a thing you do that I ain't do, so if you go do this, just be careful. Because it could go down either way."
So I go in the booth, I got the concept, and while the track is vibing, I'm just warming up my voice or whatever and I start singing "Happy birthday to you, Jeffery." But they recorded it and used it. This is what is genius about his brain. They left, it was just me and the engineer, I knocked out my verse in like 25 minutes. They come back and he's vibing on what I'd done, and he's like, "Yo, go back to that Happy Birthday thing. Can you loop in that 'Jeffrey'?" Boom, boom, boom—he puts it in. 
Come on man, in what era can a rapper show up in a full-blown gown, a dress? And have it still be like, 'Yo, that's still Young Thug, what you wanna do about it?' This is changing perceptions.
For all the acclaim he's gotten—and it seems to grow every year, he's still polarizing. Some people still seem convinced that the eccentric visuals, the dress, whatever—that a big part of Thug is just trolling for reactions. 
There was a time when hip-hop was a coded message, a cryptic message where only a certain group understood it. Every generation has that. When Bob Dylan went from acoustic to electric, fans went nuts. We've had bands like KISS that say, "Fuck it, we ain't gonna show our face." Or Bowie! What's really the difference between what Bowie was doing and what this kid is doing? Because when Bowie was doing it, a group of people understood what he was doing, obviously. And then there were people who didn't understand what the fuck he was doing. And those people saying Thugga is a revolutionary fully get what he is doing. Because he is a revolutionary, he's changing the thought pattern. Come on man, in what era can a rapper show up in a full-blown gown, a dress? And have it still be like, "Yo, that's still Young Thug, what you wanna do about it?" This is changing perceptions. Because for my daughter, that's normal. My daughter, she feels like, what's wrong with somebody different? What's wrong with them being themselves? 
"Hendrix" the video ends with "Life Matters," this meditative coda in which you talk about how black lives matter and human rights matter, but you also include a line that police and judges' lives matter. Some might be surprised to hear that.
Well the first part of it is as you can see, I say, "If your life matter, his life matter, then black life matter." So why are we even debating if black lives matter? That's the first thing. The first four lines state that. But police lives do matter. I get it. My cousin is part of the vice squad. Judge lives matter—I don't believe in executing a judge because you disagree with what he's doing. But if human rights really matter, then all lives matter.
It's funny because when people hear it and go, "Police lives matter? Fuck the police!" or other people hear "Judge lives matter," and go "Fuck the judge! They gave my man time! Fuck the judge, and fuck the police!" But then they go, "but black lives do matter." Well let me ask you something—how would you feel if in your community, the police were actually police that grew up in your community? Would you feel better about them? They're like, "Hell yeah, I'd feel better if it was somebody I knew." So then I say, "Well then don't say 'fuck police.' Get your whole community to stand up and start to write a policy. Get ten thousand kids and hit the streets and say, "We want it to be our police in our community."
Immigration has been the signature issue of Donald Trump's campaign. And there's a lot of talk of deporting people and building walls. As an immigrant and a longtime voice for refugees, what's your take on the xenophobia that's driven his success? 
There's a reason we're called the United States of America. United. We are the uniters. We say, "Come to our place, and all will be well. If you need shelter, we will take care of you." Man, that's what makes us the greatest nation. At the end of the day, we are really a nation of refugees and immigrants. And I just feel like with old boy's [Trump's] policies, and what he's trying to do, is trying to invoke an old regime. A regime that we fought to get past. 
At the end of the day, we are really a nation of refugees and immigrants. And I just feel like with old boy's [Trump's] policies, and what he's trying to do, is trying to invoke an old regime. A regime that we fought to get past.
You've obviously been a great ambassador for Haiti—you were even presented with their National Order of Merit award few years back. Does it bother you that there may be people who have lingering questions about the foundation, Yéle Haiti, and whether financially everything was on the up-and-up?
Once again, what I've said, I'll say it even stronger again, that there was no foul play on my end when it came to the foundation. The idea of me stealing money from our foundation is ludicrous. And like I said on Oprah, anyone that was running the foundation, whether it was an audit, things had to be fixed, tax-wise, all of that stuff was handled. So, past that there's really nothing else. All you can do is keep doing what you're doing, right? Because history will prevail. And what that means is, those that know, know. Those that want to believe in scandal will continue to. Anyone who wants to search for the truth knows how to do it. The Millennials ain't stupid. They know how to get to the truth.
You did an episode of Law & Order: SVU? I heard you play a record producer. 
Yeah, a shady one. It wasn't hard to get in that role. I've known a lot of them! [Laughs] It should be out in about a month. 
Does the plot come from a real-life story?
Yeah, yeah, I can't get into it, but—BUT I can give a clue, that my episode has something to do with cross-gender. That's all I'm gonna say. [Laughs]
You've got your own label now, Heads Music, the EP, and then Carnival next year. It sounds like you're fully back in the game. 
The EP is very festive, and I love visuals, so we're gonna shoot some more visuals, get that going, and I'm probably gonna do like three more records of Carnival. In a couple of weeks we're gonna play the Brooklyn Bowl, and I think I'm gonna call it The Wyclef Jean Experience. And I just feel like I'm on a new wind now. I feel like when Santana had a new wind, because you can always feel when it's about to come, I feel like the next wave is about to come for me, and with this wave it's all about new talent. The idea of Heads Music is a lot of young, raw new talent, so I look forward to working with that.
And next year, a full tour to go with Carnival III? 
Definitely man. You know, with the 20th anniversary of the first Carnival, I'm not gonna miss out on that.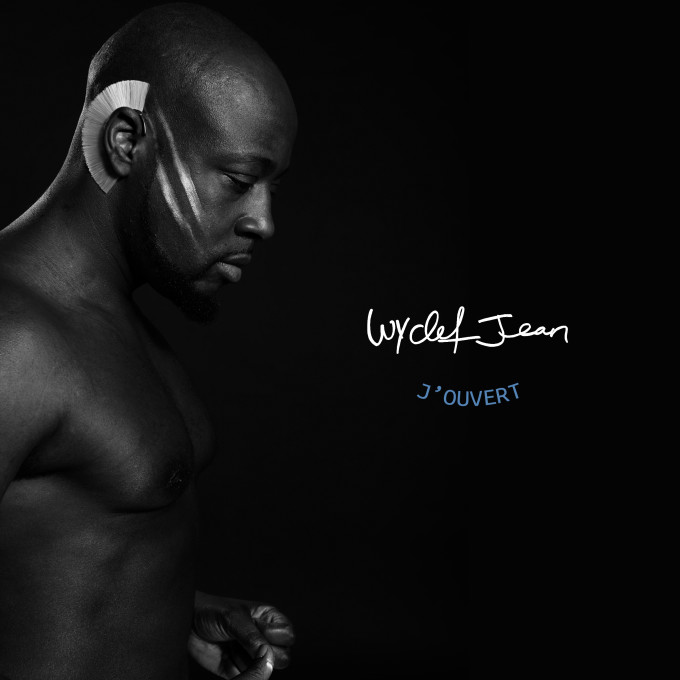 Wyclef Jean's J'ouvert EP is out next month.