ComplexCon returns to Long Beach Nov. 6 - 7 with hosts J. Balvin and Kristen Noel Crawley, performances by A$AP Rocky and Turnstile, and more shopping and drops.
Secure your spot while tickets last!
5 On It is a feature that looks at five of the best under-the-radar rap findings from the past week, highlighting new or recently discovered artists, or interesting obscurities.
---
PREMIERE: Broderick Batts – 2001 Odyssey EP
Tampa-raised, L.A.-based rapper Broderick Batts' 2001 Odyssey EP feels like a series of late night transmissions for a generation whose conceptions of romance are molded by (or perhaps simply reflected in) the music of Drake and The Weeknd—and, to an extent, artists like Anderson Paak who seem to understand the spectrum of love and lust in a more nuanced way, making music the feels more in line The Unbearable Lightness of Being than a paranoid journey through nameless lovers who occasionally leave a mark on the heart.
Batts seems acutely in tune with both sides of the divide, looking for trysts with no strings attached while aware not only of the fact that he might fall for someone, but that that's part of the package of making yourself physically and emotionally vulnerable.
---
Quanathan – "That Risk"
graduating in 2014, i was very scared, i wanted school to be over with but didn't really want it to end because i knew i'd have to face reality. getting a job or going to college, i don't want to walk the path everyone else is taking, working at a warehouse for the rest of my life or being in debt is not an option for me. having parents that worked their whole life, moving in with cousins and friends, only makes me more scared motivated to make my music, I'm just trying to make the best out of the talents i have, drawing and making music…
Last Thursday, as I often do, I was sitting in my apartment tweeting like a maniac—my attempt to procrastinate "productively" while I'm supposed to be writing other things.
A rapper named Quanathan responded to one of my profound Twitter reflections with a submission: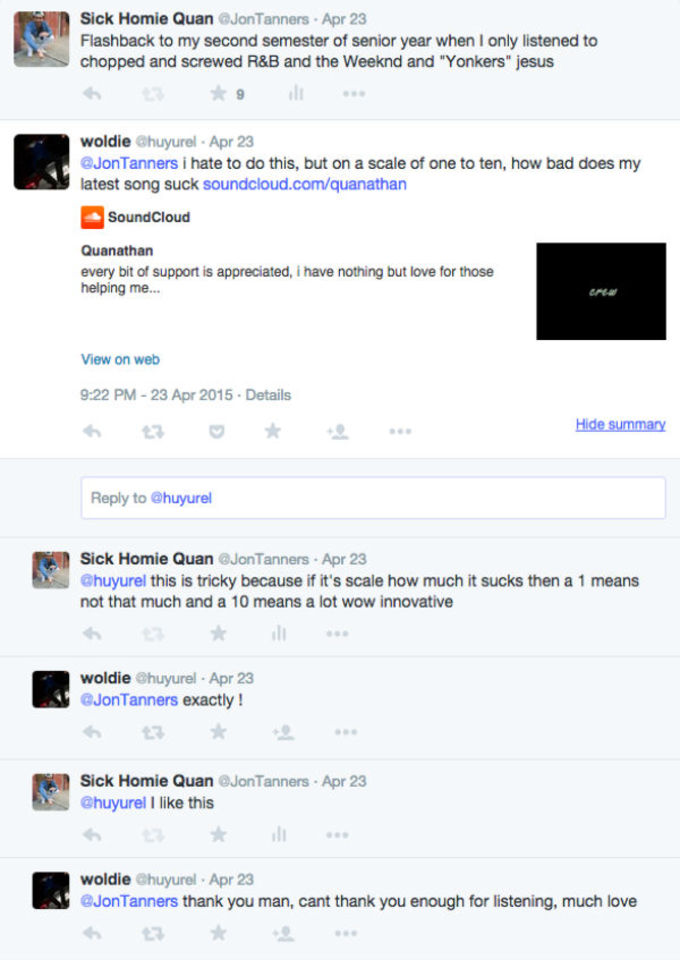 In the spirit of the hunt, I listened and, to my surprise, enjoyed.
Autobiographical single "That Risk" perfectly encapsulates the existential burden that Quanathan lays out in the quote above, a young artist attempting to make sense of taking risks in the face of the long odds of turning rapping into a viable career. "That Risk" is brutally honest and self-aware, balancing the obstinate forward motion of optimism with an understanding that the abyss is always close at hand for anyone attempting to bring big dreams to life.
---
Huey Briss – "RUN FROM US"
A lot of people send me music saying "I think you'll like this" or, worse, "I know you'll like this." Typically, those five words are the kiss of death when they come from unknown sources, a quick red flag that I'm subject to a violation of the golden rule: "undersell, over-deliver."
The flip of this scenario, of course, is when a trusted source who understands my palate sends some music with those accompanying words. I'm always skeptical, but the fact that a friend or likeminded co-conspirator thinks something might strike a chord with me leads to fast, curious clicking.
The ever-mysterious mind behind Original Mattress Company shot me Huey Briss' "RUN FROM US" last week, saying "i think you'll fuck with this" and nothing more.
He was correct.
"RUN FROM US" sees Briss—a Southern California native and affiliate of one of the more creative but under-appreciated California collectives of the last few years, NRK—flanked by crew members Saint Ross and Seafood Sam, rapping over the sort of a beat that sounds like a close cousin of Madlib or Oh No digging into the depths of an old sci-fi soundtrack and finding eerie, synthesizer gold. Effective lo-fi, "RUN FROM US" stomps with attitude and neck-snapping flare, a callback to an era of California hip-hop that peaked in the not so distant past and still has life left to give.
(Original post on OG Mattress Company here)
---
Young Famous ft. 600Breezy – "600 On Top"
While Soundcloud may seem primarily like a portal to what might be considered "Internet rap," it's the premiere hub for not only general music discovery, but also for the dissemination of music—more easily navigable than Bandcamp and Audiomack, aesthetically pleasing, and completely streamlined (which is not to say that Bandcamp and Audiomack aren't solid platforms, just that Soundcloud is the industry standard in terms of user experience and utility). It's not a perfect catch all, but there are countless pockets and communities at your fingertips—you simply need to dig long enough, with a sense of purpose, and, of course, a bit of luck.
After being sent a link to some solid Chicago street rap last week, I thought to myself that I hadn't checked in on the Chicago scene in a while and I also hadn't recently unearthed any quality hardcore rap. Twenty minutes of digging later, I stumbled upon an unofficial stream of Young Famous' "600 On Top" featuring 600Breezy. Its origins and its creators were both unclear. A bit more excavation led me to the Soundcloud of Chicago crew Team600 (best known for rapper Rondonumbanine) and enough verification that "600 On Top" was official and excellent reward for my travels.
"600 On Top" is clever sonic assault, its production tapping into the sonic terror of drill as well as the off-putting, dead-space approach of Lil Herb's 2014 standout "Chiraq." Famous and Breezy both bring suitable menace, but analysis is sort of unnecessary here.
"600 On Top" is hard.
---
Niko – "Still"
As Jay Z once commanded, "point out the bounce!"
Atlanta rapper and previous 5 On It entrant Niko understands the bounce. There's joy to listening to the effortlessness with which he weaves across the beat on new single "Still," constantly finding new pockets in the minimal beat, an excellent bit of new age country rap built around a mellow guitar lick.