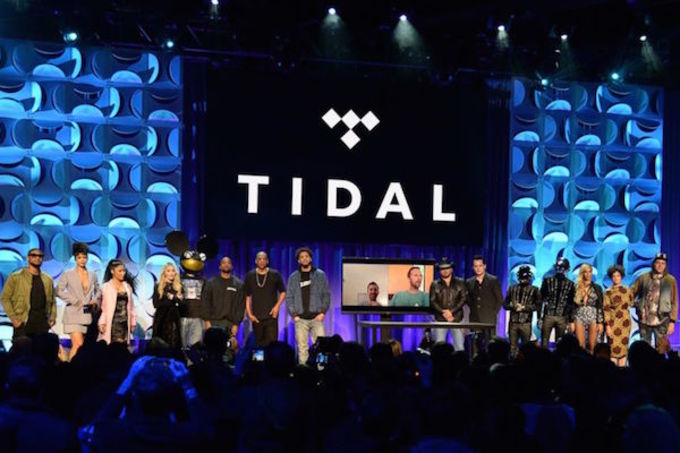 By Alaister Moughan
It's been three weeks since Jay Z and his Tidal ministers preached their sermon, and the exclusives have started to trickle in. The gears are beginning to turn, coins clinking in the coffers. But to recap: back at the most awkward press conference of all time, Alicia Keys told us that Tidal is "the true beginning of a mission to change the status quo, to reestablish the value of music."
Alicia, I'm gonna let you finish, but we've heard this one before. Remember those old piracy PSAs? Remember this guy on South Park?
---
Essentially, the rhetoric of an "artist-owned" platform "establishing the value of music" has been done before. It's the same war cry we heard from the industry in response to Napster. But it's never really the artists that are seeing the returns from streaming. As always, 99% of those making music for a less-than-titanic audience are getting a much smaller slice of the pie than labels and distributors.
It's another industry attempt to lock the gates of entry and set the price of admission.
Tidal is an effort to educate the music fan about how they should be buying music and how much they should be paying. It's another industry attempt to lock the gates of entry and set the price of admission. Tidal, thanks to the word of Jay, just has more savvy celebrity endorsement. And he's not afraid to use it—Mr. Carter has reportedly started calling Tidal users personally to thank them for signing up.
Thanks to the way revenue is split, the streaming business is not as lucrative as it may appear. In Tidal's defense, there is easier money to be made elsewhere, so presumably the service was launched with altruistic intentions. Yet despite the risk and despite the rhetoric, Tidal is grounded in uninspiring conventional industry thinking. Again and again, Jay Z said he's not trying to compete with Spotify. That may be the case, but he's certainly trying to break their near-monopoly on streaming: Tidal's recent partnership with Soundiiz allows users to drag and drop their playlists from Spotify to Tidal, leading to accusations of poaching.
What Tidal lacks is the exchange: what does the service give us that we don't have already?
If this sounds cynical and needy, its because that's the way entertainment consumers operate. Fans, especially digital millennials, are used to quick and easy access. Making them pay for something (let alone making them pay double) is difficult.
Listeners in today's world are not used to restrictions; and if they face them, they can and will work around them. Jay-Z's release of Magna Carta Holy Grail for free to Samsung users was an admission of this reality.
---
The cynical responses to Tidal also show the weakness of their "education" strategy. It's hard to feel shaken by the fear that superstar recording artists will be "forever doomed to a life of only semi-luxury," especially when they have only been fairly vague when questioned about financial specifics.
It's hard to feel shaken by the fear that superstar recording artists will be forever doomed to a life of only semi-luxury.
What's more, the "artist-first" PR campaign is just about the only novel feature of Tidal. Sure, it may have exclusive content—but at this point, who doesn't? In fact, the content itself is hardly original. Exclusive content is already the dominant strategy of successful online music publications and streaming services alike. The other extras (offline streaming and high quality alternatives) are already offered in one form or another by various platforms. If you're part of the niche market of audiophiles who swear up and down you can hear the difference between 320kbps and lossless FLAC, more power to you. But for the vast majority of listeners, it's a tough sell.
But press is a very different animal than distribution. The artists that own Tidal are big businesses with complicated contractual arrangements, and getting sole rights to distribute new material will be difficult. Their promotions thus far feel self-serving—be one of the lucky users that streams the most J. Cole, and you could maybe, possibly win tickets to one of his shows!
Notice we said users: the promo is only open to Tidal users, potentially excluding people who have been listening to J. Cole for years (you know, "fans"). Granted, he's signed to Roc Nation and probably has very little wiggle room here, but still.
It's disappointing, given the presence of artists like Beyoncé, who broke the mold of convention in 2013 with a surprise album release and spurred a rollout revolution. As for her partner in crime, Jay Z, his Samsung deal was a similarly creative move from an artist with enough confidence and profile to dare to try and disrupt convention.
The Tidal dozen need a pep talk taken straight from the Gospel of Bey:
All the shit I do is boring, all these record labels boring
I don't trust these record labels, I'm torn.
The fluctuating and uncertain state of the music industry today does represent a chance for the artist to even the scales, but it also has to cater to demanding fans used to free content. Right now, the likely successors of the current game are the players that created it, the labels, and big media companies. Tidal is a lost opportunity to change those rules.
---