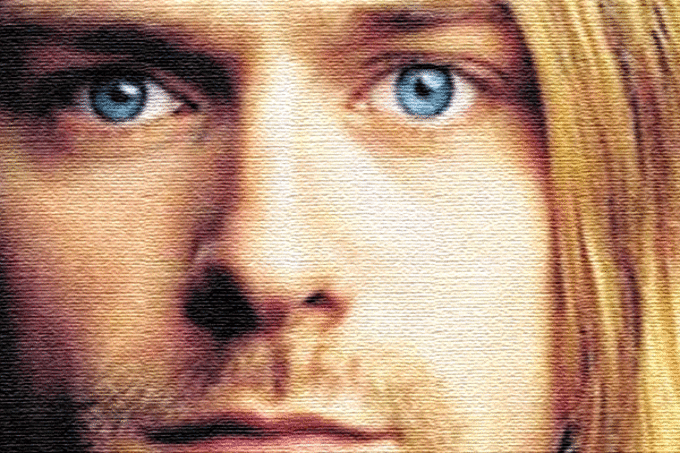 Tomorrow, February 20th, would have been Kurt Cobain's 45th birthday. As a public figure and one of the most popular rock stars ever, we all know a lot about Nirvana's frontman. But unlike a lot of celebrities, Kurt kept a lot of his life private. He wasn't a fan of interviews or the media, and he never felt the need to explain himself. Consequently, there's a lot about Kurt that isn't common knowledge. Here are 20 things that you probably didn't know about Kurt Cobain.
Click through to the next slide or hit shift + right to read on…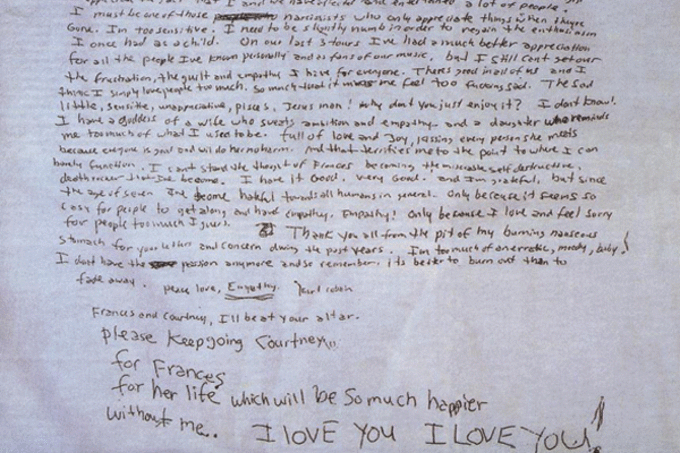 He quoted Neil Young in his suicide note
One of the final lines of Kurt's suicide note was "It's better to burn out than to fade away," a lyric from Neil Young's "My My Hey Hey (Into The Black)." The fact that Kurt did that had a profound effect on Neil, who in turn dedicated his '94 album Sleeps With Angels to Kurt.
He hated playing "Smells Like Teen Spirit"
Yeah, it was Nirvana's biggest hit and the song is synonymous with the '90s rock movement, but once the song blew up, Kurt got sick of it. He said that his goal with writing "Teen Spirit" was to basically make a huge record and rip off the Pixies. He refused to play it at many of Nirvana's later shows. When he did play it, he often intentionally butchered it.
He hated the Grateful Dead
Kurt grew up liking punk rock. What's the opposite of punk rock? The Grateful Dead. For this photo shoot, Kurt wore a tee with a duck rocking a "punk's not dead" shirt and the words "Kill The Grateful Dead" written on it. He was also once quoted saying, "I wouldn't wear a tie-dyed tee-shirt unless it was dyed with the urine of Phil Collins and the blood of Jerry Garcia."
Two of his uncles committed suicide
Kurt's cousin Beverly confirmed that there is a history of mental illness in the family, and that two of Kurt's uncles had ended their lives with guns. She suspected that bipolar disorder may have contributed to Kurt's decision to commit suicide. Kurt was always very open about his own mood swings, and while the highs and lows of a stressful lifestyle and the toll of addiction played a role, his predisposition to depression may have also been a factor.
He had a tattoo
You probably never noticed it because Kurt's regular uniform was jeans, plaids, and cardigans, but he did have one small tattoo on his forearm. It was a small "K" inside a shield, the logo of K Records (an indie label in Olympia, Washington), whose motto was "exploding the teenage underground into passionate revolt against the corporate ogre since 1982." The label had a very anti-mainstream, do-it-yourself attitude. Fittingly, Kurt reportedly did the tattoo on himself in 1991.
His preferred brand of cigarettes was Winston Lights 100's
Although he was known to smoke several brands, a roadie from the '90s claims that Kurt's go-to cigarette was the Winston Light 100.
He owned fetuses
Kurt was always fascinated with anatomy. Medical references — especially about fetuses and vaginas — were often present in his lyrics and art, and he shared in one interview that he found a medical supplies store in the Mall Of America that sold all kinds of charts and books on the topic. But that wasn't all. As Kurt described of the medical supplies store: "it's really great, I bought all these fetuses." He was probably referring to model fetuses like the ones he used in the collage on the back cover of In Utero. Hopefully.
The picture above shows Courtney and Frances in 1993 in front of a collage of flowers and model fetuses that Kurt put together on the living room floor. This was later used for the back cover of the album.
He didn't mind the "grunge" label
Kurt never had a great relationship with the media, and would often try to distance himself from it. In 1992, a piece written in Vanity Fair quoted Courtney Love as saying she used heroin while pregnant. Kurt and Courtney were both disgusted by the article, and this seemed to drive Kurt even further from going along with anything that was printed about him. When asked about grunge in 1994, Kurt didn't seem to mind. He said of the title, one that's still frequently used today, "If someone wouldn't have come up with grunge, it would have been called something else. I think it described what kind of guitar rock we were playing at the time pretty well, and it was an okay word."
He was once in a Creedence Clearwater Revival cover band
In his hometown of Aberdeeen, Washington during the '80s, Kurt and Nirvana bassist Krist Novoselic played in a CCR cover band called Sellout. They played in bars and said the "local rednecks" liked it.
Before Nirvana, he was in a band called Fecal Matter
Nirvana gets lumped into the alt-rock/grunge scene, but Kurt came from a very punk background. For many years of his teen life he was deeply embedded in the punk culture and a decidedly anti-mainstream approach to music. What better way to avoid success than to name your band Fecal Matter? They never put out an album, but they did share a demo with friends in the '80s. The only song from The Fecal Matters that was ever officially released was "Spank Thru."
He hated Axl Rose
At the 1992 MTV Video Music Awards, Kurt had a little situation with Axl, during which he made a joke and Axl ultimately took it the wrong way. From that point on, Kurt was always very open about his feelings for the Guns N' Roses frontman. Hear him explain what went down in the audio above.
He was self conscious about his body
According to his ex-girlfriend — the one who "About A Girl" was allegedly written about — Kurt weighed about 120 pounds and couldn't put on weight. He was made fun of for his size in high school, and started wearing layers to cover up his frame. Even as he got older, he'd usually be seen wearing layer upon layer of clothing, even in warm weather.
He was arrested in 1993 for assaulting Courtney Love
The details of the incident are unclear, but it apparently started over an argument regarding guns in the household. When Courtney was questioned about it, she said, "Kurt is not violent, he is not a wife-beater, we are the most compatible people on earth." She further explained, "It started because we were playing loud music in our garage and we live in a quiet neighborhood. All of a sudden there were sirens and, like, three cop cars, six cops in the house." The police report stated that Kurt and Courtney had each pushed each other and that Kurt had choked Courtney. Cobain was arrested for misdemeanor domestic assault and released from jail on $950 bail.
He tried to kill himself before his suicide
Courtney revealed that Kurt had attempted suicide multiple times. As recalled by Courtney: "He tried to kill himself three times! He OD'd at least five times. I was the fucking E.M.S. I was always sticking pins in his balls. I carried around Narcan!" In March of 1994, Kurt locked himself in a closet with guns and medication. Love called the cops and the police came and removed the guns and drugs. He then committed suicide in April.
His favorite album of all time was the Stooges' Raw Power
Public Enemy, R.E.M., the Pixies, Bad Brains, Sonic Youth, Daniel Johnston, and The Beatles also had spots on his list of favorites.
He claimed that he spent a period of time living underneath a bridge
When Kurt was living with his mother in high school, she gave him the ultimatum of moving out or getting a job. After a week, she took it upon herself to pack up his stuff in boxes. Taking it as a message, he moved out. For a while, he crashed on friends' couches, but when he had no other options, he'd sleep under a bridge in Aberdeen by the Wishkah River. This is where the title of Nirvana's live album, From The Muddy Banks Of the Wishkah came from, and also provided inspiration for the song "Something In The Way." Nirvana bassist Krist Novoselic said that "he hung out there, but you couldn't live on those muddy banks, with the tides coming up and down."
He sometimes spelled his name Kurdt Kobain
Before Nirvana's debut album Bleach, an article written about the band had misspelled Kurt's name as "Kurdt Kobain." From that point on, Kurt often spelled his name Kurdt, signing his artwork and journal entries under the moniker. It was thought that he used this name to represent an alter-ego when he wasn't feeling like himself.
One of Kurt's first concert promoters ended up being his medical examiner
One of Nirvana's first shows was booked by Nikolas Hartshorne in the late '80s in Seattle. Six years later Dr. Hartshorne wound up being the medical examiner responsible for investigating the death of Kurt Cobain.
Kurt Hated Pearl Jam
One of the other biggest bands of the '90s was Pearl Jam, and while Kurt had a friendly relationship with Eddie Vedder and called him a "really nice person," he always hated Pearl Jam's music.
He wanted to name Nirvana's final album "I Hate Myself And Want To Die"
When asked how he was doing, Kurt often joked "I Hate Myself And Want To Die." It was in line with his sarcastic sense of humor, and after his own mental state came into question, he used this as a sort of defense mechanism to make the matter one that wouldn't be taken so seriously. He wanted to name the band's 1993 album I Hate Myself And I Want To Die, but bassist Krist Novoselic convinced him that it was a bad idea. They settled on In Utero.