Meet Sainté, Leicester's New 'Wild Card' Rap Prodigy
"I enjoy being the wild card. I enjoy being the outsider and being different. I wanna be able to bring my own bowl of food to the gathering, you know?"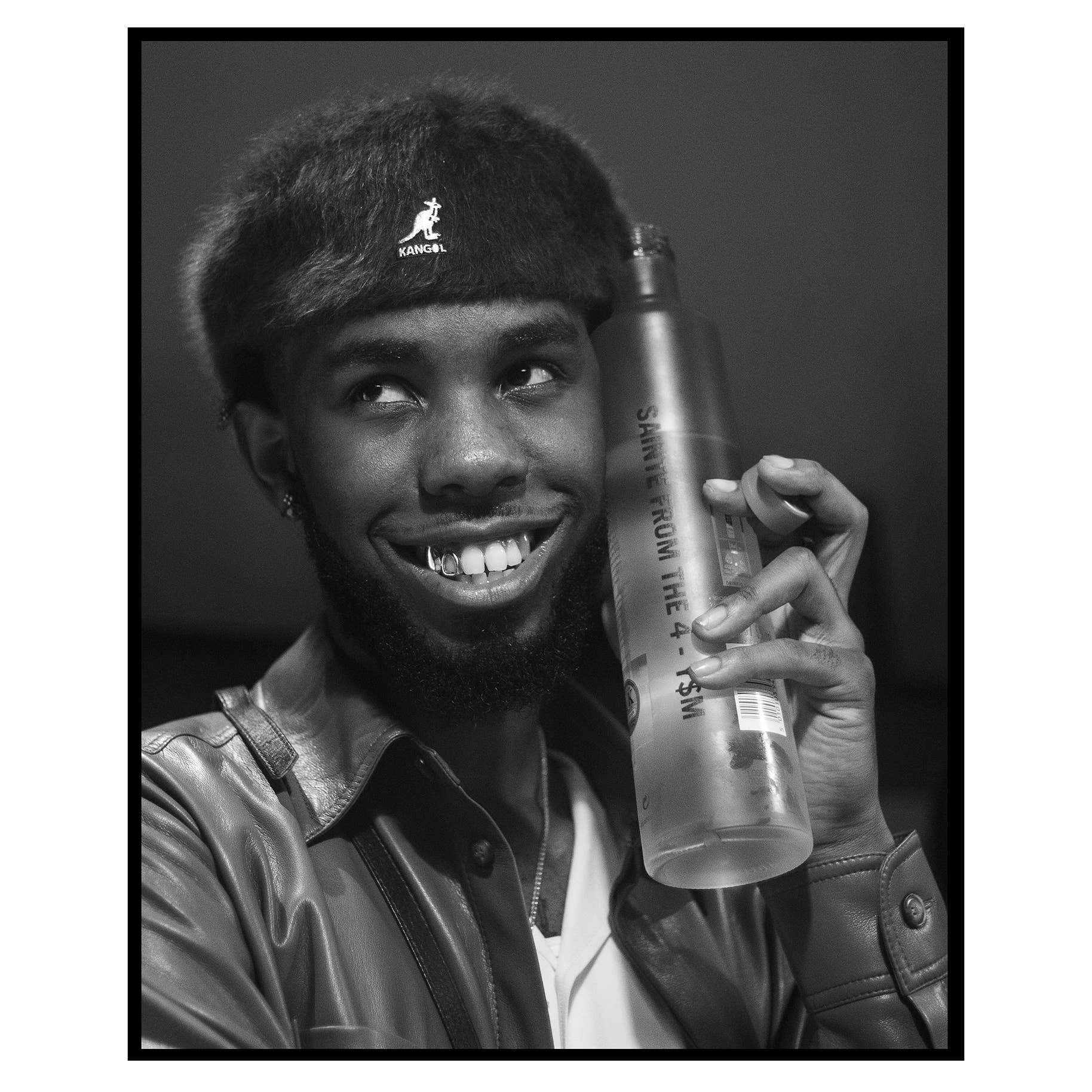 Publicist
Photography by DomShotThis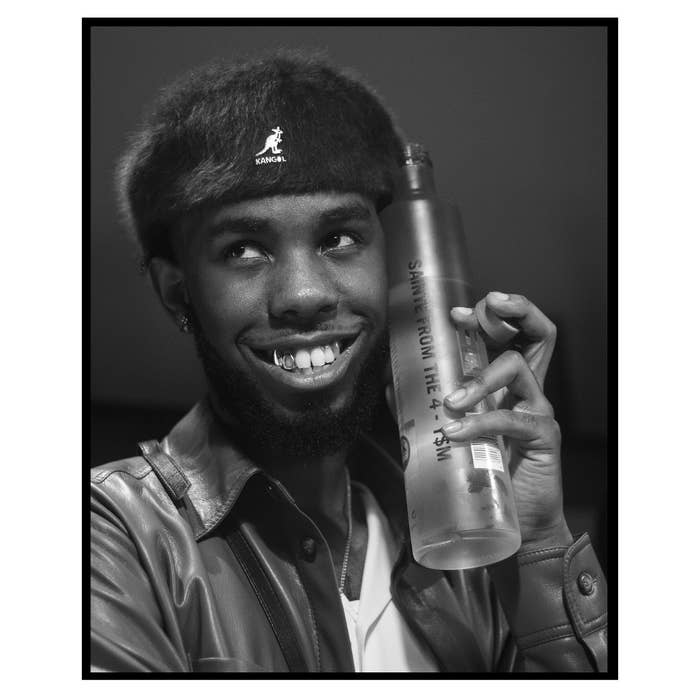 Sainté's music makes his hometown of Leicester feel like the centre of the universe.
Famous for its multi-ethnic population, Leicester City Football Club, and for being the first major city in the UK to have its own local radio station—BBC Radio Leicester, launched back in 1967—it's pretty much bound into scripture that Leicester would conjure up a talent like Sainté.
Since dropping his debut single, "Envy Me", in 2019, Sainté's name has been bubbling behind the scenes, and today he stands as one of UK rap's brightest prospects. Grabbing more attention with his Local MVP project at the top of the year, the rapper walked the relentless balance beam that is quantity versus quality. Seemingly managing both with ease, the 21-year-old bagged his first viral hit with "Champagne Shots". Imbued with a fluid yet frank delivery, Sainté builds a musical prism weighted in duality; somewhere in-between the cocky one-liners and lyrical diary entries lies the nucleus of his creative driving force. 
While it's all too commonplace to call every artist unique, Sainté's music radiates standalone energy. He has less in common with his UK drill and trap contemporaries and more similarities with cloudy Stateside rappers like Dom Kennedy or Isaiah Rashad. Everything from the Dave Meyers and Hype Williams-inspired visuals for "No Love" to his carefully curated wardrobe—a futureproof take on what you'd see in an old issue of The Source or XXL Magazine—Sainté is stepping different to everybody else in today's UK music scene. 
With an almost mutant level of artistic growth coursing through his veins, Sainté channelled his efforts into seven gems packaged as songs that we know now to be his latest EP, Out The Blue. We caught up with the rising star to discuss his latest project, his vast array of influences, fashion, the state of UK rap and his plans for the future. 
"I enjoy being the wild card. I enjoy being the outsider and being different. I wanna be able to bring my own bowl of food to the gathering, you know?" 
COMPLEX: Congrats on the release of your new EP, Out The Blue. How have you found the reception to this project compared to your last one, Local MVP?
Sainté: I don't really compare the two projects, you know. I'm pretty happy with how both of them went. I feel it's crazy that I released two EPs this year, so between Local MVP dropping and Out The Blue, there are things I've done differently, even rollout-wise. But the reception for both has been so amazing; I'm just grateful I've built such a strong support network. I did the Out The Blue listening party and it was sick, man! It had a 250 cap, and 600 people pulled up. Crazy!
Nice!
But the reception and everything, it's been wild. I'm happy with everything, but I've just gotta do better now.
Unfortunately—or fortunately, depending on how you look at it—UK rap is very London focused, despite regions like the Midlands bursting with talent like Pa Salieu, Trillary Banks and M1llionz holding things down on the rap side, and the Mahalias and Jorja Smiths of the world killing it with R&B. Being from Leicester, how are you finding it manoeuvering through the scene?
I love it. There are times where you probably feel a way about it or doubt yourself, but I feel like that's normal. I like that I feel weird about it sometimes because it reminds me that I do care about what I'm doing, and I do care about how I'm doing things, but at the same time, I do love it. I enjoy being the wild card. I enjoy being the outsider and being different. I wanna be able to bring my own bowl of food to the gathering, you know?
Are there any Midlands/Leicester-based artists you're currently rating?
The group Easy Life are going crazy right now! They're from Leicester, and the last project they put out, Life's A Beach, was sick! They've even inspired me and motivated me to push for things I want out of my own career. I mean, they did Coachella, and to see people from Leicester do that is kind of mad. You've also got old bands from a while ago, like Kasabian, then you've got wewantwraiths, JB Scofield, and, of course—as you mentioned—Mahalia. There are loads of new artists coming up, and it's really exciting to watch.
There's a stacked list of producers on Out The Blue—what was the selection process like for picking those final seven beats? There's a wide range of styles and sounds on the project.
If I'm going to release an EP, it should sound like a mixtape or album. If I drop an album, it should sound like whatever's bigger and better than an album. I don't ever want to settle. With producers, I have to connect with them on a personal level and vibe with them. That's the best way for me to connect. I love for my relationship with a producer to be natural and organic. The producer Brad Baker is a close friend of mine. You've also got Parker Jazz on the project—he did the whole of Local MVP, and he's like my friend from the American side. Then, of course, we've got people like Elevated, Clonez and Honeywood Six as well.
On the visual side of things, it gets pretty cinematic. How much of a hand do you have in developing your music video concepts?
I'm always gonna be 100% involved in everything, at the end of the day. That's showcasing me, my music, my identity and my personality. I think the music videos I do are an extension of me and my interests. It's something I'm gonna want to get right, which is the best way to tackle a song's visuals.
Are there any films that have influenced some of your past videos?
You've got some films that you watch that are literally like a Pinterest board in motion. You got movies like Paid In Full, and you've got Belly. Literally, every shot is a moodboard shot in Belly, and it's sick! You've also got other films that are influential in different ways—movies like Snatch, Fight Club and This Is England, which is a really deep film.