An Afternoon in Aminé's World
On a sunny November day in Los Angeles, Aminé takes a ride on his bike and invites us into his world after dropping his new project 'TwoPointFive.'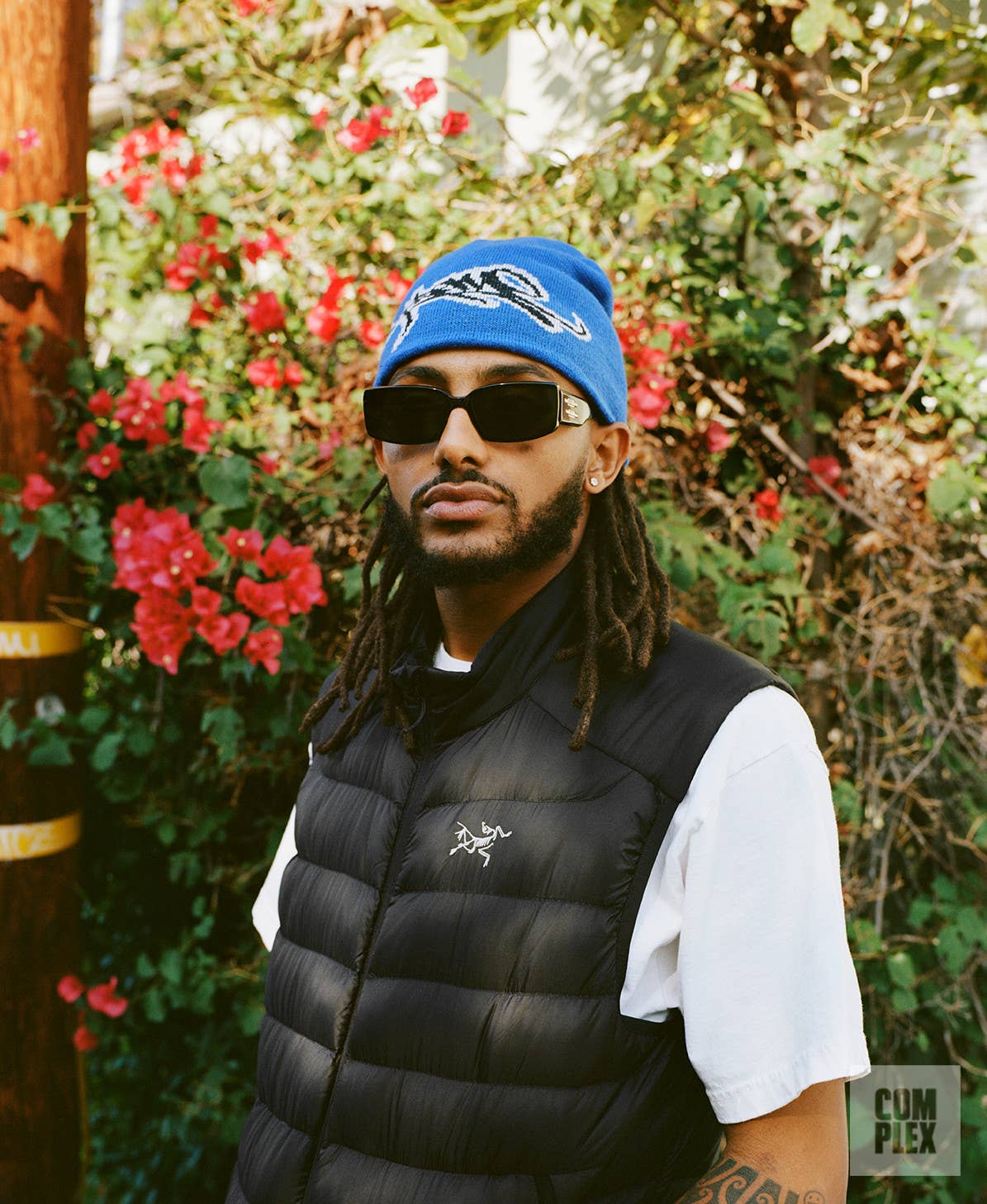 Complex Original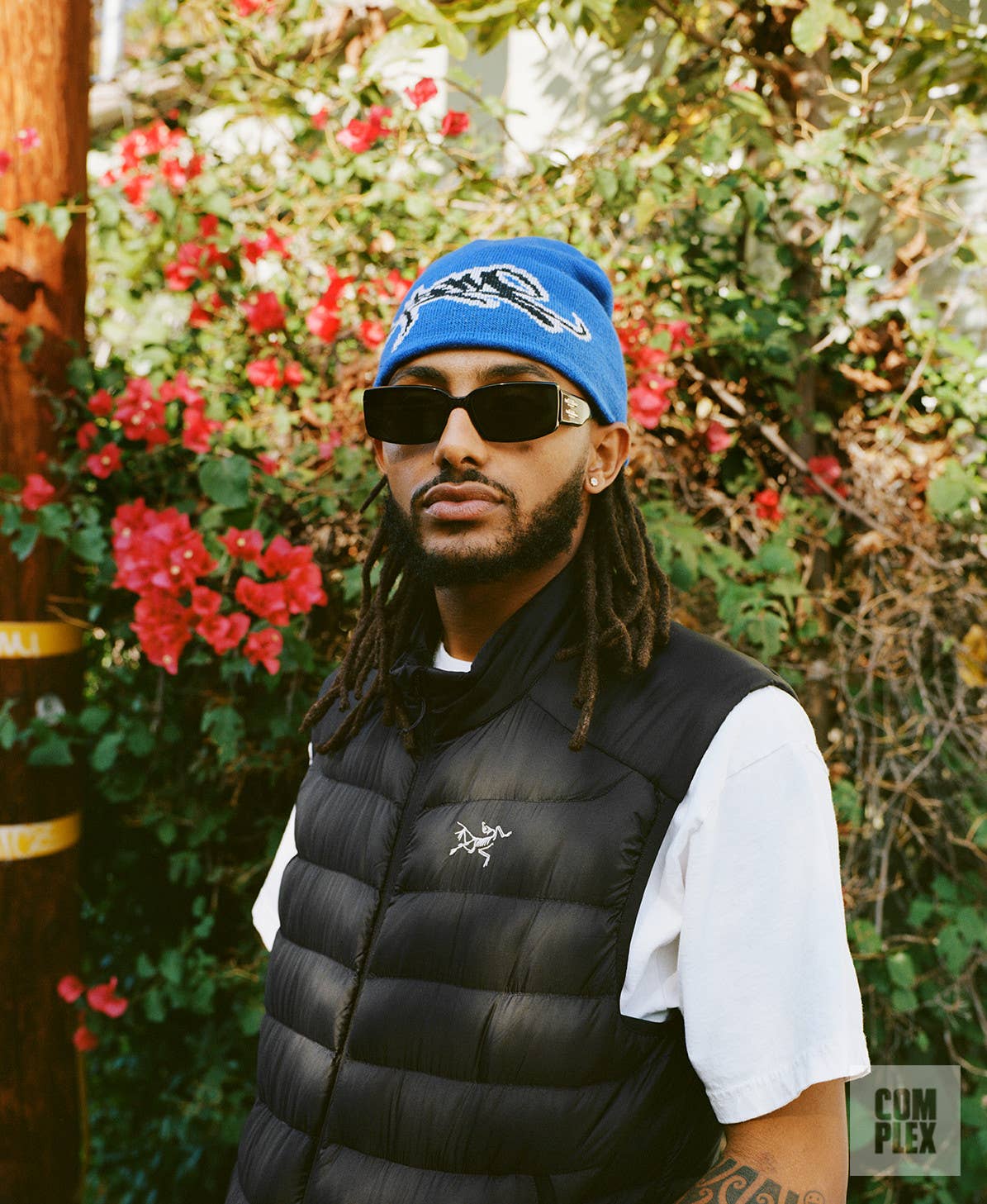 I'm at a café in Los Angeles, waiting for Aminé to arrive. It's the kind of friendly neighborhood spot where everyone seems to know each other and small dogs are welcome. I order a coffee and walk outside in the sun, scanning the street for any signs of the 27-year-old rapper.
When I look over my shoulder, I'm surprised to see he's already standing right next to me. Apparently I had been looking in the wrong direction this whole time, because he didn't take a car here. He pulled up solo on a bike, which is easily the most low-key way I've ever seen an artist show up to an interview.
Aminé greets me with a polite hello, and as he stands on the sidewalk with his hands buried in the pockets of a black Arc'teryx vest, he gives off a zen-like energy. He tells me he microdosed mushrooms this morning, which might have something to do with his calm demeanor, but I get the sense he's always this laid-back and approachable.
Don't get me wrong—Aminé could flex on me if he wanted to. On the day we meet in early November, his new project TwoPointFive is the No. 3 album on Apple Music's hip-hop charts, behind only Drake's Certified Lover Boy and Kanye West's Donda. Just two days later, he'll attend the glitzy CFDA Fashion Awards in New York City as a guest of designer Thom Browne, seated at a table with Hollywood elite like Cara Delevingne and Anya Taylor-Joy. 
And that bike he showed up on? Well, it's not as humble of a ride as you might think. It's a VanMoof e-bike, which was recently featured in a Highsnobiety article called "Frank Ocean's Favorite Bike Is Better Than a Tesla." Aminé is a naturally mellow guy, but he knows how to enjoy the perks of his success, too.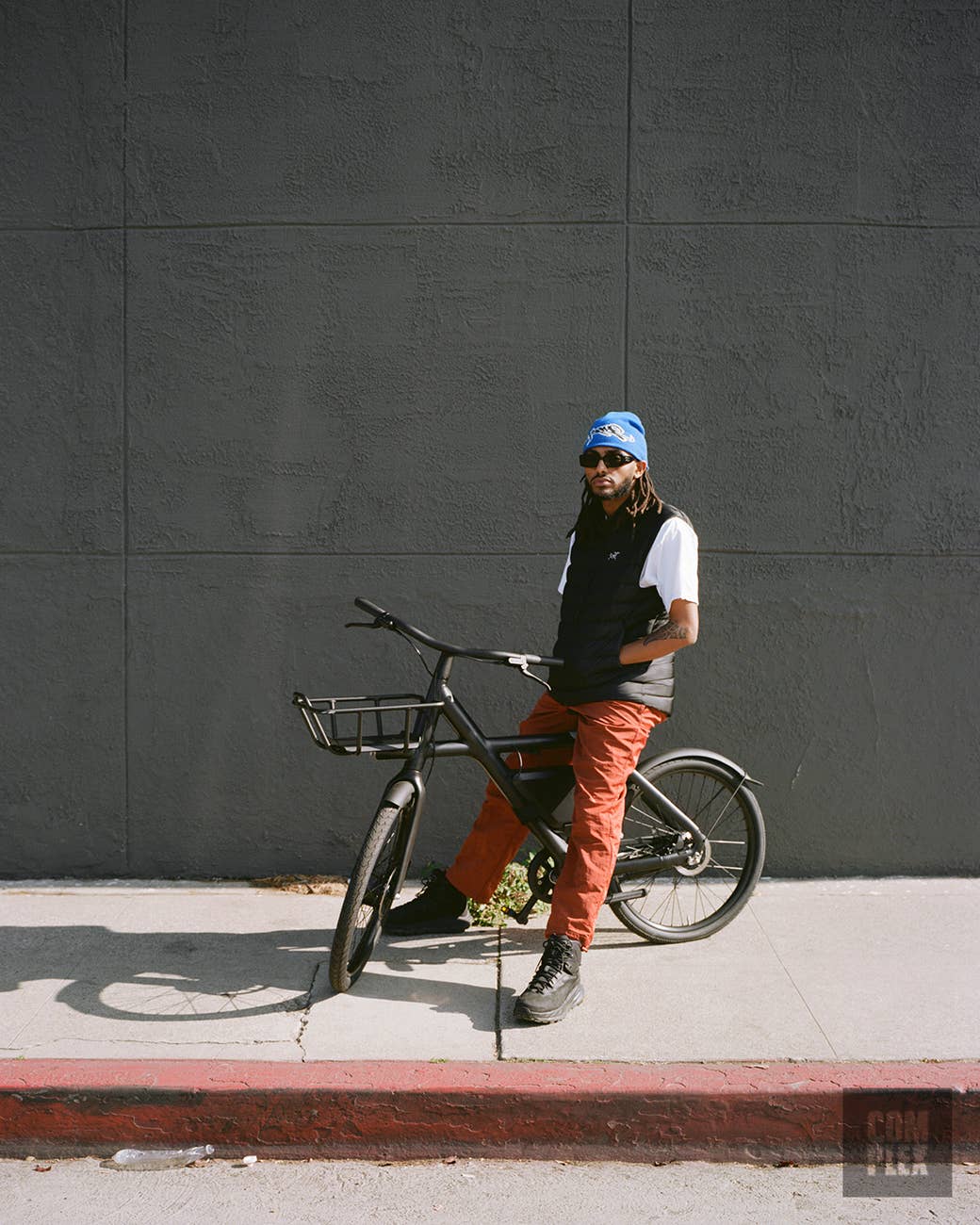 We're in Studio City, a Los Angeles neighborhood where he's been spending a lot of his time lately. He recorded much of TwoPointFive at his home studio not far from here, and frequently grabbed dinner with collaborators in the area. He tells me I'm right "in the mix" where the project came to life and says I'm getting a peek into his world these days. It seems to be a pleasant one.
A few nights ago, he celebrated the release of the new project by inviting a bunch of friends and family to a taco spot, getting "drunk as hell," and dancing all night. "I mean, I wasn't going to do it at a club," he laughs when I ask him about the casual location. 
Letting me in on his secret to a happy release day, he adds, "I have a rule that when something drops, don't be on your phone, and just take it in. Then go enjoy it with family. So I spent this weekend watching movies with my family, and I went on a walk with my dog. I was chillin'. It was very peaceful."
Life has been good for Adam Aminé Daniel lately, but he admits he recently emerged from a much darker place. "You're talking to a whole new person right now," he tells me between bites of chicken salad. "This is not even the same Aminé from a year ago. I was so depressed in 2020, dude. I didn't even care if I had an album out. I didn't come out of bed for like a week. I was not fucking with anything."
He struggled with the isolation of quarantine throughout 2020, and was weighed down by a grueling creation process for his sophomore album, Limbo. He's talked about feeling "lost" while making the record, and he tells me now, "It was draining for me creatively, because it wasn't so free-spirited. There was a lot of planning, because I was trying to make this big grandiose thing. I was in a very serious state of making music."
Known for making catchy, melodic songs like his 2016 breakout hit "Caroline," he also felt pressure on Limbo to show lingering doubters that he could rap really well, too. 
"Kendrick was like, 'I f*ck with the creativity in the videos. I really f*ck with your sh*t.' He was talking in a very serious voice. It was like Yoda telling you you've got the right path."
"I felt like [some] people thought I could only make hits and fun-ass songs, but not really good verses," he says. "So Limbo was me trying to prove to myself that I don't give a fuck about what they're saying. And, like, I'm going to show them how they're wrong."
The positive reception to Limbo, an album that features the most lyrically impressive rap verses of his career, was a weight off his shoulders. "Now I'm like, I showed them [how well I can rap], so I don't care anymore," he says. "I'm just going to make songs that are super fun."
Aminé didn't fully emerge from his depression, though, until he could start hanging out with his friends and family again. Remembering the relief he felt when COVID restrictions started to lift, he says, "There was this one week in March or April where Kaytranada and all my close friends were in town, and we could go back outside again. We were throwing parties at Kay's Airbnb. We were having dinners, really in the mix again, and I realized how much I liked it. I was so much happier. I was just so angelic. I was back to who I was in 2019. It's made everything so much better, even my creativity."
He was feeling like himself again, and he wanted to bring that carefree energy to his next project, TwoPointFive. "After a terrible year like 2020, I just wanted people to be back outside and have the AUX with their friends, like, 'You've got to listen to this, this, and this,'" he notes. "This is full of songs that people can have tons of fun to, dance with, and play at parties, and enjoy with their friends. It's not really meant to be listened to in a sad space." 
He's right. The 12-song project is full of upbeat, danceable production, catchy melodies, and clever one-liners (his personal favorite is "I never took a L, so I'm L-less, like Tracee" on "Between the Lines"). It has such a sunny feel to it that critics have already gushed about how it "sounds like a controlled sugar rush, an experiment as short, sweet, and stretchy as a fun-size piece of Laffy Taffy."
As Aminé puts it, "If you need a sad album, I would definitely recommend [Frank Ocean's] Blonde before mine. But if you're outside with a friend, TwoPointFive is the one."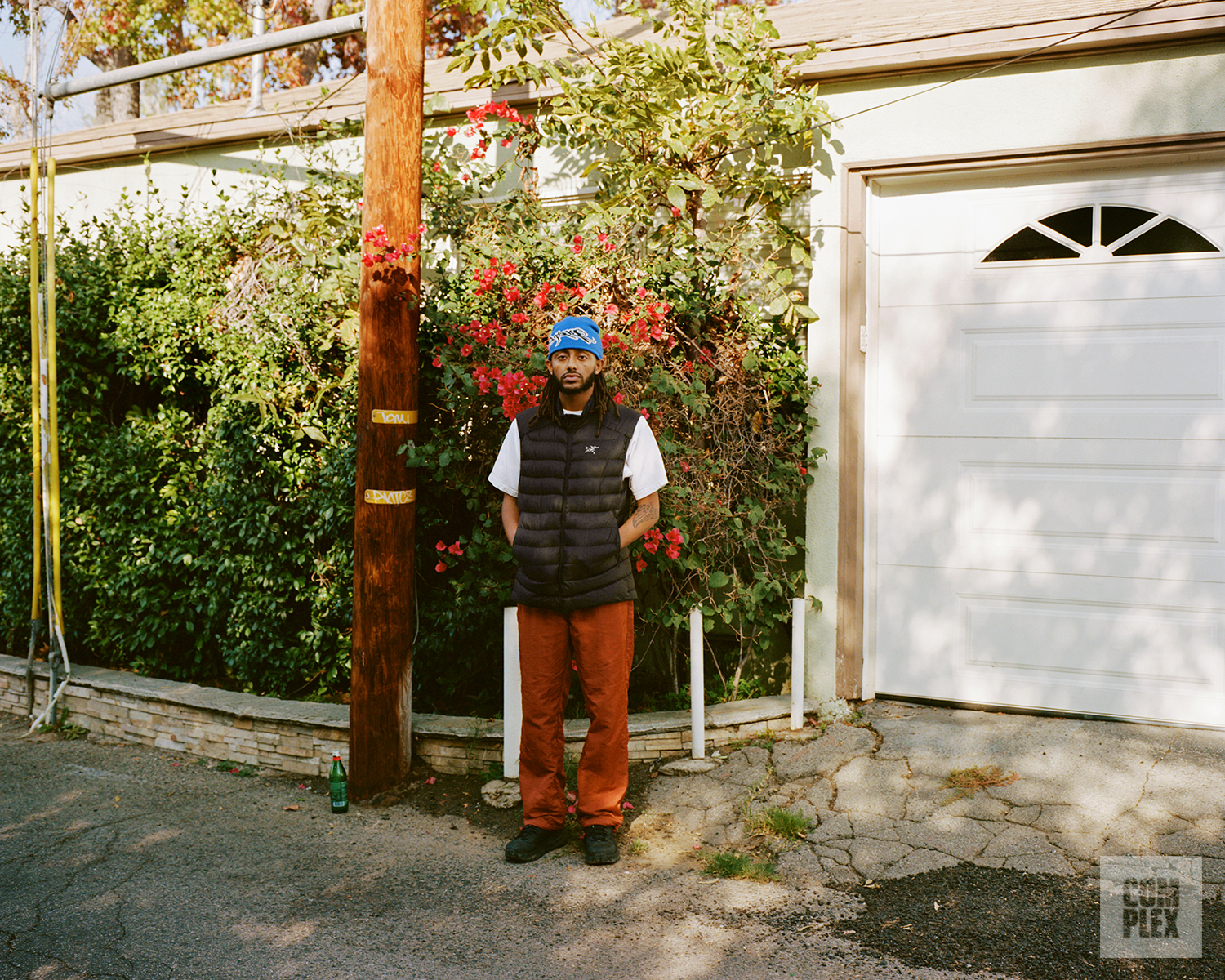 Aminé is riding his bikedown a quiet street in Studio City when a car pulls up behind him, blasting loud music. 
A man yells out, "Ahhh, fuck!" and Aminé hesitates, unsure how to respond. Then he realizes it's his own music blaring from the car stereo system, and the driver yells out, "I loved the new project, man!"
"Oh, uhh, thank you," Aminé responds politely as the car drives away.
"That scared the shit out of me," he laughs moments later. "I didn't know if that was going to be good or bad at first." 
The Portland-born rapper has an interesting relationship with success these days. His songs have hundreds of millions of streams, his projects have been received well by fans and critics, and he's well-known enough to get recognized on the street within the first few minutes we're together. But he's the least "Hollywood" artist you'll ever meet. When I ask him how he feels about his relationship with the entertainment industry, a blank expression takes over his face.
"I don't even know how to answer that, because I honestly don't think about shit like that too much," he says. "I mean, I have friends who make fun of me nonstop. If I got too caught up in this, I know that contact with my family and friends would not be the same. I'm just really appreciative of everything, and I try to not think about that question."
Five years after releasing his breakout hit "Caroline," he's found his own lane, somewhat distanced from the day-to-day workings of the music industry. He refers to himself as "basically independent" in interviews, and according to the metadata on streaming services, it appears he released TwoPointFive on his own. 
He's always been a self-sufficient artist, and when I ask if there are any veteran rappers who act as mentors to him, he can't come up with an answer. "I don't really have too many artists I look to for advice, to be honest with you," he responds. "I wish I did. I wish I had, like, a Drake or a J. Cole to tell me shit, but I'm not that close with them. We know of each other—we've met, and it's good vibes, of course—but I'm not signed to an artist or anything, and no one has really taken me under their wing. It would be a dream. It'd be sick if Kanye West was like, 'Yeah, man. What's up?'" Laughing, he adds, "I really want to meet Jay-Z. I don't want the $500,000."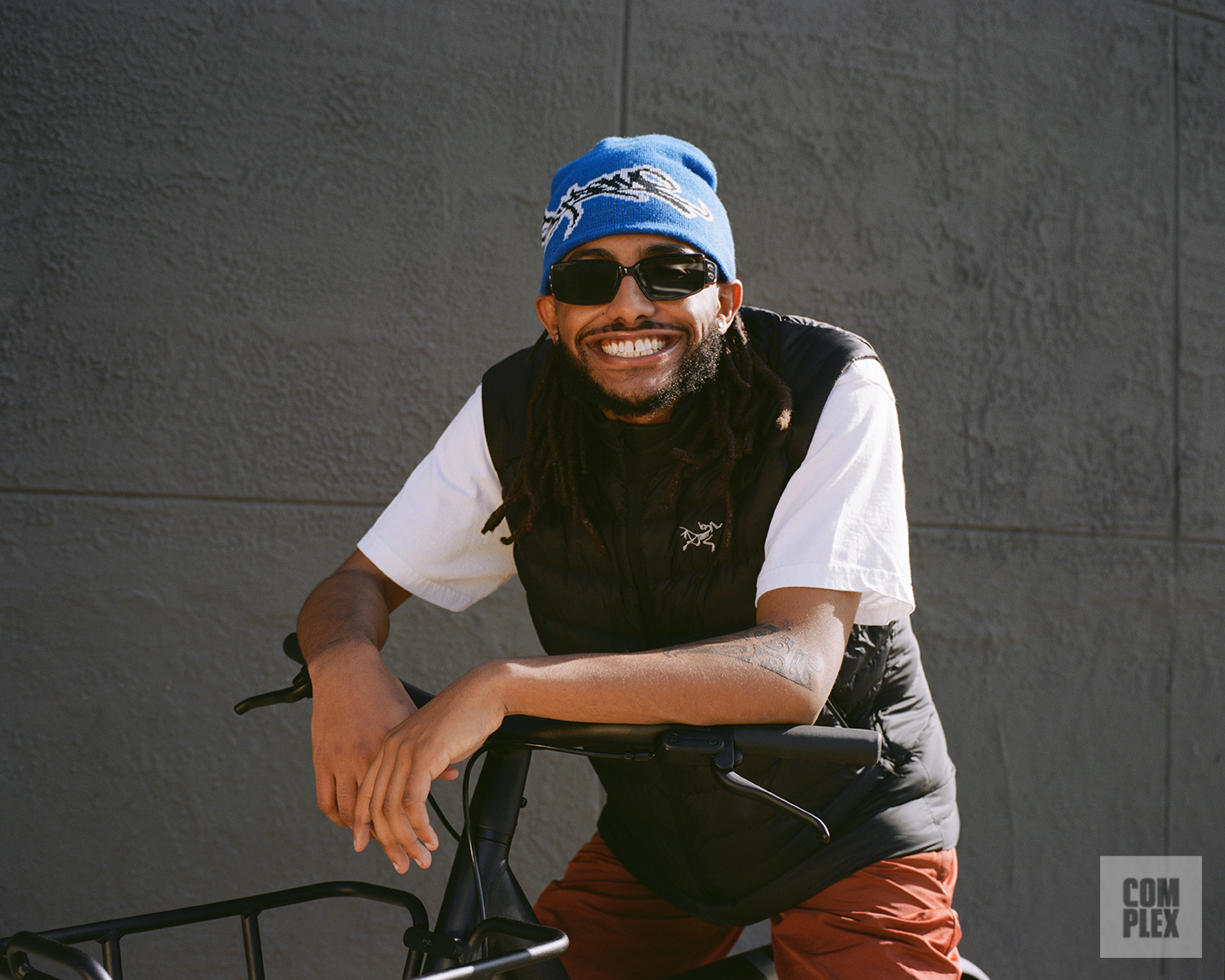 That's not to say rap's A-listers aren't paying attention, though. This September, at New York Fashion Week, Aminé received encouragement from Kendrick Lamar when the two met for the first time.
"Kendrick walked up to me, and I wasn't going to say, 'What's up,' because I didn't think he would know who I was, so I didn't want to annoy him," he says. "But he walked up to me, and he was like, 'Yo, I fuck with the creativity in the videos. I really fuck with your shit.' He was talking to me in a very serious voice. It was like Yoda telling you that you've got the right path or something. It was sick. I was at a loss for words."
Meeting an elusive artist like Kendrick is a surreal experience for anyone, but it's even more intense when you're tripping on psychedelics. Aminé and his two friends from Portland, Lucas Creighton and Jake Booth, had dabbled in mushrooms before attending the event.
"We were all high on shrooms, so we were just like, 'What the fuck?' This is crazy,'" he says. "It was so much more of an intense thing, because it was him. It was really funny."
Aminé had never tried mushrooms before his longtime producer Pasqué introduced him to them last year. "I was really, really stressed, and I was really, really emotionally tense," he remembers. "I hadn't really done it—I only smoke—but when I tried it, I just felt so free for a moment in my life. I know that's what you need therapy for, but my problems just kind of muted for a second. It just felt so good to just look at a tree."
"I have to mute the word 'underrated' from my Twitter... I want my fans to know that I'm happy. You should be just happy for me. You don't have to be mad for me."
He assures me that he knows psychedelics don't solve everything—he's trying traditional therapy, too—but he's been experimenting with microdosing mushrooms, and he says it's had a positive impact on his headspace. "I personally needed that in my life," he explains. "I felt like I was thinking about things too much. I was overanalyzing my movements and my decisions too much, and I was like, 'Yo, that's not the true Adam.' I wasn't doing that early on in my career. I'd never overanalyzed before."
You can tell he has a healthy outlook on the state of his life and career right now, and he wants his fans to feel the same way. When I ask what the biggest misconception people have about him is, he doesn't have to think long before coming up with an answer: He's tired of being called "underrated" all the time. 
"I have to mute the word underrated from my Twitter," he says. "I'm just so tired of seeing it. Not that it makes me mad or anything. I appreciate you, as a fan, being frustrated for me. But also, when I wake up in the morning and go on Twitter, I don't want to see that. I don't care. I'm having a great time. You should, too. It's been years of it, bro. The Grammys and MTV are probably not giving me an award any time soon. It's OK. Like, let's just keep it cool. [Laughs.] We know who has the best videos. It's totally OK." He adds, "I want my fans to know that I'm happy. You should be just happy for me. You don't have to be mad for me. Let's keep this shit going. It's fun."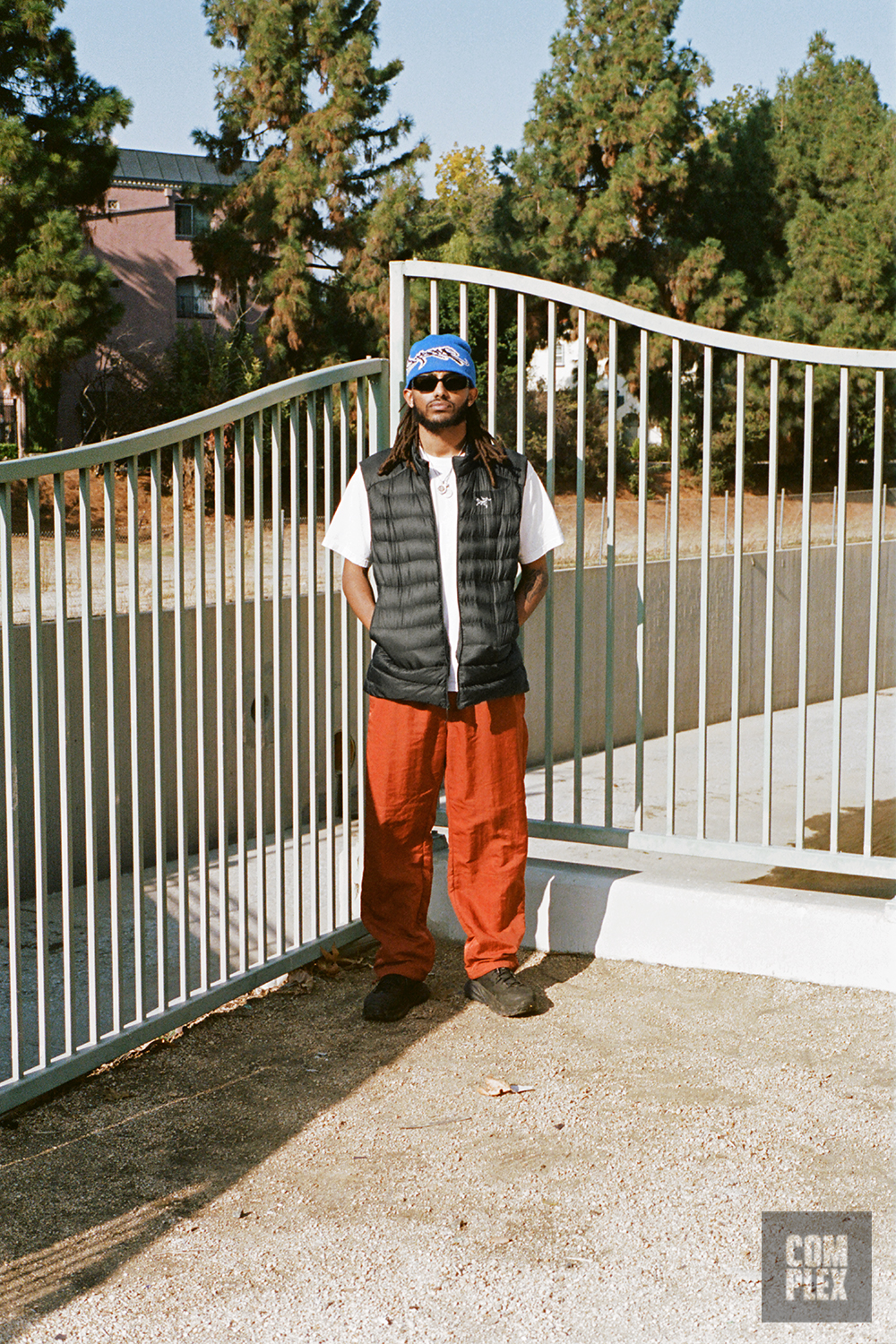 Why wouldn't he be having fun right now? He's living a dream that he wasn't always sure he'd actually achieve. Aminé has known he wanted to be a rapper since making diss songs for fun back in high school, but a path to stardom was never an obvious one. He remembers looking up to Portland rappers like Mic Capes, Cassow, Tre Redeau, and Cool Nutz, and says he reached out to work with them, but never received responses. So he went out and started making things happen on his own.
"I put on my own shows," he says. "I knew nobody would book me, so I organized my own. I even took my financial aid money in the freshman year of college and threw a party where I booked my own performance. My friends even helped me clean up afterwards."
There were moments of reassurance, like the time he opened up for Future at his 2014 tour stop in Portland after "some random dude in New York" saw his mixtape on DatPiff. But there was plenty of uncertainty, too. 
"For years, I honestly didn't think music would work out," he reveals. "So that's why I was interning in Complex for whatever." Ah, yes. The Complex internship. In 2014, Aminé spent a few months in Complex's New York City office as an intern, transcribing interviews among other tasks. (If you look hard enough on YouTube, you can find him in an old Life at Complex episode.)
"I didn't go in there wanting to be a journalist in any sort of way," he clarifies now. "I just went in there knowing I probably needed a corporate job, and I want to be in this industry, regardless of what I do. So it's like, whatever I've got to do, I'm going to grind it out."
Fortunately, he didn't have to pursue a career in corporate America, because in 2016 he dropped "Caroline," which exploded to life-changing success, ultimately peaking at No. 11 on the Billboard Hot 100 chart and going six-times platinum. 
When "Caroline" took off, he felt overwhelming relief. For most of the world, the song seemed to come out of nowhere, but he had been putting in legwork for years. 
"It felt like a little bit of weight had finally just come off my back," he recalls. "I was so broke, man. I didn't have a co-sign, or a major artist pick me up and show me the ropes. I had to learn it myself. I'd been preparing for this for like five years."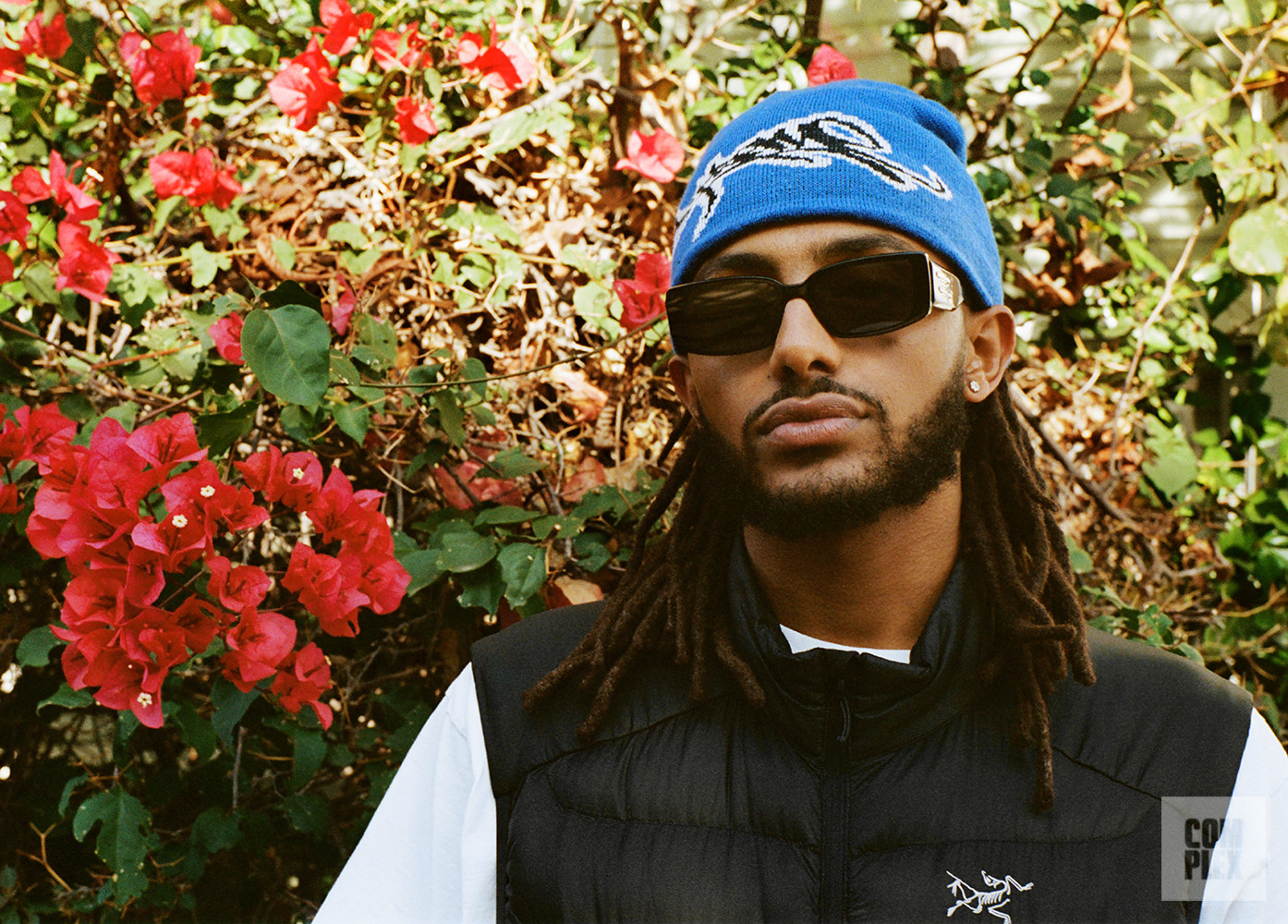 Long before TwoPointFive was finished, Aminé hung the cover artwork up on the wall in the studio and kept referring back to it, "making sure the music fit the vibe."
Designed by Nick Holiday, the artwork features an exaggerated depiction of Aminé's face with a psychedelic explosion of colors coming out of it. And, of course, the background is yellow, Aminé's favorite color.
"When I came out, music was very dark, and it was just cool to identify with a bright color like yellow," he says, explaining why he uses the color in most of his visuals. "That's just who I was, and I realized it also looked really good on Apple Music, or like Spotify, versus all the other covers around it."
Of course, going against the grain always presents challenges. When I ask if he's ever felt pressure to tone down his style and be more serious, he nods his head. "I feel like there's the whole 'that ain't hip-hop enough,' thing [when you're not serious enough]," he says. "But that's just not what I personally want to do. I like having quirky lyrics, and these funny lines that'll make you smile. I'm not embarrassed to be a little goofy, or have fun with it, because that's just who I am."
"I'm not embarrassed to be a little goofy, or have fun with it, because that's just who I am."
For the first time in years, Aminé recorded many of the songs on TwoPointFive himself, and that solitude gave him the confidence to experiment with off-the-wall ideas. It was just him and his Goldendoodle Oliver, hanging out in a makeshift recording studio he set up in his home office. 
"It felt like I had this new creative ability where no one's in the room and I'm by myself at like 4:00 a.m," he says. "I'm in my house, and I can just make weird sounds. Like on 'Dididumduhduh,' it's just gibberish, man. I would never do that in front of people. It felt good." 
One of the first songs he made for the project, "Charmander," centers around the line, "I've been livin' on an island," which acts as a personal manifesto of sorts. 
"I like doing shit solo, because it kind of gives me my sanity, and leaves me within my thoughts," he explains. "Like, I'll pull up to this interview on a bike. I really feel like I've been living on an island. I've just been making music, recording, going to sleep, seeing my friends at a party or so, and then coming back and being by myself again."
"Neo" and "Dididumduhduh" came next, setting the tone for a project dominated by sugary melodies, pitch-shifted vocals, and danceable production. "People know I love dance music, but I hadn't really committed to it for a project yet," he says, noting that dance music influences have made their way into his music since early releases like Calling Brio. "I wanted to take that risk. So I just said fuck it, let's just try this."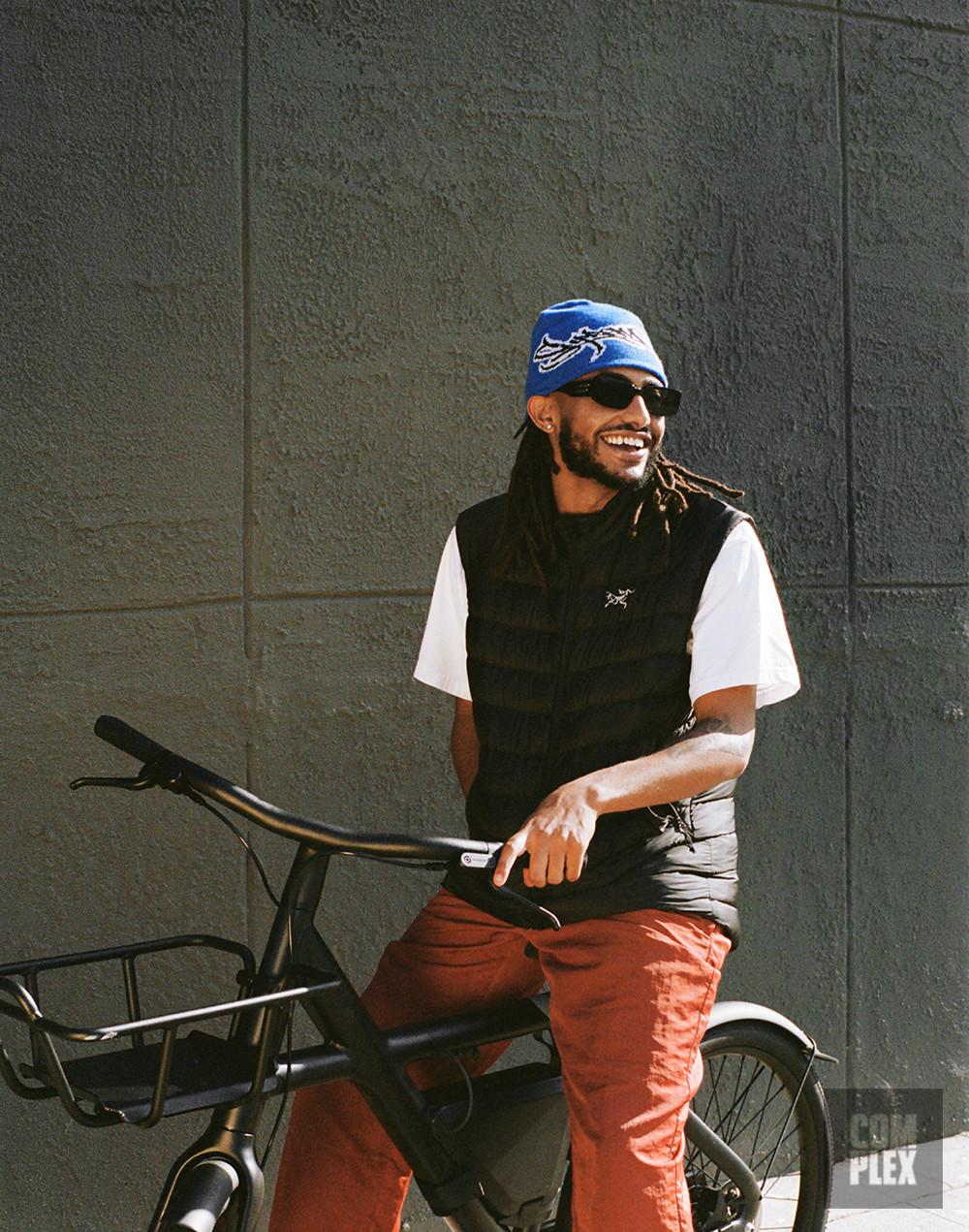 The bulk of the production on TwoPointFive was handled by a trio of producers: Pasqué, Lido, and Westen Weiss. During those early sessions inside his office, as well as a couple weeks at Gold-Diggers Studios, they worked hand in hand to figure out the sound of the album. So, what is that sound exactly? As one fan pointed out, "No one has even come up with a name for this kind of music yet." Others have drawn parallels to the pitch-shifted vocals and ecstatic energy of the emerging hyperpop scene, although that isn't a perfect comparison either. Whatever you want to call it, it's fun as hell.
As the songs took shape, Aminé realized it would make sense to package them together as the second installment in his PointFive series, which started in 2018 with OnePointFive. Basically, it's his way of putting out music between quote-unquote "albums," but without all the baggage.
"After Good For You, I felt a lot of pressure from the industry to release another 'album,'" he says, holding up air quotes. "It was my first time ever having this many people care about what I put out into the world. With OnePointFive, I just didn't want to prepare for an album. I just wanted to make a bunch of fun music and put it out, and that's what OnePointFive was."
He felt a similar way after Limbo, and making another PointFive project allowed him to create in a more free-spirited way again. He also liked the idea of subverting the expectations that come when artists decide to call their music "albums" or "mixtapes." PointFive projects live somewhere in between the two, and Aminé delights in blurring the lines, unbothered by the confusion it might cause among critics. 
"I think people really hate when artists these days have tons of fun and don't care what the critics think," he points out. "People hate that. It's not like I don't care to be hurtful towards the critics or anyone. It's more so that I just don't care, for my mental health, and the way I make music. I don't know why everyone's so serious."
Aminé is making a lot of decisions with his mental health in mind these days, which might have something to do with his transportation of choice today.
"I've been riding my bike like every day, and that's for my personal happiness," he says. "Like, getting out on a bike, and being outside, and looking at the trees for a second. I have my headphones in. It just makes me so happy. And I know that sounds old as fuck, but it feels good. [Laughs.] It's just what I needed."
It seems to be working. As our conversation comes to an end, Aminé's phone lights up with a call from his dentist. It turns out he has an appointment for a root canal in less than 30 minutes, but he's being extremely chill about it.
When he tells me about the procedure, I reflexively blurt out, "Oh, shit. Sorry." With a big smile on his face, he responds, "You know what's crazy? Everybody keeps saying, 'Oh, shit,' but I've been doing my research on root canals, and you heal in like an hour. They drill a hole in your tooth, fill it up with some filling, and it's over. It's hella cool."
On that impossibly optimistic note, my afternoon in Aminé's world comes to an end. Just as casually as he arrived, he thanks me for my time, hops on his bike, and rides away into the California sun.