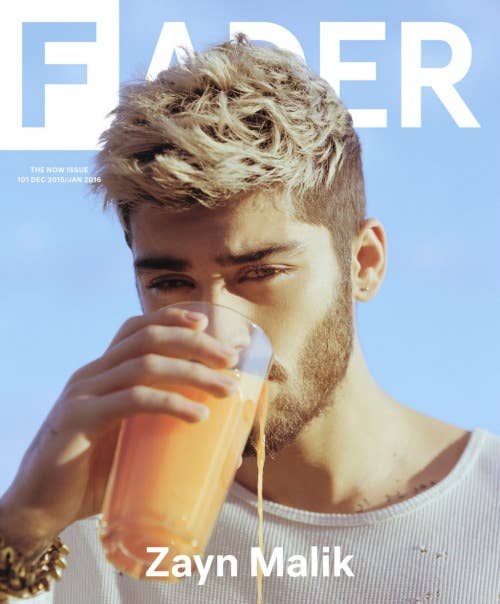 Back in March, Zayn Malik unexpectedly left One Direction to start a solo career away from the mega pop group. Up until now, Malik hadn't talked openly about the split, but that all changed today in his new cover interview with the Fader.
Malik revealed that no one thing led to his departure from the group, but that he just knew it was time to move on. "I was always thinking it. I just didn't know when I was going to do it. Then by the time I decided to go, it just felt right on that day," Malik said. Following his sudden departure from the group, rumors began to swirl about the reasoning behind the move, with fingers pointing towards his relationship with his former fiancé, Perrie Edwards. Right around the time of Zayn leaving the group, news began to spread that he cheated on Edwards while on tour, but he maintains neither incidents were connected. "It wasn't because of that that I left—that was just a contributing factor to everything. I'd already made my mind up before that," he said.
While people are still very interested in Malik's past with the group, his future as a solo artist is driving the current discussions about his career. The cover story documents Malik's new journey as a solo artist with RCA Records, and also reveals that he will be releasing his debut album early in 2016. To this point, we've only heard small portions of Malik's solo music, but it appears that the process of making music by himself is much different than it was with One Direction. "To me, it's like I stood in front of a canvas for about five years, and someone said like, 'You're not allowed to paint on this canvas.' I've got the paint, I've got the fucking brushes, and I can't get it on there. Now someone removed the plastic and was like, 'Alright, you can now paint," he said. 
Read the full piece here.