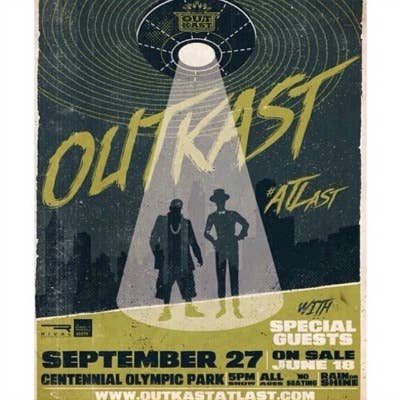 OutKast is coming home. Today, the group confirmed the rumors of a comeback show in Atlanta that will take place on September 27 at Centennial Olympic Park. The duo of André 3000 and Big Boi will host and headline the show, with more guests added to the lineup in the coming weeks.
In support of the show, the group launched www.outkastatlast.com, where the tickets for the event will go on sale on June 18. In a statement to Billboard, Big Boi said, "it's only right that we give the hometown what we've been giving the rest of the world."
Atlanta, are you ready for OutKast to come home?
[via Billboard]
UPDATE: OutKast announced this morning that Kid Cudi, Raury, and Childish Gambino will be opening their homecoming show in Atlanta. Tickets will go on sale today at 10 am ET.