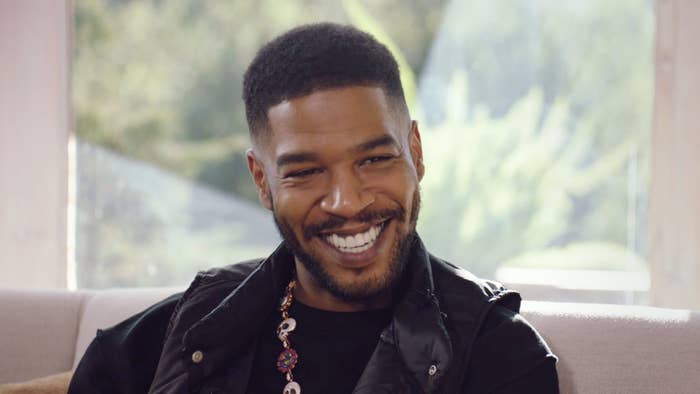 When Kid Cudi announced his new album Man on the Moon III: The Chosen on Instagram, the buzz was instantaneous. New Cudi? Another Man on the Moon? A new Pop Smoke verse? Phoebe Bridgers makes an appearance? 
For all the excitement, there were lots of questions: Would he stick closely to the themes of Man on the Moon? How would he update the MOTM aesthetic for 2020? With all of this in mind, we eagerly tuned in to his interview with Apple Music's Zane Lowe on Thursday afternoon. The two chopped it up for 50 minutes, running through Cudi's history as an artist, his mental health issues and drug abuse, and what we can expect from MOTMIII. 
The first thing we notice is how upbeat Cudi is. Throughout the interview he's smiling and energetic. His excitement for the new album is electric and palpable. He's candid with his shortcomings and fears, and about the process behind making this new album. For all his ups and downs, Cudi is thrilled to be presenting this new work and discussing it with Lowe. "Everything's in place. I'm happy," he says at the end of the interview, with a glowing smile on his face. 

As for what's coming next? Cudi's itching to tour this album as soon as it's safe. "This album was made with touring in mind. I wanna blow this up." Though this prospect is a long way off, it's exciting to hear Cudi excited about hitting the road again. With anticipation growing on the day before MOTMIII is released, we broke down the highlights of his interview with Zane Lowe, including his desire to be respected as an MC and how Eminem gave him confidence to rap his ass off.
You can watch a 17-minute segment of the interview on YouTube and see the full thing on Apple Music here.
According to Cudi, getting to the place where he was able to complete the trilogy was a long time coming. He had to wait for a moment where it felt natural and unforced. "It took conversations I had with people I trusted, like Dot [Da Genius] and Dennis [Cummings, Cudi's manager]" to gain confidence, he explains to Zane Lowe. "I was already in a really good place with Entergalactic, and I was going crazy on The Scotts shit [with Travis Scott], having that in the chamber, but then I was making something else that didn't fit those two projects." He realized that the new music was an extension of Man on the Moon, and after recording two or three songs, he began to pursue the third part of the trilogy. "This is what the universe is telling me to make," he adds.
With this project, Cudi recorded 12 songs in about two weeks before stepping back and analyzing what he created. "When I'm writing, I think about things I want to discuss and touch on. This was really fast, and I saw everything I had in front of me, and I realized I had the album." Cudi's writing process also allows him to take a "first thought, best thought" approach, and discover the themes that emerge as he begins to listen back. "Every time I make a record, I'm learning something new about myself." Helping put the timeline in place, he adds that he made "The Adventures of Moon Man & Slim Shady" with Eminem before he got into the creation of MOTMIII. 
Cudi points to his full-length collaboration with Kanye West, Kids See Ghosts, as a turning point in his career, the first time in a few years that he had wanted to make something happy and uplifting. "Before we even began, Kanye told me that he wanted to make a spiritual record, and that was just music to my ears," Cudi tells Lowe. And while Kanye and Cudi's definitions of spirituality likely differed, Cudi tapped into a personal spirituality that allowed for a freedom he hadn't been able to record with in a long time. Though, in the interview, Cudi also explains how he's always relied on God and spirituality during his lowest moments, and how his spirituality manifests itself in imagistic language on his records. "I know I got angels that are looking out for me every day," he says.
According to Lowe, Act 1 of the new record features some of the hardest beats Cudi's ever rapped over, and some of his most ambitious lyrical concepts, too. He has a line, "Tell my momma I'm sorry," which Cudi says keeps him grounded as a person recovering from substance abuse. "I never wanted to let my mom down, but that's where I am at. This is the way it is, this is my reality." He admits that thinking about disappointing his mother has caused him pain, but his reflection on the new album comes from a place of admittance and a need to move forward with a clearer head.
"I've always viewed my music as one big S.O.S. to the world, to see who out there connects with what I'm saying," Cudi says. But with this new album, it seems as if his positive experiences have crept in as well: playing with his daughter, hanging with friends, chilling with his girlfriend and friends, and writing music with no particular purpose. A lot of Cudi's songs come from this place of messing around, just having fun in the studio. These experiences seemed to have informed the new album as much as the tough road he took to get to a place of happiness and comfortability in his own skin. Though the bad days still come and the anxiety creeps in, Cudi's in a much better place these days and this mindset is reflected throughout his interview with Lowe.
"Before I started working on this shit I was like, my next shit's gotta be bars," Cudi says. "I knew that. I just remember Travis saying something to me about raps. He was just like, 'Your raps, man. I love when you rap.' He said my raps were good, that must be something the kids like. Keep that in mind [Laughs]."
According to Lowe, the second act of the album features some of Cudi's hardest rapping to date. Apparently, "Show Out," with Pop Smoke and Skepta is an absolute banger, and Cudi proves his chops as an MC. This has been building in Cudi for a while, since before he even began working on MOTMIII. "In hip-hop, I'm slept on as a rapper, as a lyricist. I really wanted to elevate my whole shit on that front for this project. I did that with the rapping and the singing. Everything is evolved."
"When I'm working with 'Ye, it's always like, 'I hope he likes this shit,'" Cudi says. "It doesn't matter how excited I get, or the people around me in the room get, if he doesn't fuckin' like it, I gotta fuckin' rewrite it." The funny thing though, is that Cudi doesn't think Kanye's ever asked him to rewrite anything. For all of Cudi's nervousness around impressing Kanye, Kanye's come away thrilled with everything Cudi's presented to him. "Even when we were writing on Kids See Ghosts, I'd write a verse, and he'd be cool with it. I'd be like, 'Holy shit, that was close!'"
On this album, Cudi decided to work on some ad-libs, but was hesitant to do it in the traditional way. "I decided to sprinkle in some ad-libs, something I've never really done before," he explains. "I was able to do it in my own little way, so it remains authentic and doesn't sound like I'm doing ad-libs like everybody else."
When Cudi and Lowe discussed Cudi's need for validation as an MC, he relayed an anecdote about working with Eminem. Regarding his thought process, he said, "'I wanna be respected as an MC, who do I get? Who do I go bar to bar with?'" Cudi took to Twitter and hit up Eminem on his timeline. "We're really close with Paul Rosenberg and he was able to connect us. It was a nailbiter because I was waiting and waiting. They were asking me questions, not saying if he was gonna do it or not. Every day I was like, 'Is today gonna be the day?' I got it, and I was like, 'Holy shit.' It was something for me to get the validation from Eminem. By doing that record, he was telling me, 'I fuck with you as an artist. Even your bars are dope.'" And after Lowe's suggestion, Cudi confirms that it allowed him to approach rapping with confidence.
According to Cudi, Dot Da Genius and duo Take a Daytrip handled the majority of production on the album. Though Plain Pat, Emile Haynie, and Mike Dean are all listed in the credits, Cudi attributes most of the album's songs to Dot and Take a Daytrip. "I would think of flows and hooks while they were making beats, and so when they were finished, I'd have a reference done immediately," he says of the process. "We'd finish a song in a night."
Pop Smoke's label head Steven Victor thought of Cudi on a song that became "Show Out" as soon as Pop recorded it. Explaining how he ended up on the final version, Cudi adds, "Dot Da Genius and Plain Pat had worked with Pop before he blew up at Don't studio in New York. They just never did anything with it. Dot plays me this record, and I was like, 'I need this.' Nobody's ever heard me on anything like this. Skepta sounds amazing. Pop sounds amazing. This would be so unexpected. I think I could hold it down and do my thing. And this is also another way I can showcase these bars."
The album closes with "Lord I Know," which, in Cudi's words, is one of those "classic Cudi hymns." He adds, "One of the messages I wanted people to pick up with this album is that there's someone looking out for you on your journey. There's something keeping us safe." Throughout the interview, Cudi speaks to the importance of having lifelines and people around him who understand his struggles. He wants to be that support system for his audience as well. He wants his fans to know that they're not alone, that their struggles are shared.
When Man on the Moon II was released, Cudi was in a dark place. "I was a mad man," he explains to Lowe. "My daughter was born that year, I was scared about being a parent, I was scared about the future. I didn't know what I was gonna do after Man on the Moon II… I was still young, still trying to figure it out." Cudi's cocaine use was also front and center, and he disliked the attention he was receiving. "I quit cocaine cold turkey, and I never faced my issues with that. That's why it ended up coming back later on in life. I didn't really address that shit when it happened. I got arrested and people knew about it. They started looking at me funny."
Lowe brings up how Cudi has always seemed to be isolated on Earth, always surrounded but rarely understood. Reflecting on his early days in isolation, he says, "That's when I did my best work, when I wrote my best shit, and when my best ideas were conceived. I had a lot of time to just sit and think." He adds, "I was always plotting something." Now, though, Cudi's surrounded himself with friends and family he trusts, and it's allowed him to approach music with the creative freedom of someone in their own world, without the loneliness that comes with it.
Making the point that he likes to make music without the pressure of actively trying to make an album, Kid Cudi brought up spontaneous recording sessions that happened after the release of 2015's Speedin' Bullet 2 Heaven. Touching on mixed reviews from fans, he says, "After Speedin' Bullet 2 Heaven, I was like, 'Man, I don't know when I'm going to do another album.' People shitted on that album so much. I was like, 'I don't know when.'" Then he explains that he was finally inspired to make the follow-up, Passion, Pain & Demon Slayin' after carefree sessions on his birthday. "These moments where I'm in the studio where there's no pressure to do anything, some beautiful shit comes out of those sessions."
Cudi says getting out of the habit of releasing albums every year changed everything for him. "I think I had to take a step back in my own career," he explains. "I was dropping an album every year from 2012 to 2016 because some psycho whatever was going on in my mind for those five years. I needed it. Now, I do an album every other year. I have time to go do a movie or two. Or write a TV show. Or go do my animated show. Or just go hang out with my daughter."