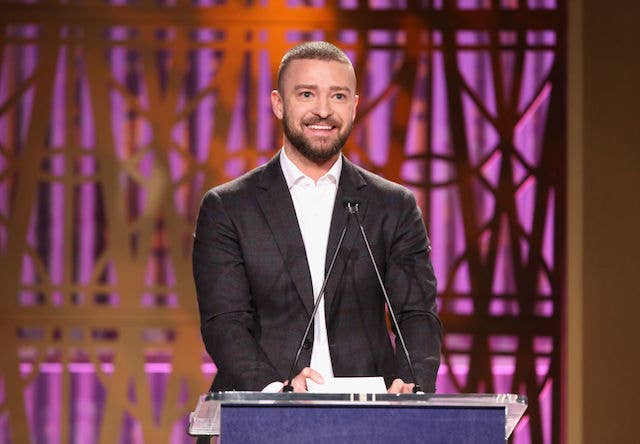 Justin Timberlake drew criticism when he signed up to star in Woody Allen's latest film, Wonder Wheel. 
Many have asked Timberlake to speak out against Allen, who was accused of molesting his adopted daughter, Dylan Farrow, when she was seven. But it seems that Timberlake isn't interested in getting involved in any form of controversy. "I chose to not get into it — I really don't dive into any of that stuff with anybody," Timberlake said in an interview with The Hollywood Reporter.
As for being cast to star in a Woody Allen film, which is still a coveted spot by many, Timberlake says that he never thought it could happen to him.
"I can't really say that doing a Woody Allen movie was ever on my bucket list," said Timberlake. "Because I never even thought that doing a Woody Allen movie might be a possibility."
This interview comes days after Rose McGowan, one of the dozens of whistle-blowers against Harvey Weinstein, called Timberlake a hypocrite for wearing a Time's Up pin to support women and men who've been sexually abused after he worked with Allen. 
"Then there's Justin Timberlake hashtagging 'My wife looks hot tonight hashtag Time's Up' hashtag I just did a movie with Woody Allen,'" she said in an interview on The View. "So come on, it is fake. I wish it weren't — I wish everybody were good. I'm sorry to puncture your heroes, but sometimes these heroes need to be better."
But JT doesn't seem to be losing any steam. Ahead of his Super Bowl performance this Sunday, JT dropped his fifth solo album, Man of the Woods. He also spoke to THR about his early days with N'SYNC and being BFFs with Jimmy Fallon. Read the entire piece here.