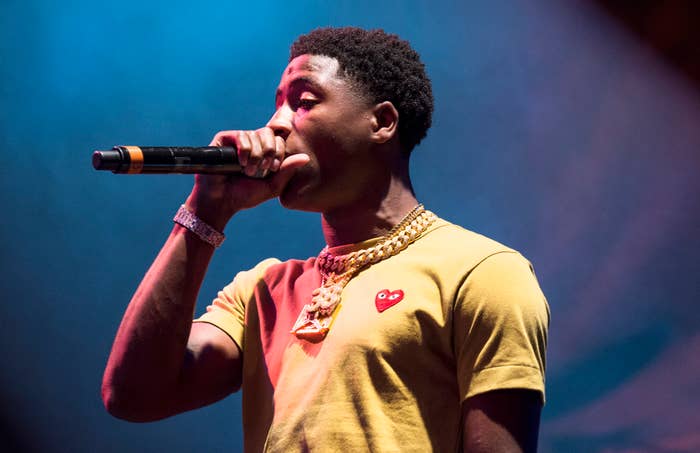 Without looking it up, who would you guess is the biggest artist on YouTube in the United States right now?
Is it Ariana Grande? She's been putting up huge numbers since releasing a record-breaking video for "thank u, next" in late 2018. Maybe Kodak Black? He's always performed well on YouTube and he's still riding a wave after dropping the video for "ZEZE" featuring Offset and Travis Scott. Or is it Bad Bunny? Drake? Ed Sheeran? Future? XXXTentacion? Taylor Swift? Nope.
No artist is having more success on YouTube right now than YoungBoy Never Broke Again. Currently sitting at No. 1 on the YouTube Music chart, he is the most-watched musician across all genres. And he's been able to do it without the bells and whistles of expensive videos, cheap viral tricks, or big-budget music rollouts. As far as musicians go, he's established himself as the king of YouTube.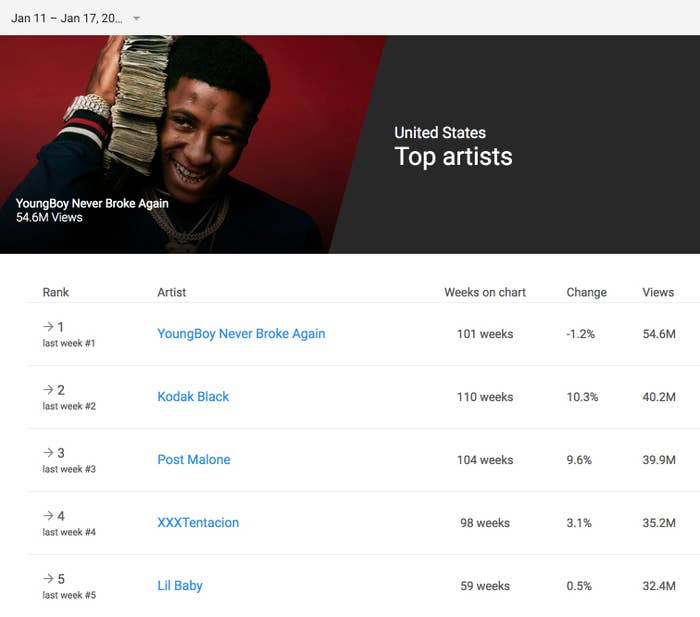 YoungBoy Never Broke Again has been on YouTube's Top Artists list in the United States for the past 101 weeks, and he's been No. 1 for the last 19. This week, he sits atop the list with 54.6 million views, above Kodak Black (40.2), Post Malone (39.9), XXXTentacion (35.2), and Lil Baby (32.4). His overall numbers are staggering. YoungBoy has netted over 4.1 million subscribers since the beginning of 2017. He has managed to average over 8 million global views per day over the past month.
"I think in the world of fake rappers and sh*t, people can JUST feel his authenticity." - Louie Knows
The Baton Rouge rapper is only 19 years old, but his rise has been in motion for years. He released four mixtapes (Life Before Fame, Mind of a Menace, Mind of a Menace 2, and Before I Go) before a major breakout moment came with 2017's 38 Baby, which featured Boosie Badazz and Kevin Gates. Since then, he's released eight solo mixtapes, two collaborative projects, and three EPs. In 2017, his efforts were rewarded when he signed a rumored $2 million, five-album deal with Atlantic Records, and dropped his debut studio album, Until Death Call My Name, last April.
YoungBoy's ascent hasn't been without controversy. He spent time in jail for attempted first degree murder charges in 2017 and was indicted for charges of aggravated assault and kidnapping in early 2018 after footage surfaced of the rapper allegedly assaulting his girlfriend Jania Jackson. His legal issues have slowed coverage from some media outlets and potential corporate sponsors, but they've done nothing to limit his rise on YouTube.

YoungBoy's music performs the best in Dallas, Texas (10.9 million views per month); Atlanta, Georgia (9.64 million views per month); and Houston, Texas (9.22 million views per month). The majority of his YouTube traffic comes from the United States: He ranks considerably lower on the global artists chart at No. 54. The Baton Rouge rapper does well on Spotify, too, but the numbers pale in comparison to his YouTube performance (he ranks 494th in the world in global Spotify streams).
So, why does his music translate so well to YouTube? Any vlogger will tell you the secret to success on YouTube is consistency, and YoungBoy follows this formula as well. Over the last two months, he has uploaded to YouTube 18 times, and often makes a habit of releasing music on the video platform before it arrives on any other service. 
His visuals are simple. There are guns and depictions of street life, but no fancy camera work or any other forms of glitz and glamour. In comparison, an artist like Ariana Grande has had her YouTube channel for 11 years, but has uploaded less than 25 music videos in total. Each of Grande's videos average more views than YoungBoy gets on a per-upload basis, but his consistency is translating to more overall impressions (and a friendly relationship with YouTube's algorithms).
Louie Knows is one of YoungBoy's go-to video directors, responsible for recent visuals like "Valuable Pain" and "I Came Thru." He says there wasn't a conscious plan to focus on consistently uploading simplistic videos: This is just what makes YoungBoy YoungBoy. "It's what makes him popular on YouTube because the fans want to see him and how he opens up," Louie says of the raw style. "They want to see this in action because it helps them paint a picture of who he really is through watching him in these videos." Discussing YoungBoy's lack of a master plan to YouTube success, Louie adds, "Honestly, his strategy is whatever he feels is right in his heart."

A common theme in YoungBoy's videos is that he prefers to be alone. In the clip for "Kick Yo Door," he spends most of the time in frames by himself without anyone around. "He isn't the type of guy to enjoy having a bunch of people around him that he doesn't know," Louie says. "Typically, with an artist of his magnitude on set, you'll have anywhere from 15 to 100 people. But when it's just me and him for a shoot, he is more comfortable with being himself and not having all these eyes on him, which he feels is authentic. It results in the best performance that he can give."
Louie points to this, as well as the simplicity of the visual, as the differences between YoungBoy and an artist like Ariana Grande. "Respectfully, she has probably never been on a low budget set," he says. "When it comes to YoungBoy, he comes from the streets, the bottom. They are looking for his personality and that rare moment when he opens himself up and allows himself to perform freely. Because of this, his videos rack up millions of views off of little to no budget." Louie adds, "People like his no-filter, 'I don't give a fuck' attitude. This might sound crazy, but the way that he acts often reminds me of 2Pac. I think in the world of fake rappers and shit, people can just feel his authenticity."
In 2019, SoundCloud has lost its place as the go-to platform for rising artists, and YouTube is filling that need. As competing streaming services roll out pricey subscription plans, YouTube remains free. In turn, it has the largest base of users, and its content reaches listeners who don't have access to premium subscription services. Intentionally or not, YoungBoy has struck a chord with fans who go to the service in search of a raw style—and he's connecting with a massive audience.