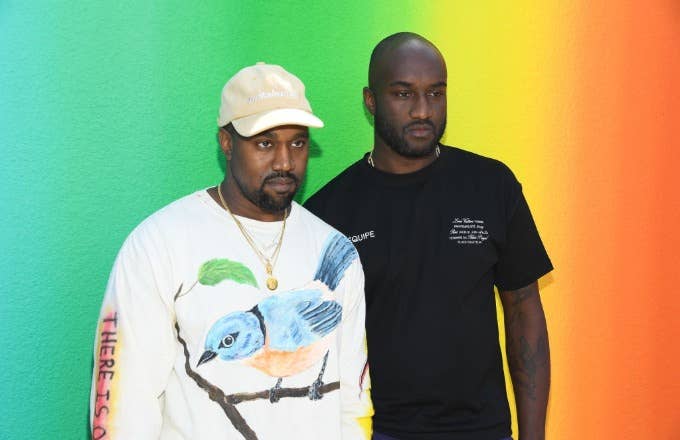 There's a very real chance that whatever collection of MAGA-stained songs Kanye West was referring to as Yandhi last year has been entirely scrapped by now. As you'll recall, the album—which would have marked an immediate followup to his first true critical misfire—was announced and repeatedly teased surrounding West's dismaying SNL appearance before eventually being put on hold. At some point during that period (or perhaps even recently), however, Virgil Abloh had the chance to listen to a version of West's new abum.
In a recent TeamKanyeDaily-spotted interview with Gilles Peterson, Abloh spoke on how West has "dedicated his life" to honing in on the power of collaboration and delivered praise for the new West album he heard. "He's dedicated his life to sort of finding the melting pot but he does it with his eyes closed," Abloh said. "It's an amazing sonic thing. ... You know, he's a producer, he produces clothing, he's a designer, he's an artist. But from someone that was so close to those albums in the past, it's intense."
Adding that he has indeed heard the "new project," Abloh continued: "His new record—without being sort of too, you know, speaking about another artist's work—the new one is absolutely insane production wise. You know, jaw dropped from the very first thing I heard all the way to the end. You know, a guy like Kanye West, you know, he's . . . a better artist because he's able to make it through [being where he's not supposed to be]."
For the full Abloh x Peterson chat, head here.
As it stands now, it's hard to say when Yandhi will be released. In fact, it's not a sure thing that title will even stick or that we'll get a new album from West this year at all. While his uneven 2018 seven-tracker Ye was met with a lukewarm critical reception and almost entirely overshadowed by a run of MAGA fuckery, his Kid Cudi collab Kids See Ghosts and his production on Pusha-T's superb DAYTONA ultimately landed on a plethora of year-end lists. West is also up for the Producer of the Year (non-classical) award at next month's Grammys.