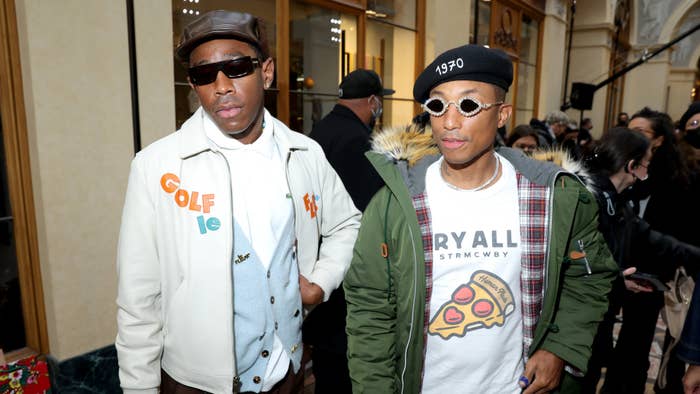 Tyler, the Creator credits Pharrell's 2003 single "Frontin'" with changing his life.
In a reflective post shared to Instagram over the weekend, Tyler looked back on his initial exposure to the track, which turned 20 years young on June 3. As fans will note, this isn't the first time Tyler has praised the Jay-Z-featuring single. Surrounding the track's 10th anniversary in 2013, for example, he declared it "the greatest song of all time."
With his latest remarks, Tyler elaborated further on the far-reaching impact of the inarguably influential composition.
"[T]he melodies in [Pharrell's] shaky head voice were sticky. i was stunned," Tyler wrote, as seen below. "[B]ut what took me over the edge was the bridge. i believe the trajectory of my life changed at that moment. its a high chance my addiction of putting bridges on everything was cemented because of this song. ive subconsciously been trying to chase that high for 20 years."
Tyler then provided a quick summary of the typical utilization of bridges for those unfamiliar, pointing out just how inventive it was for Pharrell to return to the "Frontin'" bridge at the end of the song.
The track's video also had a life-changing impact on 12-year-old Tyler.
"[N]o one knew images like that would be shaping how things are 20 years later," he said. "[I]'ve stated this multiple times but FRONTIN is my favorite piece of art to grace this earth. i am forever grateful that i'm alive at the same time to experience it. i can only hope that one day something else crosses my path and makes me feel exactly how this does."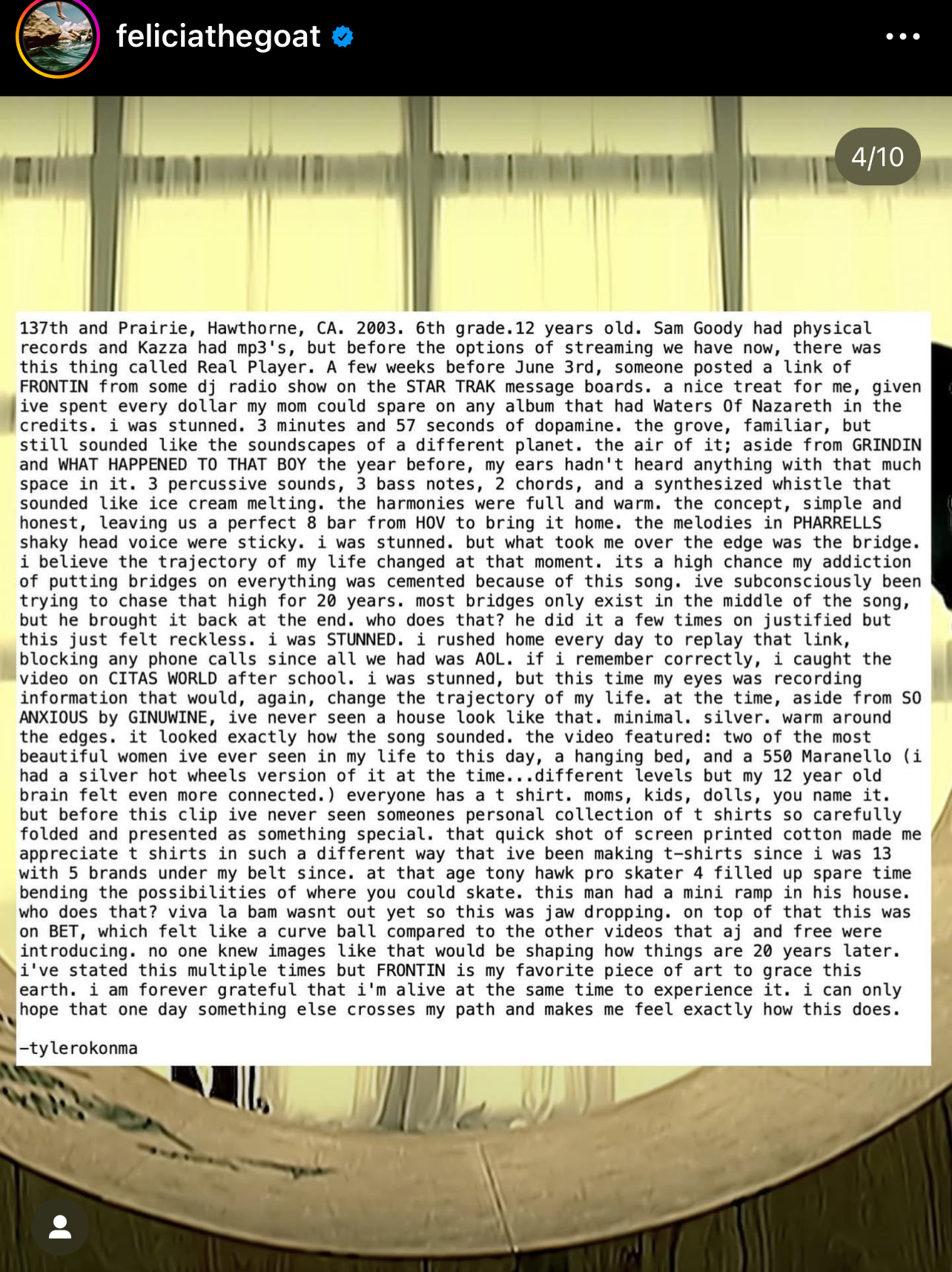 Tyler has long been effusive in his praise for the work of Pharrell, particularly this chapter of the multi-hyphenate's creative output. Back in 2016, Tyler looked back on Pharrell's In My Mind debut, which followed three years after the success of the "Frontin'" single.
"It seems like at a certain age, ideas [and] original thoughts are no longer a thing; I didn't fall into that cycle," Tyler said at the time when outlining the album's personal importance in light of its 10th anniversary. "I'm now a young entrepreneur all because I believed you when you said I could be."
Last week, Tyler formally announced the return of his Camp Flog Gnaw Carnival. See here for details.