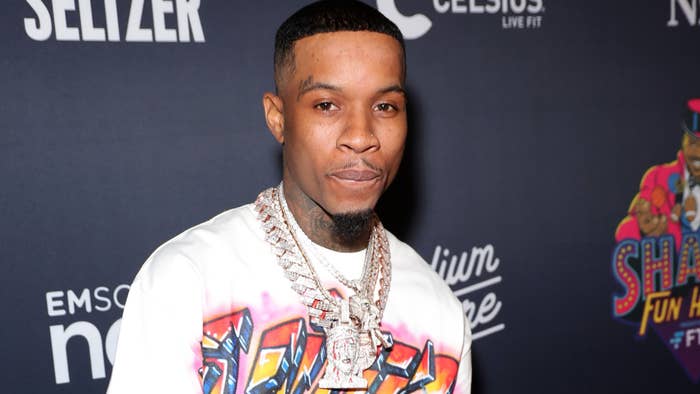 Tory Lanez is now facing an additional charge in the Megan Thee Stallion shooting case.
As first reported by The Shade Room on Tuesday, a felony charge of discharging a firearm with gross negligence has been added in the case, which previously saw Lanez being charged with assault with a semiautomatic firearm and carrying an unregistered firearm in a vehicle. The charges are in connection with an alleged 2020 shooting in the Hollywood Hills area.
When reached for comment on Tuesday, a rep from the Los Angeles County District Attorney's Office told Complex, "A felony count of discharging a firearm with gross negligence was added to the information." In court documents viewed by Complex, namely an amended complaint from the State of California dated Dec. 5, it's alleged that "in the commission and attempted commission of the above offense, [Tory Lanez] personally inflicted great bodily injury upon" Megan Thee Stallion.
Deeper into the court docs, Lanez's alleged actions are described as involving "great violence, great bodily harm, threat of great bodily harm, and other acts disclosing a high degree of cruelty, viciousness, and callousness."
In an interview with Gayle King for CBS in April, Megan spoke out about the central allegations in the case, notably marking the first time she opened up about the shooting in a TV setting. She also revealed that Tory allegedly offered to pay $1 million if she stayed quiet. That same month, Lanez was reported to have been found in violation of a protective order in connection with the case.