Punch, co-president of Top Dawg Entertainment, dabbled in some Satanic Panic this week.
Following a tweet over the weekend in response to Miguel's suspended-from-hooks stunt, Punch turned his attention one day later to what he described as "the demonic influence" in the music industry.

"The demonic influence is getting more and more blatant in this thing," he said. "The gradualism was numbing, now it's just out loud."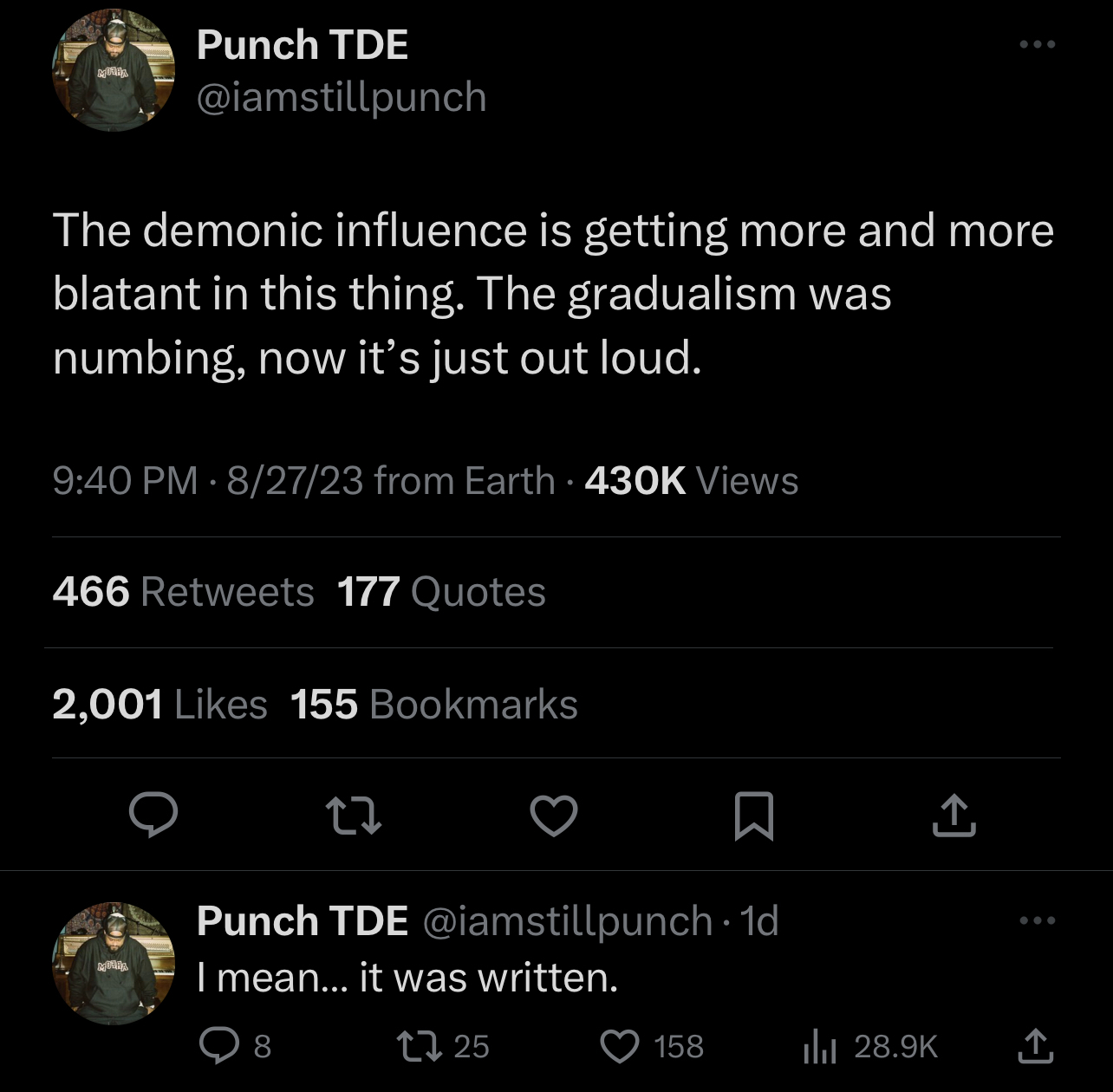 From there, Punch ended up in a back-and-forth with someone who brought up TDE artist Ab-Soul previously taking inspiration from occultist Aleister Crowley while also pointing out how getting lost in "demons" chatter ends up turning people's attention away from the actual problems of the world, namely capitalism.
Ultimately, this exchange came to a fitting conclusion, with Punch agreeing with the person's assessment that artists tend to use imagery they know will be called out as "satanic" to provoke this exact type of reaction.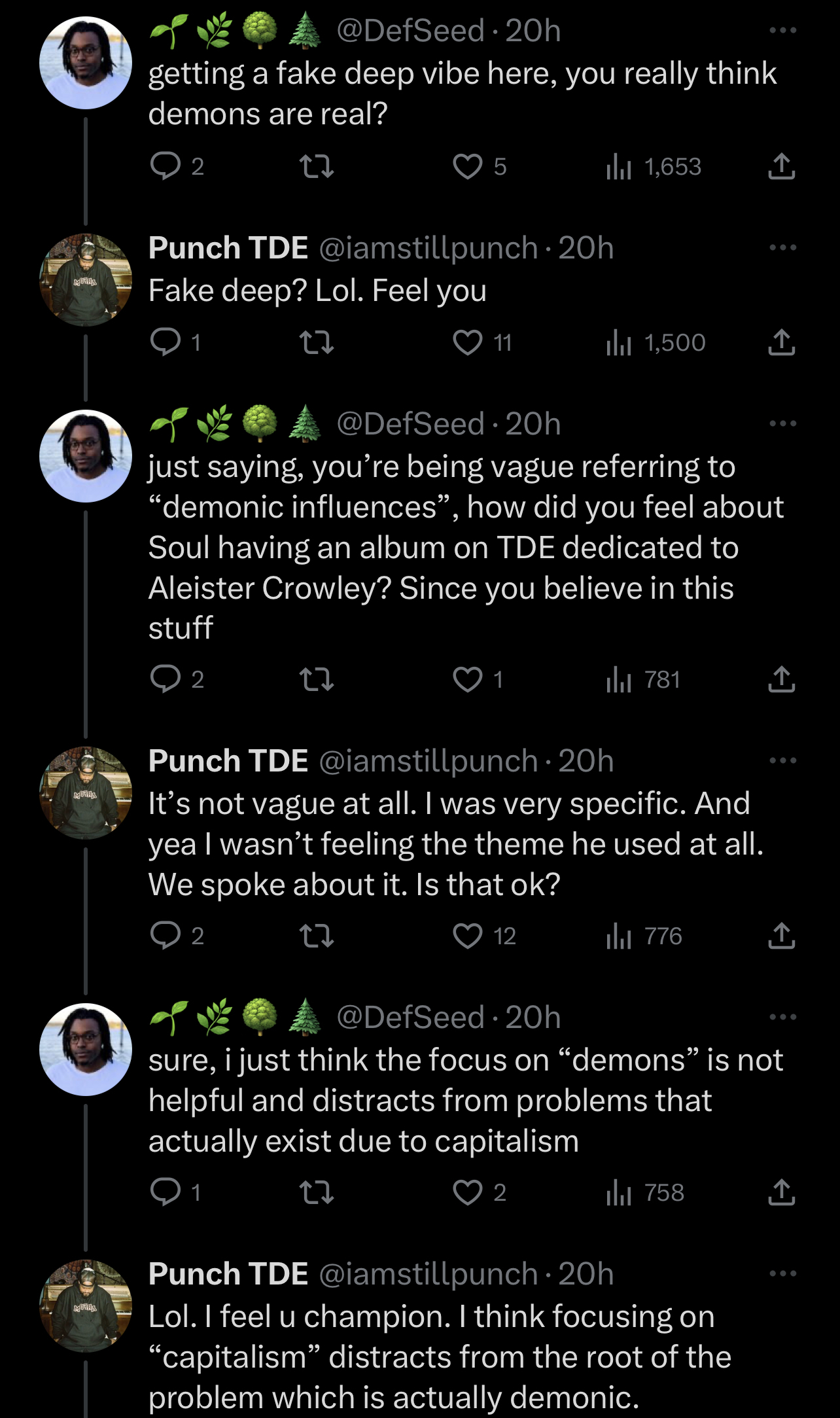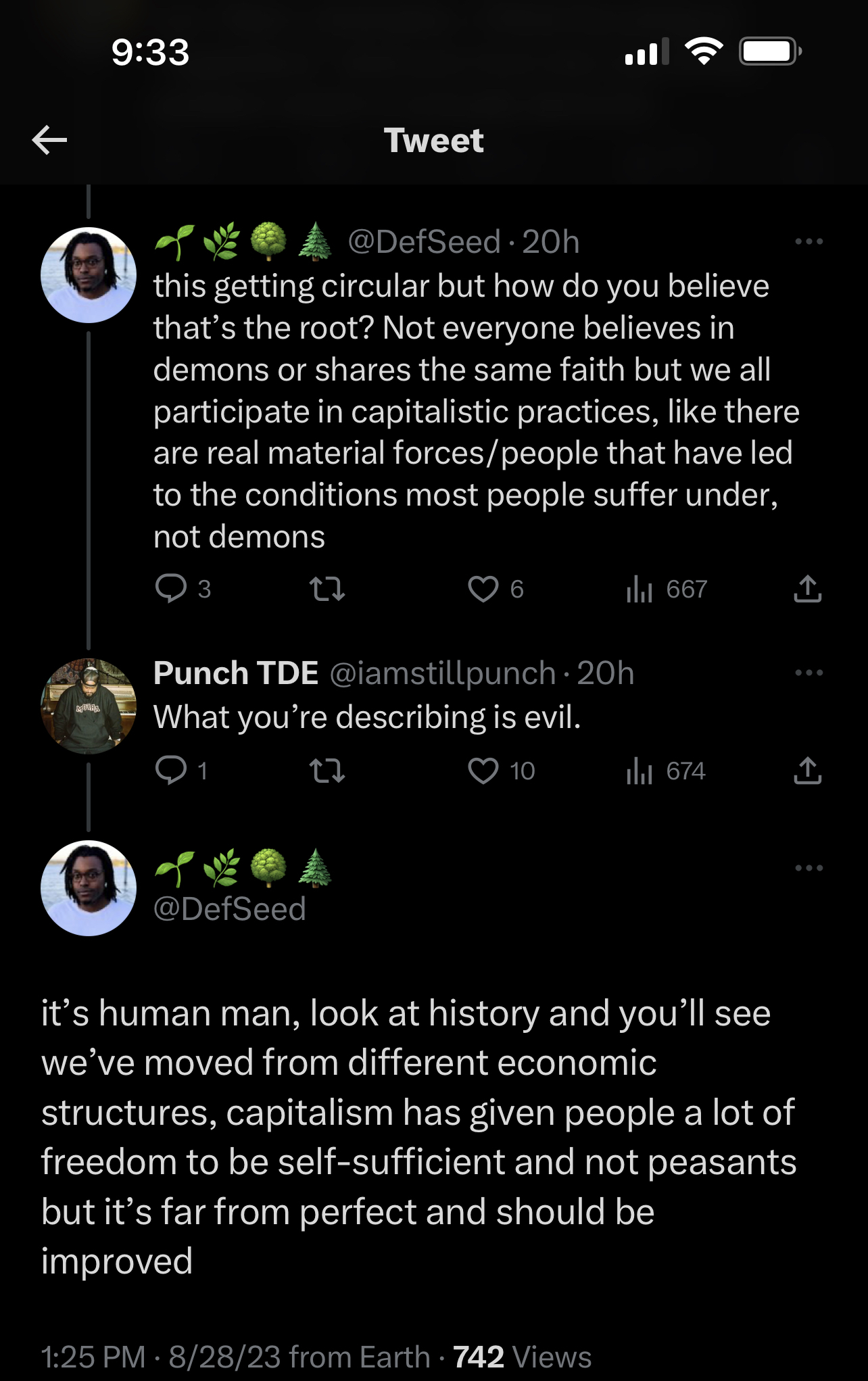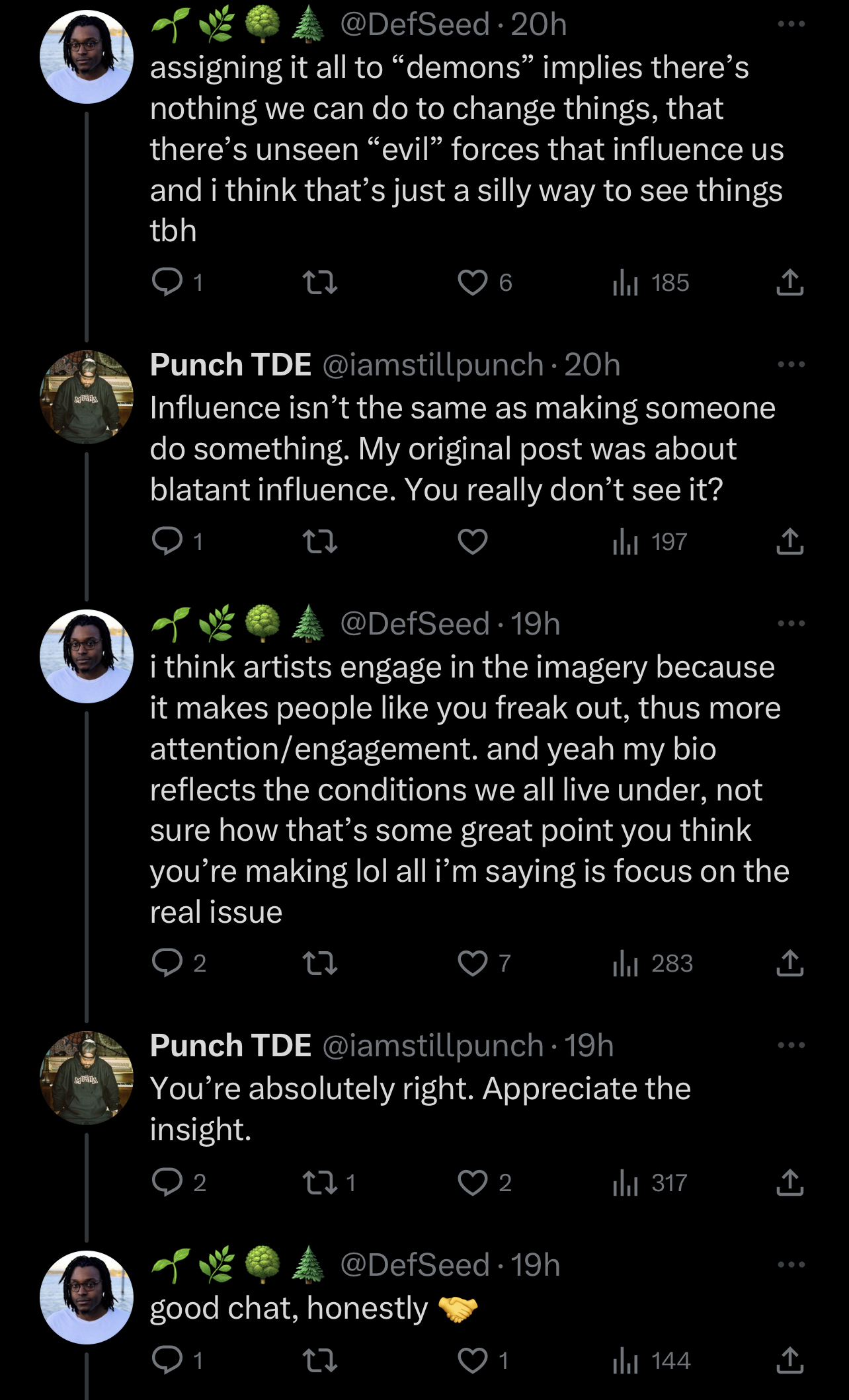 See more from Punch below.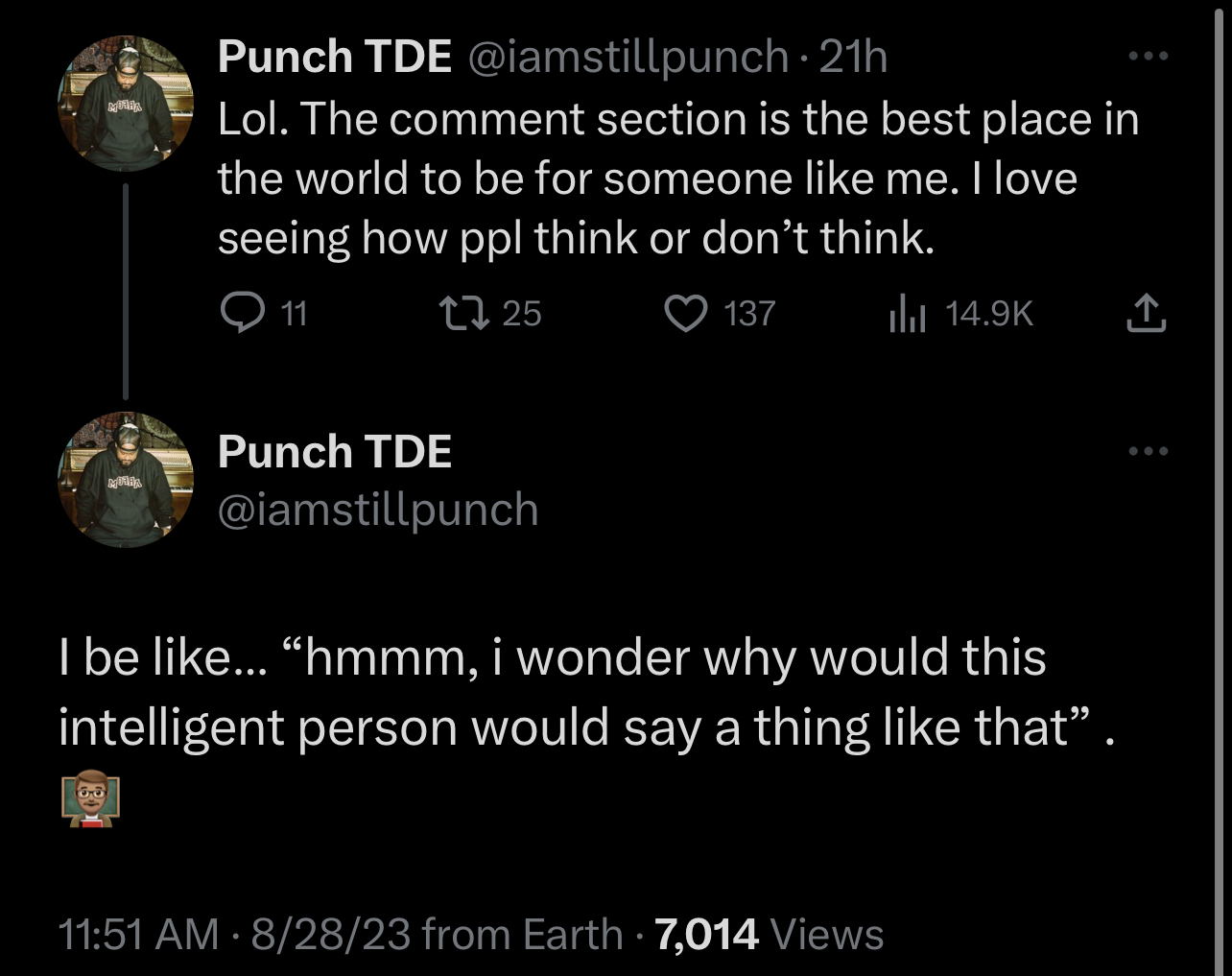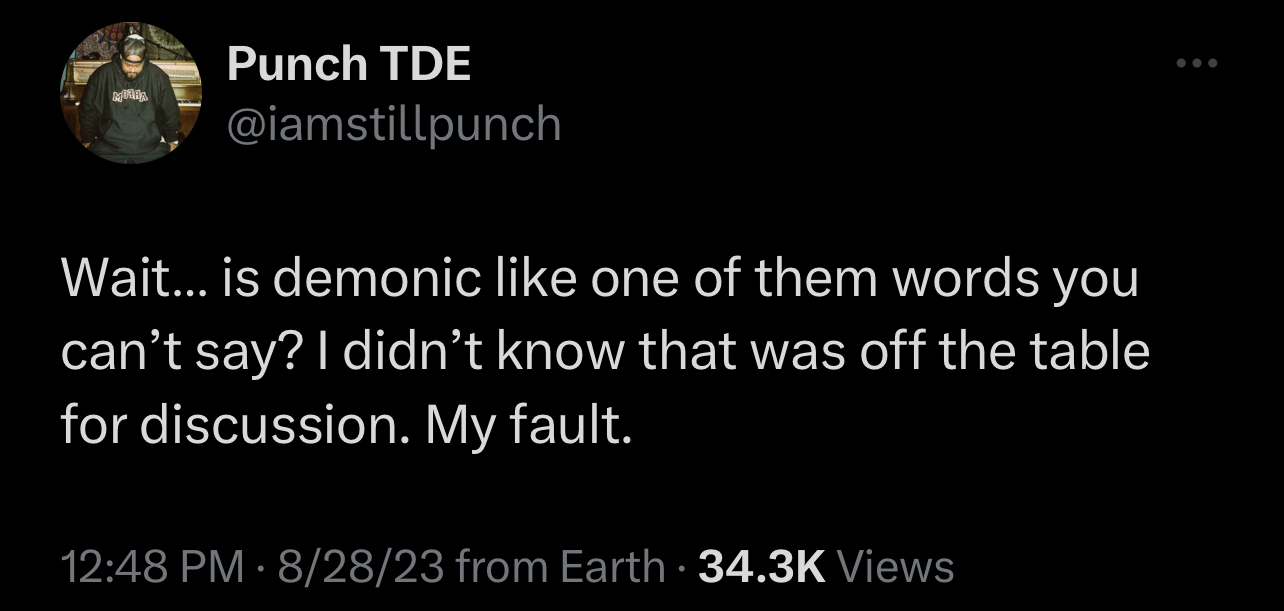 To be clear, this is indeed exactly the sort of reaction intended with such art, as it brings out misguided takes from fans and fellow artists alike. But any criticism rooted in calling something "demonic" or "satanic" or related variations is inherently riddled with falsehoods. By taking such a stance, as touched on in the exchange above, one is incorrectly assuming not only that such things (i.e. demons, etc.) are real but that everyone on the planet shared a united belief system.
Even when such criticism brings in specific mentions of the Church of Satan and/or the Satanic Temple (two different entities), what's always lost in such remarks is that a satanist is almost always an atheist. This means satanists are not "worshipping the devil," as some routinely try to argue. Instead, look at it all as a more playful form of atheism, if you will. In short, the joke's on those who take it literally, and they seem to fall for it over and over and over again.
Put another way, it's a collective boogeyman, albeit an effective one. As for the cult-centered side of such talk, readers would be wise to consider Lil Uzi Vert's recent comments.
Elsewhere in Satanic Panic news of the week, Doja Cat is continuing to have fun at the expense of religious fearmongers. On Monday, she teased what appears to be the cover art for the forthcoming single "Demons," which is sure to further perplex the perpetually perplexed.