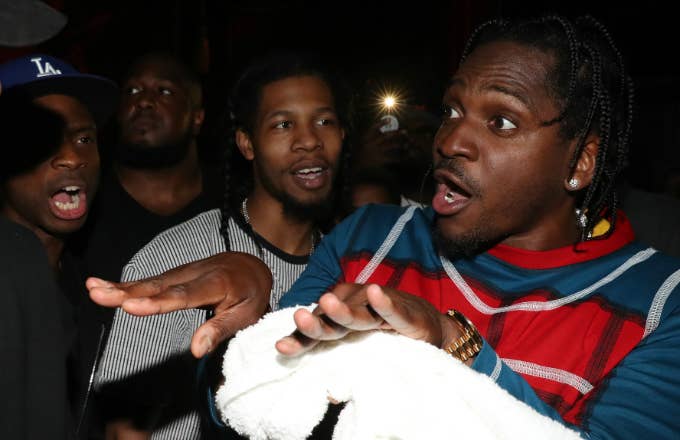 This just in: The beef between Pusha-T and Drake is over.
That's the word according to King Push himself, who—in his second back-to-back radio interview Thursday—elaborated even further on all things "Infrared," "The Story of Adidon," and G.O.O.D. Music's extremely surgical summer plans. "This whole summer can be surgical," Pusha told the Cruz Show crew. "That's the kind of time that I'm on. I'm taking my time but I'm cutting deep . . . I have 100 percent the hottest album in the streets and I'm talking about this?" This checks out, as Pusha does currently have the 100 percent hottest album.
As for Drake, whose response we know he isn't even remotely sweating, Pusha pointed to the upper hand that authenticity has given him. "The beef is won, what are you talking about?" he said. "The beef is won with truth." Still, Pusha is ready for whatever may be next. "I'm prepared to do whatever," he added. "Whatever, for sure."
Drake fans also shouldn't respect any remorse regarding that "Story of Adidon" line about Noah "40" Shebib." [Drake] mentioned my fiancée," Pusha explained. "I see nothing, I hear nothing, I feel nothing. Nothing at all."
Pusha also revealed that sessions for DAYTONA, which houses arguably Pusha's finest work (and some of Kanye's strongest production) to date, resulted in approximately seven unreleased cuts. Originally, Pusha wanted to make the album a 10-track release. He was ultimately convinced by Kanye, however, to keep it even leaner. A DAYTONA tour is currently being planned with a projected start date somewhere in the middle of August.
In the meantime, catch up on the years-long Pusha x Drake saga below: