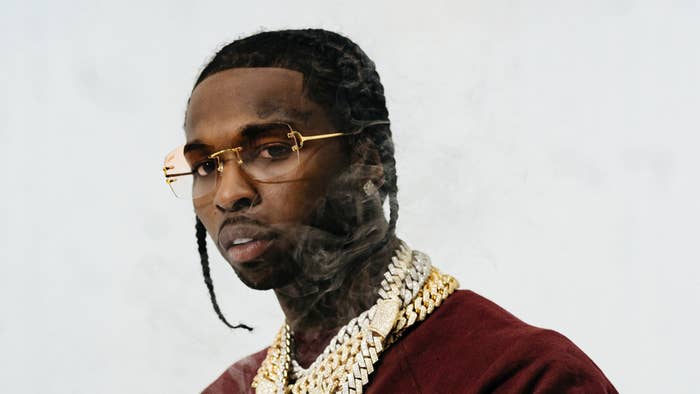 Pop Smoke's family has released an official statement thanking fans and others for their support in the wake of the young artist's tragic death.
Also in the statement, the family urges the public for "respect and responsible reporting" during this critical time. 
Read the statement in full below:
The family of Bashar 'Pop Smoke' Jackson would like to express our sincere gratitude to everyone for your support. Every prayer, call, and act of kindness is deeply appreciated as we mourn the loss of our son, brother and friend.
In a statement released days later, Pop Smoke's family announced that "full details" for the artist's foundation will be revealed soon, adding that it's being done in accordance with his wishes:
Brooklyn was the backdrop for all that Bashar loved. It's where he was raised, nurtured , and educated prior to the world being introduced to his immense talent as the artist Pop Smoke.
The Meet the Woo Vol. 2 artist was fatally shot in February at a residence in the Hollywood Hills area. He was transported to a nearby hospital and later pronounced dead. Per a recently released Los Angeles County coroner's office report, Pop Smoke died of a gunshot wound to the torso. He was 20 years old.
In a statement confirming the death, Republic Records called the loss "tragic" and shared words of support for family, friends, and fans. "We mourn this loss together," the label said.
Following tribute messages from 50 Cent, Nicki Minaj, and many more, Lil Tjay released a Pop Smoke tribute song titled "Forever Pop" last week.
"Hunting Season," a Jadakiss and Pusha-T collab, was pulled from streaming services in the wake of Pop Smoke's death. According to Pusha, "the whole concept of hunting season," as well as the "hypothetical ideas of 'killing rappers'" simply wasn't sitting well with him following the loss.
"Rest in peace Pop and condolences to his family," Pusha added.