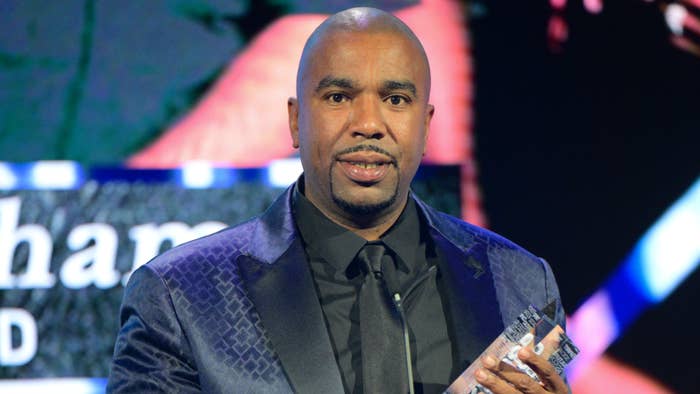 UPDATED 10/19, 9:50 p.m. ET: N.O.R.E.'s apology tour made a stop at Apple Music's Rap Life Review.
During Wednesday's episode, hosts Ebro Darden, Nadeska, and Lowkey pressed N.O.R.E. about his decision to platform Kanye despite his recent controversies involving Black Lives Matter, George Floyd, and the Jewish community. N.O.R.E. said he was both sorry and embarrassed by how he handled the Drink Champs conversation, in which Ye spread antisemitic tropes and conspiracy theories about George Floyd's death.
"When I saw the George Floyd part particularly, I was like, 'Wait a minute. You were there?'" N.O.R.E. recalled. "I felt like I wasn't even in the room when it happened. And you guys, all three of you guys have been in interviews where you're caught and you might have not [caught] it at the moment. So that's really what happened. I was so in a rush to get it out that I didn't even watch the episode. I didn't even watch it. So when I saw it, I'm in real time, when y'all saw it is when I saw it. And I'm like, 'Wait a minute!' And I was disappointed in myself."
The Drink Champs host said he still considers Ye a friend, and that he tried to "get through to him" the day after the interview. N.O.R.E. said that particular conversation should've taken place prior to filming, but admitted he was simply too excited about the episode.
"I got caught in the moment, because to tell you the truth, I felt like I already scored the touchdown," the 45-year-old said. "I felt like, even me, that was like spiking the ball, you know what I'm saying? … I was caught off guard, I was caught off guard. And the best thing that I did, or the worst thing that I did, was I didn't watch my material prior to me dropping it."
N.O.R.E. claimed he had not watched Kanye's interview with Tucker Carlson, and assumed he was going into Drink Champs with the "old Kanye."
"I didn't know this was whatever Kanye that showed up. And I just wasn't prepared, you know what I mean? … The person that y'all see online is not the person I see offline. Do you understand what I'm saying? It's not the person he shows me. It's like, when people call somebody crazy that you know is not really crazy, it's like that."
He went on to say that he doesn't believe Ye is "as lost" as some people might think, but made it clear he was not excusing the artist's actions. "I'm not here to defend Kanye West," he said. "I think he can defend himself."
You can check out N.O.R.E.'s full comments below. 
UPDATED 10/17, 8:30 p.m. ET: At the time of this writing, West's latest Drink Champs interview is no longer live on Revolt's YouTube channel. No official comment appears to have surfaced on the decision yet.
Longtime associate/collaborator Consequence—who said he was at the taping—tweeted, "NORE @noreaga texted me that they're taking down the Interview. It's obvious that everyone has NO IDEA who they're dealing with…"
See original story below.
N.O.R.E. has shared an apology in connection with the latest Drink Champs episode featuring the artist formerly known as Kanye West.
In the interview, as previously reported, Ye made incorrect remarks about the cause of death in the murder of George Floyd. Civil rights attorney Lee Merritt later announced that Floyd's family is considering a lawsuit against Ye over "false statements about the manner of his death."
Specifically, Ye attempted to link Floyd's 2020 death at the hands of since-convicted Minneapolis cop Derek Chauvin to fentanyl. This is an outright fabrication, as Floyd's death was officially ruled a homicide. Chauvin, notably, is currently behind bars after being found guilty in Floyd's murder.
During a call-in appearance on Monday's Breakfast Club, N.O.R.E. apologized to Floyd's family and said that Drink Champs will employ editing in the future.
"I just wanna be honest, I support freedom of speech," N.O.R.E. said. "I support anybody, you know, not being censored. But I do not support anybody being hurt. I did not realize that the George Floyd statements on my show was so hurtful. And you gotta realize, it was the first five minutes of the show. When he walked in, he told my producer, he said that if he'll stop filming, he'll walk out."
According to N.O.R.E., he and the team didn't want to have a "Birdman moment" (Birdman walked out of a Breakfast Club interview in 2016). N.O.R.E. also said he "checked" Ye on his comments later into the episode, although he conceded he was "already inebriated" by that point, which meant his pushback may have been overlooked.
"I apologize to the George Floyd family," he said. "I apologize to anybody that was hurt by Kanye West's comments."
Around the 3:40 mark in the video below, N.O.R.E. was asked why Drink Champs even bothered with the interview at all given Ye's recent antisemitic comments. N.O.R.E. responded with an explanation focused on how Ye has treated him in one-on-one scenarios in the past, although he also condemned Ye's current rhetoric.
"I don't support none of it," he said. "I don't support the George Floyd comments, I don't support the antisemitic [comments]. That's all I have is Jewish friends, all I have is Black friends. That's it."
N.O.R.E. also addressed the interview during a Hot 97 appearance, as seen below. In both the Breakfast Club and Hot 97 appearances, N.O.R.E. expressed his desire to not give up on Ye, despite this latest batch of developments.
As for Drink Champs co-host DJ EFN, he responded to a critical tweet by writing, "I understand it. We DO NOT agree with the things that were said and in that we failed in pushing back in the way we really should of. I believe in freedom of speech wholeheartedly but not at the expense of hurting people."
At the time of this writing, the latest Ye-featuring episode did not appear in the list of episodes on Apple Podcasts.
Following antisemitic comments on Twitter and Instagram this month, Ye has been met with widespread pushback, as well as temporary restrictions being placed on both accounts. By Monday morning, Ye was said in a press release from Parlement Technologies to be acquiring the so-called conservative social media platform Parler.
The CEO of Parlement Technologies is Candace Owens' husband.