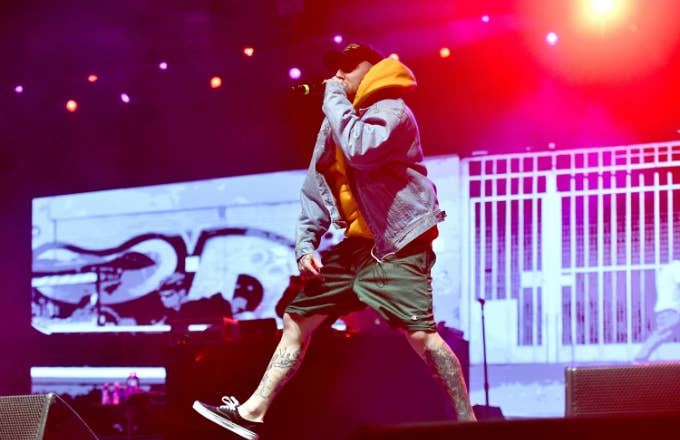 Hopefully you've recently been carving out time to keep Swimming with Mac Miller. The Miller's fifth album includes some of the best work of his career. There's also a key Thundercat appearance that Miller has described as being written in a matter of seconds. Now, mere weeks after the Swimming era began, we have even more new Miller to throw into the mix.
Early Monday, previous Miller collaborator Thelonious Martin shared the atmospheric minimalism of "Guidelines." The production gives Miller plenty of room to weave a nearly four-minute narrative with the assist of Snoop-esque doubled vocals, a promise to kiss the sky, and the perfect balance of braggadocio and introspection. Stream the surprise collab below.
The past couple weeks have given us quite an assortment of top-shelf Miller content. For his Late Show performance of Ladders, Mac enlisted the help of house band Jon Batiste and Stay Human. The previous week, Thundercat joined Miller for his NPR Tiny Desk concert series special. Miller has also teased a possible Post Malone collab project.
Starting in October, Mac and Thundercat will be on the road together for the Swimming Tour. J.I.D is supporting.