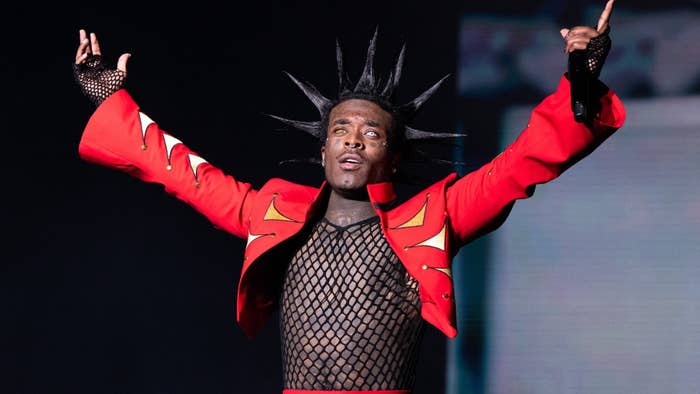 Once again, it's a great time to be a Lil Uzi Vert fan.
As seen in excerpts shared across social media in recent days, Uzi is currently on the cover of the new edition of the Berlin-based magazine 032c. In the resulting interview, Uzi speaks in intimate detail about everything from their long-teased Pink Tape project to a seven-month stay in a rehab facility that they say has proved impactful on both their day-to-day life and their art.
In fact, Uzi credits Roc Nation CEO Desiree Perez with helping get them into rehab following what they describe as a prior addiction to Xanax.
"I didn't want to do it, but I had to—and I can say now that it was a great thing to do," Uzi told writer Cassidy George, per XXL. "I spent seven months in rehab. The first month and a half were hard, but after that, it was easy, because the people there became my family. They showed me so many different outlets and ways to cope with life."
Elsewhere, Uzi was asked about chancing their pronouns to they/them on social media; specifically, they were asked whether there was any hesitation in doing so after they realized this was where their journey was taking them. Per Uzi, they "never hesitated." Instead, they simply took the time to educate themselves prior to making the realization public.
"Taking the time to figure out who you are is a big part of what it means to be alive," they said. "Once you figure out whether you're here with it, there with it, or both, you're not alone anymore. This community offers access to a certain kind of support that you might not have had [previously during] your entire life because you weren't raised that way."
This was particularly true for Uzi, who said they "come from a household where it's not okay to be 'non' anything."
For the full interview, order a copy of the new 032c here.
Earlier this week, Uzi made a surprise appearance during Paramore's show at Madison Square Garden. As fellow Uzithusiasts will note, Uzi has long been vocal about their adoration for the work of Hayley Williams, resulting in a truly touching onstage moment set to the band's classic "Misery Business."
As for new music from Uzi, we still haven't gotten a firm Pink Tape release date. However, Friday is bringing with it a new collab track from Bring Me the Horizon, Uzi, and Glassjaw's Daryl Palumbo. Stay tuned.