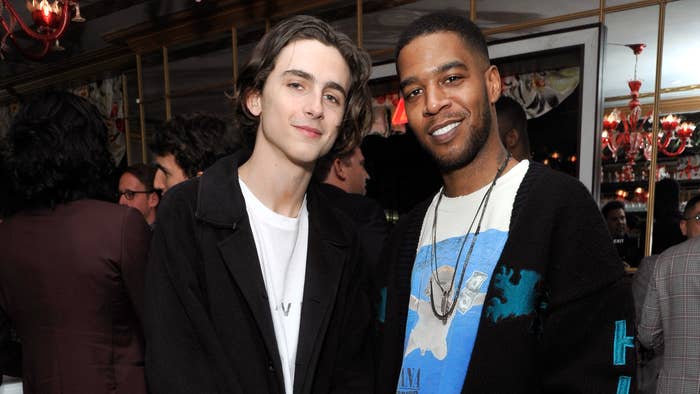 Kid Cudi is urging fans to not believe "the gossip online" after being made the subject of a rumor purporting he and Timothée Chalamet had a falling out.
This past weekend, Cudi responded to a fan who mentioned the rumor "going viral on TikTok." The fan's tweet was itself shared in response to Cudi wondering why a different fan had quote-tweeted a pic of him and Chalamet from 2021, saying they were "devastated" after catching wind of the rumor.
According to Cudi, who recently mentioned Chalamet in his Insano track "Most Ain't Dennis," he and the Dune: Part Two actor spoke mere weeks ago. Furthermore, all is indeed well between the two.
"What da hell," Cudi said. "I literally just shouted him out in Most Aint Dennis. I spoke to him a few weeks ago. Timmy is my brother til the end of time and beyond I will always ALWAYS love him. We are good. Trust me. Idk where this is comin from but please dont believe the gossip online yall."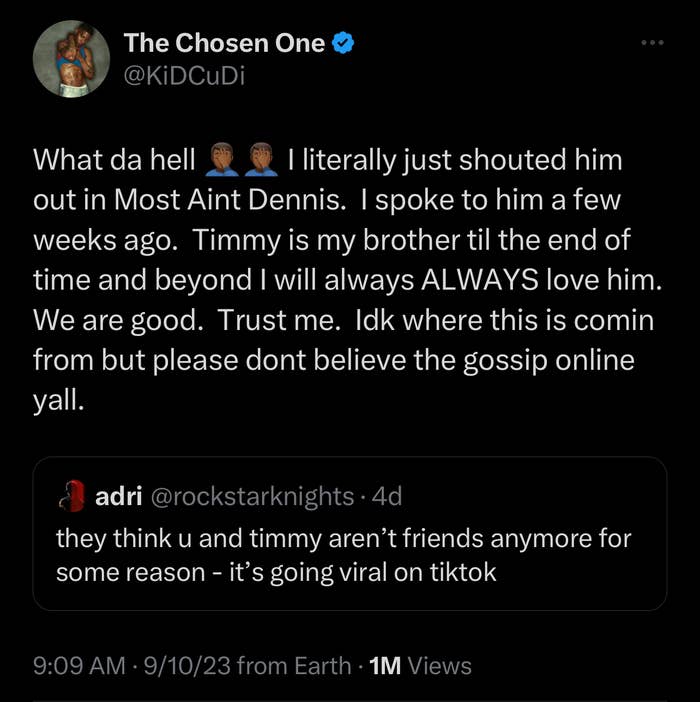 Seemingly, the rumors in question focused on Chalamet's current connection to Kylie Jenner. Jenner, of course, previously split from frequent Cudi collaborator Travis Scott. The former couple share two children together.
Cudi and Chalamet also have a years-long friendship together, including some collaborative work of their own. Chalamet contributed his voice to Cudi's Netflix special Entergalactic last year, while the two previously appeared together in the Adam McKay comedy Don't Look Up, also for Netflix.
Next for Cudi is the 2024 release of his Insano project, as well as a slate of upcoming film roles including Brittany Snow's directorial debut Parachute. Chalamet, meanwhile, will next be seen in Paul King's Willy Wonka and the Chocolate Factory prequel. Titled Wonka, the surefire hit is due Dec. 15.