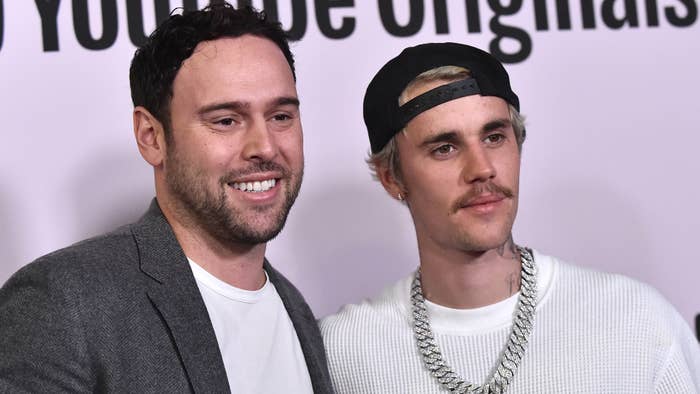 The South Korean entertainment lifestyle platform company HYBE, formerly known as Big Hit Entertainment, is linking up with Scooter Braun's Ithaca Holdings.
The international deal was announced Friday morning and sees HYBE—through its wholly owned subsidiary HYBE America—acquiring a 100 percent stake in Ithaca Holdings and its properties including SB Projects and Big Machine Label Group. As part of the deal, Braun will join the HYBE board and Scott Borchetta will continue as CEO of Big Machine. According to a report from Reuters, the deal is worth an estimated $1.05 billion.
"The inevitable joining of HYBE and Ithaca Holdings marks the start of a new adventure no one could have possibly imagined," HYBE Chairman & CEO Bang Si-Hyuk said on Friday. "The two companies will work closely together leveraging our proven track records of success, know-how, and expertise to create synergy, transcend borders, and break down cultural barriers. Please look forward to the endless possibilities of HYBE and Ithaca Holdings, and the new paradigm the partnership will establish in the music industry."
In short, the newly announced deal marks a union of two of the music industry's most prominent entities. Moving forward, artists from all involved companies will be involved in HYBE's capital increase, with the larger goal of strengthening the ties between HYBE and Ithaca.
"This will be the first time HYBE's groundbreaking systems and curation will be integrated in the U.S. market at the onset of an artist's career," Braun said of the deal. "Plus, it will help us to continue to further the careers of the artists we already work with. Global opportunities for artists become exponential with this partnership. This is an opportunity for us to make history and further innovate the music industry and revolutionize the game itself. Its implications for the business will be monumentous for a long time to come. I am incredibly grateful for Chairman Bang's friendship and his willingness to support the creative journey of an artist."
The HYBE x Ithaca deal brings together management, label services, and publishing for a number of high-profile artists. Among them are BTS, Justin Bieber, Ariana Grande, SEVENTEEN, NU'EST, Demi Lovato, J Balvin, GFRIEND, ENHYPHEN, ZICO, TXT, and more.
The deal's announcement arrives the same day as Lovato's seventh studio album Dancing With the Devil…the Art of Starting Over, which dropped via Island and is complemented by the YouTube Originals docuseries of the same name.