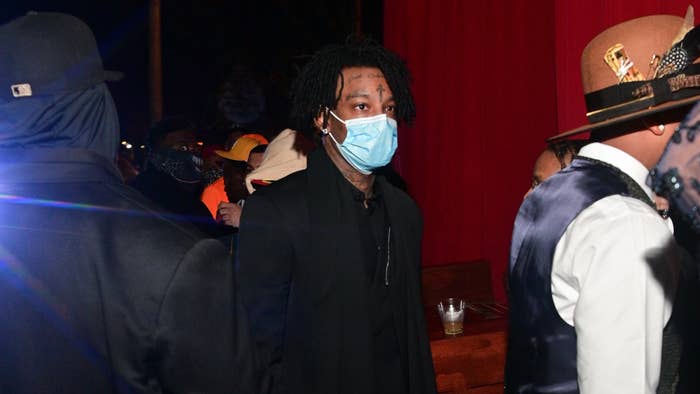 We did it. With the start of a new year, literally all of the woes of the past 12 months have magically disappeared and we can all live with the peace of knowing that nothing bad will ever happen again.
Just kidding. While the first day of a new year doesn't inherently mean anything has changed aside from some calendar numbers, the brutal horribleness of 2020 had us all clinging to any little hope we could invent about 2021 while giving the proverbial finger to the past year.
Thanks to the pandemic, which certainly isn't going anywhere anytime soon, the usual NYE festivities largely consisted of crowdless livestreams for the year's biggest artists and getting sloshed at home for the general public.
Still, that aforementioned effort at cobbling together some semblance of hope is a contagious exercise in resilience. In that spirit, we've rounded up an assortment of 2021-welcoming messages from 21 Savage, Taylor Swift, and more below.
21 Savage, whose 2020 included the Metro Boomin collab album Savage Mode II, kept things simple with a widely shared meme acknowledging the numerical overlap of the new year with his own name.
In a move that some fans have interpreted as a nod to Ari Aster's 2019 horror film Midsommar, Taylor Swift noted the weirdness of the past 12 months with a bear suit snapshot.
For Kerry Washington, "dad jokes" helped her get through 2020. 
"Thanks for laughing with us," she told her IG followers when sharing a family video.
Jada Pinkett Smith pointed out the power of walking into this new era with no expectations at all.
Toasting to a "collective sigh and release of what needs to be discarded," Tracee Ellis Ross reflected on 2020 with an assortment of personal highlights.
Diddy and Mama Combs chose to dance their way into a new year. Later, Diddy dubbed Ciroc the "official drink" of New Year's Eve.
Saweetie told her fans she was hoping for all to get "bigger bags, hella success, and vitamin D" in 2021. 
Offset shared a similarly hopeful take, calling for "peace" in the new year.
In classic McConaughey fashion, the Greenlights author sent 2020 off by lamenting it as "the year of wouldas, couldas, and limbos of the maybe-so's." What happens next, he added, is on all of us.
Justin Bieber thanked all those who made his special New Year's Eve stream with T-Mobile possible, adding that his heart is "full of hope" about the new year.
Sometimes brevity is best, as was the case with Abel's sendoff to 2020.
Chrissy Teigen, with John Legend by her side, wished us all a "happy, healthy, and beautiful" new year full of the "purest joys" and "most positive vibes." She also let fans get a glimpse at how she was spending a sober NYE.