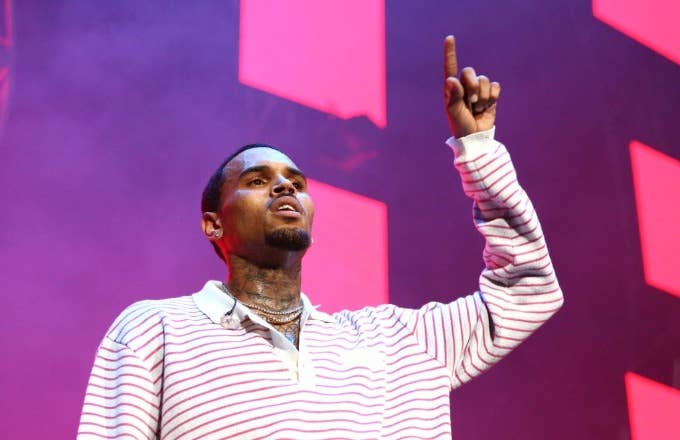 UPDATED January 22, 5:10 p.m. ET: Chris Brown has been released without charge in Paris on Tuesday evening. According to Daily Mail, Brown, and two other people thought to be his bodyguard and family friend, were released from jail after a 24-year-old woman accused them of rape. Brown proclaimed his innocence, according to his lawyer Raphael Chiche, and further denied the claims in an IG post saying it was a whole lot of "cap."
 See original story below.

Chris Brown has reportedly been detained in Paris on "potential charges of aggravated rape and drug infractions."
Early Tuesday, the Associated Pressreported that Brown and two other unidentified people (one being a bodyguard of Brown's) were taken in on Monday. Per comments given to the AP by a French judicial official, investigators have two days to determine whether charges should be filed.
According to a separate report from BBC, Brown is among those alleged to have met the 24-year-old woman in question at a club in Paris near the Champs-Elysées earlier this month. Later, Brown and his friends returned to a hotel suite, where the alleged assault is said to have occurred. At the time of this writing, Brown's team had not publicly commented on the allegations.
In 2009, Brown pleaded guilty to the felony assault of Rihanna, later completing his resulting probation in 2015.
Earlier this month, Brown and RCA Records announced a new deal in connection with a forthcoming album. RCA said at the time that the deal will "enhance the release of new Chris Brown music, content, and much more throughout 2019 and beyond." Two days earlier, Drake seemingly teased a possible collab with Brown, a move that was immediately met with a wave of criticism from fans and writers alike.