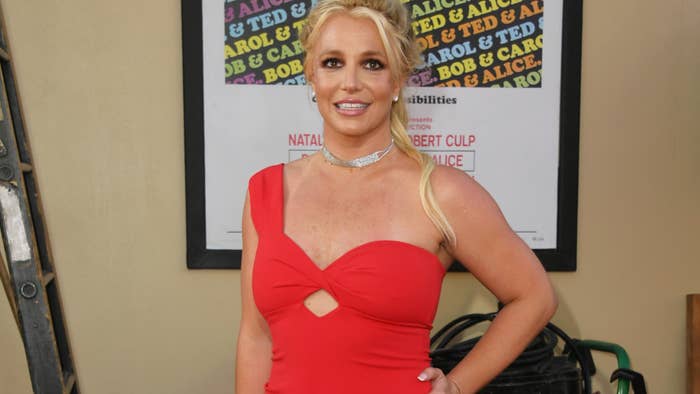 Britney Spears is reminding those still debating the circumstances of the recent incident in Vegas involving Victor Wembanyama's security that she has not received a "public apology."
In a video shared to Instagram on Tuesday, Spears said she was compelled to speak out after hearing a radio personality stating that she "deserved to be smacked" by the security member. As previously reported, the Las Vegas Metropolitan Police Department said in a statement last week that no charges would be filed in connection with the incident, which has received intense media attention in recent days.
"I heard on the news, this radio station talking smack and talking shit—that's why I'm addressing it—saying that I deserved to be smacked [and] security was doing their job and protecting their client," Spears said, summarizing what she recently heard being said about the encounter. She did not specify to which radio personality she was referring.
Going deeper on the topic, Spears pointed to her own experience with security personnel, including how she and her team have handled fans in the past.
"I've been with the most famous people in the world—NSYNC, at one time," Spears said. "Girls would, like, literally throw themselves at them. … My security not one time touched them or even came near them. Point being is I didn't appreciate the people saying that I deserved to be hit because no woman deserves to be hit. I simply tapped him on the back and I was backhanded, hit my face, came back on the floor. My best friend picked me up and held me. And I did get an apology at my table, 30 minutes later. But I have yet to receive a public apology. And that's it."
News of the incident first broke via TMZ, which reported that Spears and her husband, Sam Asghari, were near the Catch restaurant at the ARIA Hotel when the singer tapped Wembanyama on the shoulder to ask for a photo. Spears was ultimately, allegedly, "backhanded" by an individual TMZ said was the Director of Team Security for the Spurs.
"This story is super embarrassing to share with the world but it's out there already," Spears said in an initial statement. "However, I think it's important to share this story and to urge people in the public eye to set an example and treat all people with respect."
Wembanyama also addressed the incident, telling reporter Nate Ryan that "security pushed her away."
This week, Spears announced the impending launch of a new book titled The Woman In Me. It's out this October.