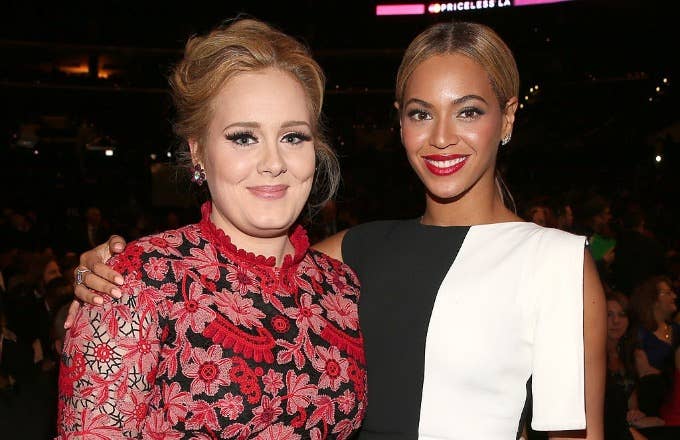 UPDATED 2:25 p.m. ET: On his Instagram Stories, OneRepublic singer Ryan Tedder explained he was being sarcastic about the alleged collab he had cooking with Beyoncé, Adele, and Chris Martin. "Come onnnnnnnnn people!!" he wrote in one post.
"All that said- wouldn't that be a 🔥 collab? I'd stream it," Tedder added.
See original story below.
Beyoncé and Adele have a new collab in the bag. The track, the title of which has yet to be announced, will be among those featured on a new album from OneRepublic in 2020.
That's the word from the band's Ryan Tedder, who announced during a Global Citizen festival press appearance that the song also boasts some keys work by a certain Coldplay frontman.
"The bottom line is we do have an album's worth of material . . . We have a lot more songs to come," Tedder told Z100. "We have one song featuring Beyonce and Adele with a Chris Martin piano solo in the bridge."
Tedder, of course, is also known for his work outside of OneRepublic as a songwriter and producer whose discography includes collaborations with Camila Cabello, Jennifer Lopez, U2, and both Adele and Beyoncé. His 2019 slate has included writing credits on tracks by 5 Seconds of Summer and Lil Nas X.
Adele's most recent full-length is the 2015 XL and Columbia-released 25, which saw Tedder contributing on the track "Remedy." Beyoncé, meanwhile, is fresh off the release of two 2019 full-lengths—the live Homecoming album and the Lion King companion collection The Gift.
Earlier this month, Beyoncé finally received a proper wax figure tribute by way of Madame Tussauds London.
"If anyone is fitting of a claim to The Queen's spot in our attraction for the very first time, it's Beyoncé," Madame Tussauds London boss Steve Davies said of the Beychella-inspired creation.