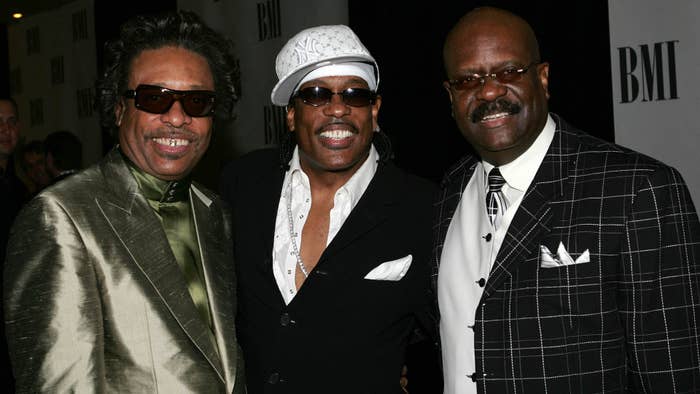 The family of Gap Band members Robert and Ronnie Wilson have filed a lawsuit against BMG for unpaid royalties on the Bruno Mars and Mark Ronson 2014 song "Uptown Funk."
Rolling Stone reports that BMG has "failed and refused" to pay the Gap Band heirs, Ronnie's widow Linda Wilson, Robert's daughter Robin and LaTina, and other family members. The family filed the suit this week, claiming that BMG has either "retained all funds due to plaintiffs for its own benefit and enjoyment" or "wrongfully diverted" the money. The Gap Band's third member, Charlie Wilson, was not named in the filing.
The complaint reads, "Despite its obligations to account for and pay to plaintiffs their share of all income received from the 'Uptown Funk' musical composition, BMG has refused and failed to provide either the funds due to plaintiffs or an accounting, despite plaintiffs' repeated demands therefor." 
In 2015, Robert and Ronnie were given credit as co-songwriters of "Uptown Funk" in an agreement. The Gap Band's 1979 song "Oops Upside Your Head" was sampled in Ronson and Mars' track, and the two brothers were given 3.4 percent of the copyright and music publishing rights for the hit song. The agreement was negotiated between the parties to avoid a complaint similar to the Robin Thicke's "Blurred Lines" suit, which cost $7.4 million. 
The Wilson family's filing says that Ronnie and Robert gave their music publishing rights for "Oops Upside Your Head" to a third party in 1978, and that company was later bought by BMG in 2015. The suit alleges that the Wilson family now owns both brothers respective shares of "Uptown Funk," but that BMG "has failed and refused to pay plaintiffs or account to them for royalties they are obligated to pay plaintiffs pursuant to a written contract as co-writers of 'Uptown Funk.'"
The complaint seeks an accounting of money received by BMG following the 2015 agreement between the Wilson brothers and Mars and Ronson so the family can figure out purported damages. The heirs also want a trial to decide compensatory damages for the alleged violation of the contract and is seeking that payment, as well as interest, costs, and attorney's fees.