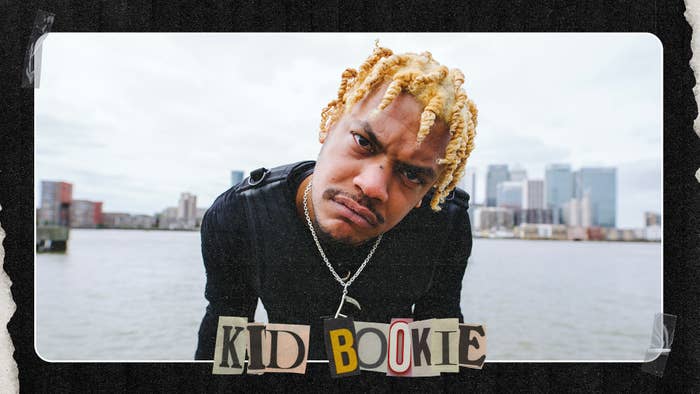 Tyronne Hill—stage name Kid Bookie—knew at a young age that pursuing a life in music was the road he wanted to travel. Born across the pond, the British musician grew up in South London, a place he describes as a diverse melting pot of people accented with their love of music of all forms. This included his family, with his parents often listening to music at home while his sister sang along.
"My dad was a rapper in the '80s. He's a white dude that was just like, 'Fight the power!' and my mom was an African woman from Nigeria. They both had an eclectic music taste," Kid Bookie tells Complex. "My dad was a massive hip-hop head, but he had all the old school early pressings of Nirvana vinyls. He had a lot of collaborations with rock and rap, like Anthrax and Public Enemy, and Run-D.M.C and Aerosmith."
The kicker to Bookie's indoctrination-into-music-story is that he "grew up always hearing obnoxiously loud guitars," and that's how his fascination with the instrument began.
He started to teach himself to play by watching the hands of famous guitarists.
"Good Charlotte was my first early memory, watching their fingers and how they did the power chord and learned that way. And that's when I was like, 'Oh, my God. I'm a musician.'"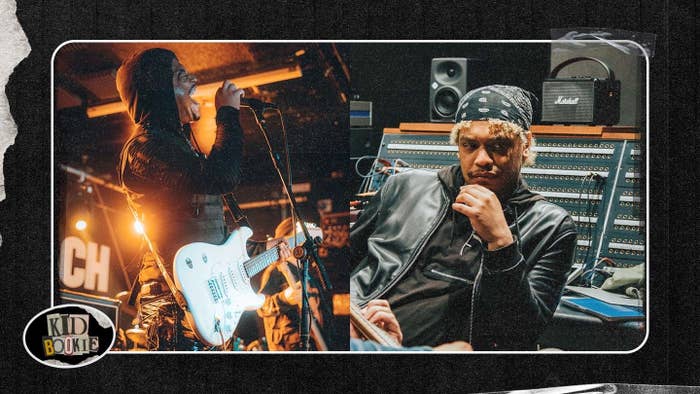 In recent years, the genre-bending rapper-rocker, who is currently signed to Marshall Records, has been establishing himself as your favorite artist's favorite artist with a sound that fuses rap, alternative metal, punk, or anything he's feeling in the moment. And partnerships, friendships, and collaborations with musical titans from the world of hip-hop and hard rock have amplified his buzz as an artist-to-watch even more, which brings us to today.
Kid Bookie is currently working on his next album, and at the heart of his musical motivation is the support he receives from Marshall Records, which allows him to be creatively free. Here, Complex chats with him about his influences, where rap and rock collide, his creative tools, the importance of highlighting independent record shops through Record Store Day, and the message he hopes people get from his artistry.
Kid Bookie on Musical Influences
Frank Ocean, Christina Aguilera, Clint Mansell, f—king, Beyonce. Oh, my God, Beyonce! System of a Down, Slipknot, Good Charlotte, Blink-182, Green Day, Tech N9ne, Eminem, Amy Winehouse, Kelly Price. I could go on. Every classical instrumentalist that's come through and changed the way music has been to allow me to make it even more f-cking weirder than before. I'm such a nerd for it. I'm a nerd, because it's so special. So if you do get into positions where people start to give a sh-t about what you're doing, then it's like, put it out.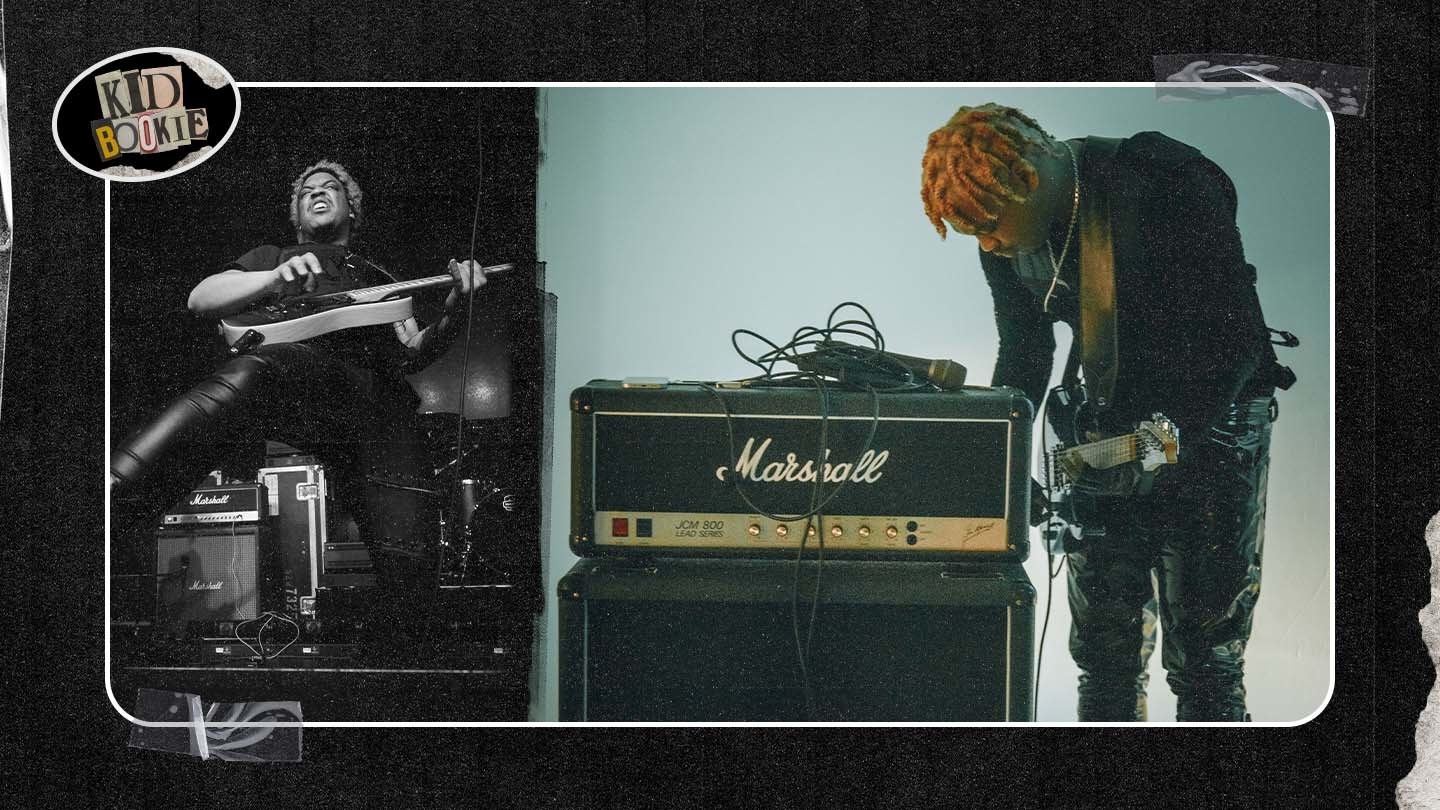 Kid Bookie on His Message
What do I hope people take away from me as an artist and my music? The ability to think within tangents that are not always necessarily linear to everybody else, [and] not be afraid to challenge faults. You've got to challenge things. And it doesn't mean you're always right. It just means that you might have to learn that your perspective isn't right all the time. Or it might even change perspective.
"Be in tune with your music, because you can change the world with that s--t."
This is why I say we have to practice to be fearless in our music. To not be so bracketed and limited. To not be scared of yourself. Sometimes you are scared of yourself because you don't want to be judged by others. But that shows that you're not scared of yourself; you're scared of what others think of you. So once you remove and strip away that fear, you will s--t in your hands and squeeze it and not give a s--t anymore, even if that's weird. Actually don't do that. That's horrible. But metaphorically, s--t in your hands.Put that f—king learning sentiment out there. Be in tune with your music, because you can change the world with that s--t.
Kid Bookie on His Partnership With Marshall
[Marshall] is the embodiment and the boldness of rock and roll since the inception of the amp. Everyone behind that f—king amp is making this sh-t turn. And I love that sh-t. All I want to do is shape a world for artists like me and artists not like me, changing perceptions from people that I grew up with and changing narratives of people that just [got] pigeonholed and boxed in. And Marshall brought that to me. I'm not the traditional rock artist, even if I work with some of the game changers of rock. That's what's beautiful about it, that we are now changing the narrative of rock. Rock music isn't just…[about] doing a guitar solo for 10 minutes anymore.
"I think rock music is a place where you can practice your rebellion...There's [a] time to ruffle feathers, but you've got to be smart about the way you make the chicken dance."
It's a motherf—ker that grew up on A Tribe Called Quest, who bumped some systems, who wants to put them together. It's progressive s--t. It's forward. It's forward anarchy. And I say anarchy in the sense of it has to be a little bit rebellious. I think rock music is a place where you can practice your rebellion, but in smart ways, where it's innate in you, and not just you being a complete f—king idiot where people are going to hate you because you're just trying to ruffle feathers. There's [a] time to ruffle feathers, but you've got to be smart about the way you make the chicken dance. You know what I mean? And that's what I'm here for. I think that's what Marshall allows me to do. Me existing just ruffles f-—king feathers.
Kid Bookie on Record Store Day's Impact
Record Store Day brings us back to what the most primitive form of releasing music is. And that's where I think a lot of us lose that kind of thinking, because all we're doing is focusing on DSPs and playlists and who can get the cover of the [weekly new music] thing, when you got time and labor going into making vinyl artwork [and] going out of your house to source music. I think sometimes music is the most human thing you can have. Leave your house, go explore the labor that people put in their craft; their life. Not everyone cares about everybody. That's just a part and parcel of human existence, no matter how nice we try to parade ourselves to be, but if you do have a bit of empathy in you, get the f-—k out to a record store, pick up some f-—king records, read the back of that booklet, study the insides of the f-—king art. You're not going to get that from [streaming services]. And as much as I love these places and I'm so happy that I do get supported by them, it doesn't mean you forget about what made this sh-t happen. I'm a very archaic thinker when it comes down to the beginning of something. You can't just show love here. You have to show love at the merit; at the very beginning. That sh-t means a lot to me.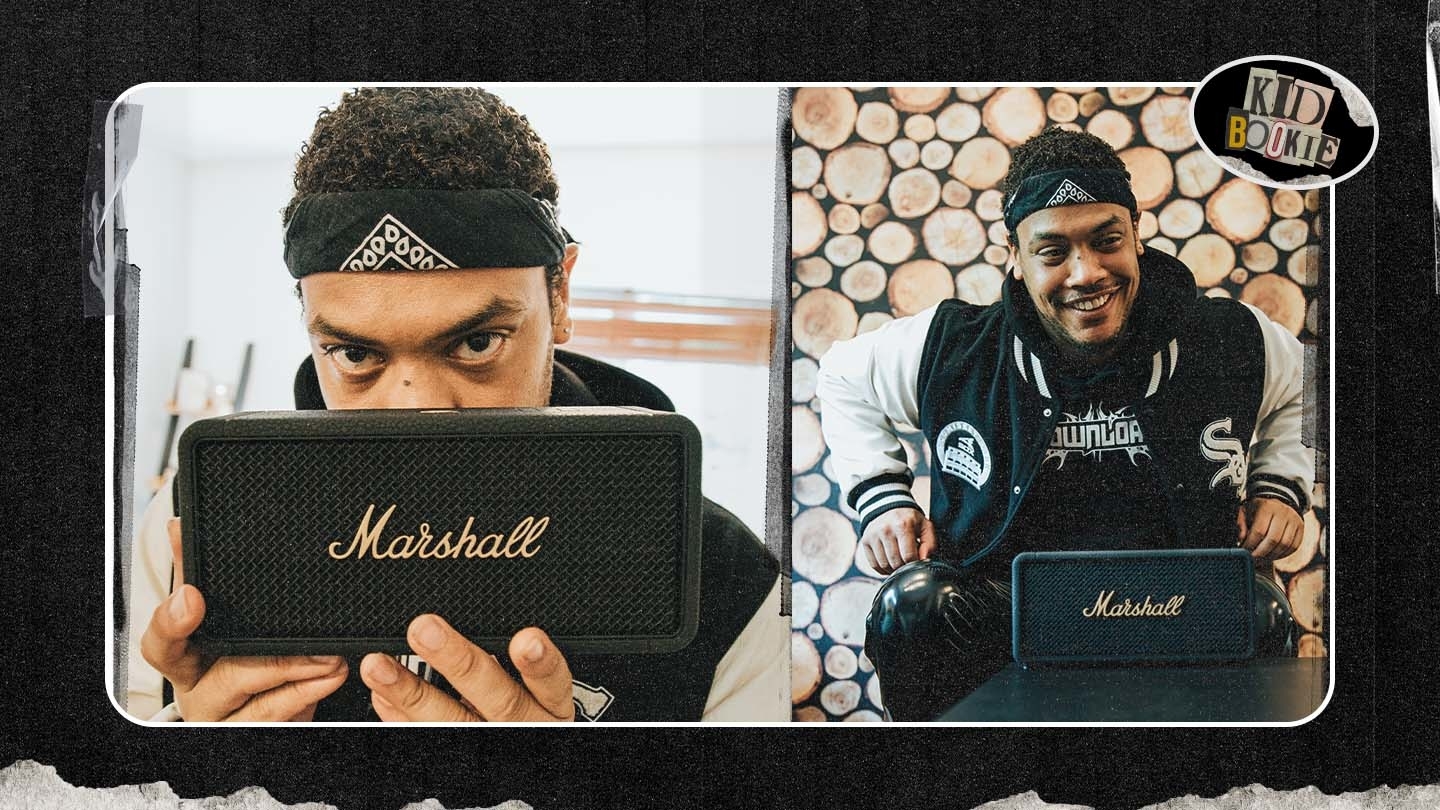 Kid Bookie on His Favorite Marshall Equipment
Right now I'm using the Marshall Motif A.N.C., and I'm not just saying that. I put that sh-t in my ears, it covers up and I hear nobody when I'm out walking, just listening to the sound of the world. I'm gone. I've never had headphones that f—king did that before. I've never had airpods. No one's ever given me some headphones. I had to have to steal them from [a store] or just borrow them. [Now], I've got some state-of-the-art, high-tech sh-t in my ears. They got some f—king Middleton speakers, too. That sh-t crazy. I'm always in the bar, so I'm always playing that somewhere. I need to hear music penetrating through doors. You know what I'm saying? And of course, my trustee Marshall JCM amp, the classics.