'I Make Movies With Beats': An Interview With Southside
ATL producer and 808 Mafia co-founder Southside tells us how he reinvented trap with his aggressive sound.
"I'm the greatest producer alive—at least one of them," Southside says, introducing himself. "I make movies with beats." If you listen to any of the 808 Mafia co-founder's beats—Future's "Fuck Up Some Commas," JAY-Z and Kanye's "Illest Motherfucker Alive," Young Thug's breakout track "Danny Glover," 21 Savage's "Ocean Drive," or any of his fuck-the-club-up numbers with Waka Flocka—it's clear that his "movie" description is, as his "I Got the Keys" collaborator DJ Khaled might say, accreate.
Southside started out as the musical guide of Waka Flocka's Brick Squad crew, pushing trap music into a whole new aggressive phase. Then he brought that same vibe to other stars, while continually expanding his pallette. Making beats isn't enough for the Atlanta musician, though. He's also a savvy marketer who understands the power of social media and celebrity. In addition, he's determined to make the other members of his 808 Mafia collective as successful as he is. With teammates like TM88, DY Krazy, and Tarantino blowing up big time, it appears he's well on his way.
We caught up with Southside in Los Angeles to learn how he got his start, what it took to build 808 Mafia, and how he plans to take over the MC game in addition to the production world. Southside's conversation with Complex News, lightly edited for clarity and length, is below.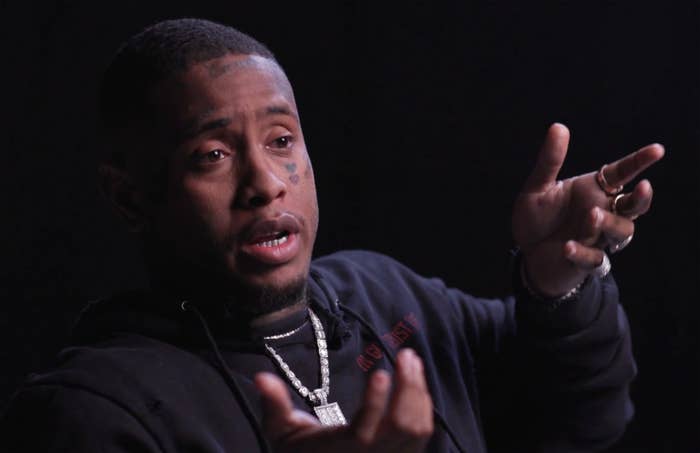 Introduce yourself and what you do.
I'm Southside. I'm the greatest producer alive—at least one of them. I make movies with beats.
What are some of your biggest accomplishments as a producer?
Really just seeing my little brothers and sisters singing stuff I made—like the beats I made—or singing the songs. My mom, she would text me like, "Yeah, you made this beat to this." That makes me feel like I really did something. That feel better than any amount of money.
What is your sound?
I don't have one. Me and Waka changed the sound of rap, so I don't really have a sound. Just like you got a bunch of little Young Thugs nowadays, you got a bunch of little Southsides. So I don't got a sound—I got 10 to 15 different sounds. I'm unique. I never make the same thing.
Why is it important for you to diversify your sound like that?
It's a hobby to me. It's fun to make some shit that I normally don't make or to challenge myself. It's so easy now. I can make beats with no sound playing, literally.
Do you make different kinds of beats for different artists?
Most kids think that. I really make beats for myself, and I just send you a dose of what I'm doing that day. If you like it, you like it. If you don't, you don't.
Your father was a producer around Dungeon Family and your uncle was a rapper.
My dad tried.
Would you say them being in the music industry influenced you?
Yeah, it did for sure. When I was a kid, they used to act like they was doing big shit rapping. So I used to always be like, "Oh I can't wait until I get grow. I'mma shit on them, I'mma go crazy." And now I'm the one that's really doing the shit. My dad still says he's better [at] making beats than me. I'm like, all right, whatever.
Are they excited about your success?
Oh, they [are] more excited than me. Most people will brag, "I made this, I made that." I don't do none of that. My dad says, "We made it. Oh, we made that." My uncle: "Yeah, that's our shit, we made that." They too excited. They're living they best life.
How did 808 Mafia start, and how did you get the name?
808 Mafia started with me, Waka, and a kid named Lex Luger. Waka was doing a song and he just said in the song, "808 Mafia, Sizzle and Lex." Lex ventured off and did his own thing. I took it and was like, "Yo, I'm finna start a company called that."
Waka had this one mansion where we all lived. It was a music mansion for real. All of us lived in one house. So just people meeting people through other people, you'll end up living in that house. That's how Tarantino came about. He ended up just living in the basement, then Fuse lived in the basement. London On Da Track lived upstairs. So that's really how 808 Mafia came about: all of us living together, surviving together, feeding each other, making sure everybody was good, fighting, arguing. It made us a family.
Did you guys work on music collaboratively?
Nah. Don't bother me while I'm making beats—I don't give a fuck if you my friend or not. Everybody got they own little turns. I tell them, let's look at this shit like competition. If everybody go for the number one spot, our team gonna fill up one, two and three. Everybody can't be number one, but we can fill up the top three spots. I tell them, "I'm competing with you. I'm trying to get more placements than y'all." I like us to be competitive. That keeps us on our toes.
So you would say competition drives the crew?
For sure. Competition from women to clothes to money to the music. Competition drives us. We are in competition with each other. It's friendly, it's love, but it's competition at the end of the day.

Let's talk about your involvement with Offset's latest album Father of 4. I know you and Metro Boomin were supposed to produce the whole album, but there were other producers credited on the finished product. Why did that change?
Me and Metro did all that shit together. We did the whole album. We're coming out with this new production group. Like how the Neptunes had N.E.R.D., we coming out with the SO ICEY BOYZ because there's no producers in the game wearing jewelry like me and Metro—who are icy like us, pulling up, living life like us. That was the first project we did together as the So Icey Boyz. It was a crazy experience making that album.
What was crazy about it?
First off, Offset calls us the day he was headed to Paris for Fashion Week, and he said, "We gotta go to Paris for seven days." It was like three brothers bickering and fighting all day long to make this album perfect.  It was an experience, but I love Offset so much. I love him like my brother, so I can argue with him all day long. He laugh, I laugh. Same thing with Metro. But that's what made that album special: It wasn't no yes men there. It was like, "Nah, that shit trash." That was a very special experience.
How did you first meet Metro?
I met Metro when he was 14 or 15. He used to send us beats all the time through the internet. I had sent him my number because I already had a couple placements. He would always call me and be like, "Big bro, did you listen to the beats I sent you? Tell me what I need to do." And I'll be like, "Take this out, take that sound out."
I'll never forget, I made a beat for Jim Jones called "848" with Waka on it back in the day. They remade my beat on "Wild Boy" with Machine Gun Kelly. Metro was the first one to call me. He was like, "Big bro, they stole your beat." I was devastated. But I ended up suing them and owning that beat too. Me and Metro been like that ever since. That's my little brother. He helped me tremendously.
And how did you first connect with Waka?
Just being in the streets on the south side [of Atlanta]. Waka wasn't even a rapper. I actually started making beats for Waka's big brother Wooh Da Kid. Waka one day just came in the studio like, "I wanna rap." We're all like, "All right, whatever." He recorded the same song for two weeks—it was called "We on the Way." I stayed with them, moved with them, and just blew up. They welcomed me like I was they real family.
The same song for two weeks straight?
He was learning. See, that was his first rap song ever. But the song ended up being hard. That's what was crazy. None of us understood it.
So he was learning his craft?
It sounded like it was learning to us, but that was already his craft. He just ain't know that was his craft. Because he played the shit at Gucci [Mane's] show one time and they was going crazy like they knew the shit. We seen the video of it and I'm like, "N***a, Waka can be a rapper. This shit crazy." He was going on shows—just taking the mic, going crazy at they shows, and dipping.
So much of your early music was for Brick Squad. How would you describe the Brick Squad sound?
"Don't come to the club with your bitch. We'll beat her up, and you." That's the Brick Squad sound. That was the music back then: the whole club getting beat. That was just a ratchet, ratchet time. Brick Squad music make girls wanna fight. Y'all gotta understand, they was banning us from states not because of what we would do, but because of what the music will make the crowd do. They'll be in there fighting, all type of shit. Brick Squad music was everything.
Shawty Redd was one of the first people to develop the trap sound back around 2000. In what ways did his work with people like Drama and Jeezy influence you?
I fuck with Shawty Redd. I ain't gonna lie, people be telling me he be saying little slick shit on Instagram and shit, but I look up to Shawty Redd. But Zay[toven], I really look up to Zay. Zay embraced what we had going on, and that's why he's still around going crazy right now.
I respect all of those producers from that time. They made it possible for us. But it's a whole new ball game now. They weren't really celebrities. They was trying to follow a path of Timbaland and them and become a celebrity. We're celebrities now, from straight internet. You can get your internet shit so popping, I won't have to make no more beats. I'll just be "Southside, the producer that produced all that shit five years ago." It's a different day and age now. Of course we respect what they did, but everything changes. This shit done evolved.
Why do you think that change happened? Do you think it's a positive change that people can be known not even for the music anymore, but just for social media?
It's a gift and a curse. Social media can be a great thing. It can make you rich, but at the same time, social media is showing your whole life and it can destroy your whole life. Mike Will set a good example of how to take your label, blow it up, and become a celebrity producer. Metro is doing the same thing, I'm doing the same thing. It's that time for producers.
You put a lot of effort not only into making music but also into marketing yourself as a producer and as a personality. Why do you think that's important?
I just try to keep it 100. Even with my marketing, there's shit they be wanting me to do and I'll just be like, "I can't do that. It's not me."
I didn't put a lot of time into myself as marketing myself as a producer. I put more time into marketing 808 Mafia. I wanted that to be the biggest shit in the world. That's why some people be like, "Who the fuck is Southside?" But if you say "808 Mafia" they be like, "Oh yeah, I know that." I own that. I put my time into that because I wanted to have a business. I always had a dream of having the biggest crew of producers in the world—celebrity producers. No artists. That's what it's coming to now.
Producers can DJ, they can do all types of shit. So as far as marketing, I press everybody. I make all my guys know, "It's about you. Always brand yourself." I make them also, at the same time, brand 808 Mafia. You're killing two birds with one stone. You'll know DY Crazy, but DY Crazy's on 808 Mafia. I had to build 808 Mafia first to be able to show the world all of them.
How did you have the foresight to know how to market and do your business like this?
When I was coming up, n****s would be going with Waka and them on the road. I would be riding around with his mama [Ed. note: Waka's mother is Deb Antney, who has managed her son, Gucci Mane, Nicki Minaj, and many others.] Listening to her, watching everything she did. She taught me damn near everything I know.
Let's talk about Epic Records. How did you sign with them?
We just signed with Epic. I wanted to go to a system where nobody was. Everybody else was in the Universal system, so I said I was gonna be the black sheep. I fuck with Epic. I fuck with Zeke [Ezekiel Lewis], I love Ms. Sylvia [Rhone]. I fuck with they vibe. I'm gonna change some shit over there and turn it up, put more youth over there.
Your song with Travis Scott, "Quintana Pt. 2" is very different from a lot of your previous work. Did working with him change the music you made, or did you already come in knowing you wanted to do a different sound?
We made shit after that. I made "Black and Chinese" on Huncho Jack with him and Quavo. I made "Motorcycle Patches." I made a bunch of shit with Trav. That's really my little brother. I can hang with Trav, go to his house, and don't even do no music. I'll go to the studio just to listen to what he did. He played "Stop Trying to be God" for me—that shit blew my mind. I'm a kind of person where if I don't vibe with you, if we can't kick it and be cool, I don't want to work with you. I don't give a fuck how many records you selling. I wanna vibe with you first, become cool with you. So when we do start working, it's a natural, organic thing.
What is the process like when you create a track with him?
I mean, that kid gifted. You just let him go. He'll tell you what he wanna do to the beat, but you just gotta let that kid go.
Let's talk about Future. You both have familial connections with the Dungeon Family.
Future knew my dad. [Ed. note: Future's cousin is Rico Wade of Organized Noize, and Southside's father Masaba "Cap 1" Tyson is a producer who worked with Dungeon Family rapper Cool Breeze.] He knew who my dad was. We talked about that shit one day.
When did you guys start working together?
Me and Future? I made a beat for him and Rocko called "Chosen One." It was real big in Atlanta. After that, Metro called me and he was like, "Yo we finna go crazy with Future." We did the Monster mixtape, me and Metro did the whole mixtape. Shit went crazy.
Future did Beast Mode and we really started working. I seen him at South by Southwest and he was like, "I'm about to drop 56 Nights tonight." I'm like, "What the fuck is 56 Nights?" He's like, "It's all your beats." From that day forward, we was going crazy. I found out a couple hours before that shit was finna come out, and that ended up changing everything.
Tell me how you created "Fuck Up Some Commas."
Me and DJ Spinz made "Commas." Spinz got a vibe. He's gonna have the room going up, the liquor flowing, the music; that's my boy. Spinz will hit me and be like, "Pull up to the condo." I pulled up and Spinz had a piano playing fast. I chopped that shit up and added the drums to it. He took the drive and pulled off on me. He was like, "I'll be back, I'm finna go over with bro." We made that shit on October 29. Monster came out October 31. Future knew that shit was a hit. He knew it.
How do you know something like that is going to be a hit?
It's just the vibe. Everything gotta flow right. The drums gotta flow with the snare. The snare gotta flow with the hi-hat. The hi-hat gotta be at the same pace of how he rapping. His cadences gotta be at the same pace as the sound of the beat. If all that shit flow the right way, that shit is a hit. And that's just what "Commas" was. That was a memorable song. Future always tell me, "Bro, you make timeless music."
You recently collaborated with Marshmello. How did that happen?
Marshmello, he make trap beats. That's actually a very easy dude to work with. He doesn't talk.
What are you working on with him right now?
We're gonna do a joint project eventually. But right now, we're working on singles.
What else do you have coming up?
I'm about to drop my rap album. It's real crazy. The 808 Mafia album with all our beats on it, new records from all our artists. I'm very excited about that. I got crazy records to show the world.
What's going on with your rap album?
I probably got like 2,000 songs. I did a song with Desiigner last night. It's coming together. I been bugging them like, "I wanna put my shit out." I'm anxious.
Are you nervous about how you're going to be received as a rapper?
Nah, because I already had been putting projects out and they been fucking with them. I just never pushed them.
What type of legacy do you wanna leave with your music?
I outworked everybody. I work until this shit stop. I was just telling my big brother, "Man, everybody wanna be number one. I'll be number two for 20 years and be richer than every number one." That's the kind of outcome I got. I wanna be wealthy—not rich—and leave a real legacy: these n****s fucked music up, they broke records, they went crazy. That's it.