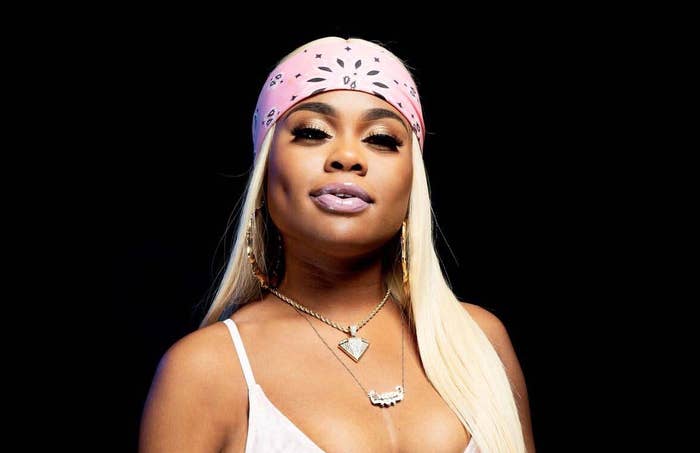 Chicago has a new Queen.
Rapper Queen Key has been making noise since her 2015 track "Baked As a Pie," but 2019 has proven to be a breakout year for the talented rhymer, who has been developing her brash, funny, endlessly quotable style since she was seven years old.
Her most recent project, a follow-up to 2018's Eat My Pussy, is appropriately called Eat My Pussy Again. "People can meet more of me: more of my capabilities, more of my artistry, just more of me," she says of the 15-song project. "Different vibes, different types of songs, to kinda see that I'm more versatile."
We spoke with Queen Key to get a better sense of who she is, what she's up to, and how she was planning to celebrate turning 23 (which happened on June 6, two days after we spoke). God save the Queen.
Can we start by you sharing a few bars from the raps you began writing when you were seven?
You want to hear it, really? All right, well, this is one from when I was nine. My name was Baby Niko. So it was like this:
Baby Niko once again
I'm nine years old and I lose control
Every time that I be rapping
All y'all know that I be snapping
Ain't got time for no hatin'
At least a little bit of appreciatin' and congratulatin'
Hold up, wait a minute, y'all done crossed the line
Because I done told y'all about a million times
If you can get on my level, which is really high
You better run away at least try to fly
Because I can lose control
Like I said about ten seconds ago.
Getting meta at nine years old. That's amazing.
And I thought it was so normal. That's funny.
What made you want to start rhyming in the first place?
I actually don't even know what made me want to do it besides the fact that I had time and skill. It's something that I just knew how to do already. Then once I got into the culture and started studying other artists, that's when I was like, "Oh yeah, this shit's kinda cool."
Who were some of the people you really studied as you were growing up in terms of MCs?
Well, I was looking at Nicki Minaj, Lauryn Hill, 2Pac, Trina. And she doesn't do music, but Marilyn Monroe, because I like acting. I was getting my study on with the actresses too.
What do you think you got from watching actors?
Maybe [to] be a character. I watched a lot of Martin and I love funny movies and shit. I be playing too much sometimes. Maybe I got that from that.
What made you move from writing rhymes as a kid to trying to pursue it as a career?
I graduated high school and I tried to do a lot of different things, like several different jobs and trying to go to school. But shit just wasn't working out. And I know that I'm not to be broke. So with that being said, I have to my use skill to make money.
Queen Key is here, and I ain't scared. I'm the best. Shit, I'm Queen.
You told the Chicago Tribune that you're actually shy. That seems hard to believe, listening to your music.
I think I'm shy, but it's weird because I can do a lot of things. Like, I am not shy to perform. I can be in front of millions of people and just do whatever, so I'm not shy in that aspect. But I'm shy in the sense of just needing my space. But then again, that's kinda the opposite of the million people thing. So I don't know, it's real weird. Maybe I'm shy if I like you or some shit.
Tell me about the new project. What's different about this from the original EMP?
People can meet more of me: more of my capabilities, more of my artistry, just more of me. Different vibes, different types of songs, to kinda see that I'm more versatile.
"Baked As a Pie" was your first song that really broke out. Can you tell me about making that?
When I made "Baked As a Pie," I was in my grandma's house. I think I had left college. This was a moment, a figuring out time for me. I didn't really have shit. I was just at my grandma's house trying to get high, and I walked outside to smoke. Once I came back, she attacked me with words, and accused me of smoking in her house. And I was like, "What the fuck? I literally just went outside." So I'm thinking I need to make up a song about weed, but I need to say a phrase that no one has ever said. What is a way that I can say that I'm high? And around this time I was referring to being "baked" as high. I probably had watched Half Baked, all types of shit. And I'm like, "You know what? 'Baked as a pie.'" The rest is history.
Speaking of songs with catchphrases, I love "RBA" ["rich bitch attitude"] on the new record.
When I made "RBA," I had woken up at four or five o'clock in the morning. I was thinking about my music and I wasn't satisfied. I'm like, let me see if I can find a beat or something real quick. And I found that beat and I just made that fucking song.
What are you excited about in Chicago hip-hop right now? What are you enjoying?
Honestly, I am most excited about Queen Key. She's what the city needs. She is all I think about.
What else do you have going on?
Because I love the songs on EMP Again, it's mandatory and super-important for me to bring visuals like no other. I am focusing on putting out my vision, period.
Tell me about Queen Camp.
Queen Camp is a non-profit organization that I put together. I take different girls from my city—for right now just from my city, but soon it will be way more global—and we spend a day together and do a lot of different activities. We make vision boards, we talk, go to the studio, we eat, we just enjoy each other. Right now I've been doing it sporadically, once a month or something, but I plan on having an actual schedule to this. I plan on this to be an actual thing on some YMCA-type shit.
And how are you going to celebrate your birthday on Thursday?
It's going down. I'm having the biggest party, man. You better come to the party because it's going down. I'm having a very big party and we are just celebrating my twenty-three years of existence.
What else do you want people to know about Queen Key?
Just know that Queen Key is here, and I ain't scared. I'm the best. Shit, I'm Queen.