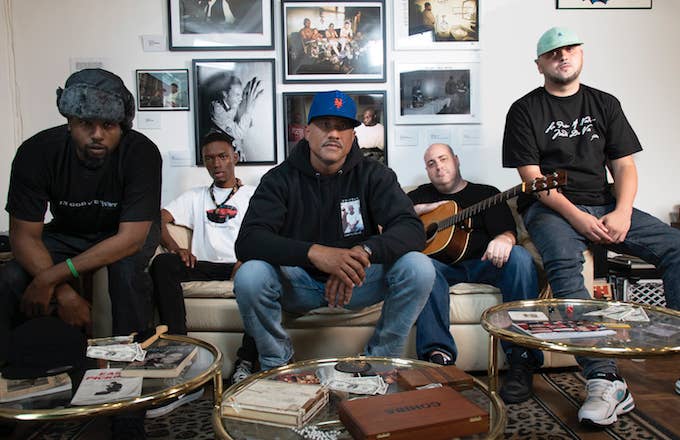 Who made the beat for "Bad and Boujee"? It should be a simple question. Most rap fans (and media outlets) would answer, without hesitation, Metro Boomin. But that's not the full story. The songwriting credits list a Robert Mandell, better known as G Koop. And that leads us to a not-very-well-known side of how hip-hop works.
Koop is a musician who has worked on tracks for the biggest names in the business. 2 Chainz, Future, Migos, DJ Khaled, 21 Savage, Meek Mill, and more have all relied on his tunes. So why don't you hear his name everywhere?
It's because Koop is part of a new breed of musicians and composers, many of them managed by the same veteran Shady Records exec, who have quietly played a major part in creating the biggest records of recent years—and now they're coming for their credit.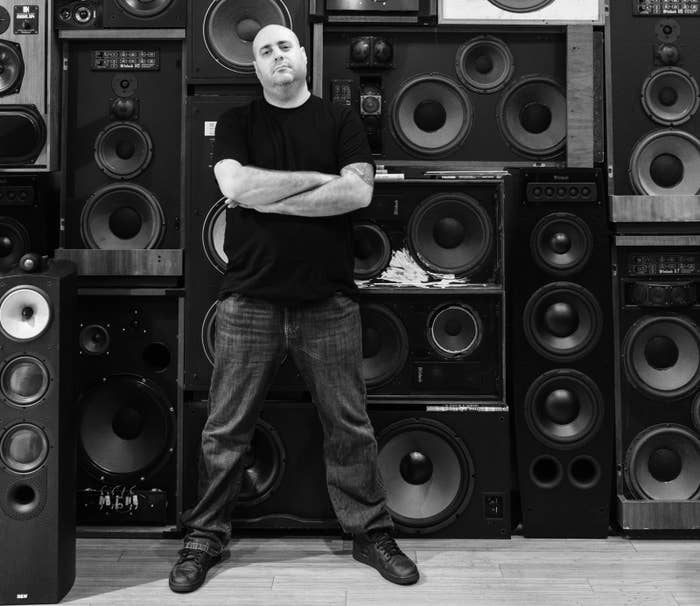 Koop and his peers like Antman Wonder and Leon Michels are taking advantage of their training as musicians to fill a void in hip-hop. For producers, finding the perfect sample to flip has become harder and harder. After decades of crate-digging, it's difficult to find something that's never been used. And if you do, getting permission from often long-defunct record labels or groups can be next to impossible. So this group of players are creating, essentially, new samples—compositions made specifically for producers to use.
Other people are doing similar work as well, like Koop's frequent collaborator Jake One, Frank Dukes, S1, and Nick Brongers, the last of whom Wonder credits with being the first to work in this new paradigm.
As an example, here's one of Koop's tracks with Jake One.
The person behind this new push to get the composers their just due, both financially and artistically, is Mike "Heron" Herard. Heron's day job is Vice President of A&R at Shady, but his passion is BeatHustle, the company he founded to guide the musicians he manages through a world that would be happy to regard them as nameless "secret weapons," as his clients are often dubbed.
Heron came to BeatHustle's business model naturally. He started out in the music industry in the mid-1990s as a producer and label founder, but he also had a side hustle. Starting in 1995, he would discover, compile, and then sell breakbeats—the parts of old records sampled by producers.
"I'd go digging and find choice pieces that producers would want to sample," he tells me when I meet him at his Midtown office, with signed Boogie Down Productions album covers and Ricky Powell photos adorning the walls. "I'd put that on a compilation album and sell those compilations, and producers would buy them. So if you're a producer, instead of going digging for four or five hours to find one record, you'd find all the choice pieces on one compilation album that I curated."
And finding, curating, and selling samples to producers is exactly what Heron is still doing. He's taking music from his clients (Koop, Wonder, Michels, Beat Butcher, KILL Beats, and IV the Polymath), and sending it to a select list of about 60 producers, including big names like Da Honorable C Note, Metro Boomin, Cool & Dre, and Murda Beatz.
"This is just a progression of what I've already been doing," Heron continues. "Very few people were doing that back then, [and] very few people are doing what I'm doing now."
Antman Wonder knows what it's like to be overlooked. The Philadelphia-bred producer, recently relocated to Los Angeles, was doing this kind of work before being represented by Heron. However, it didn't always work to his advantage. "As long as I've been doing it, people have been trying to take credit for what I've done," he says.
Wonder's affiliation with Heron, unsurprisingly, comes from one of his compositions being sampled. A track called "Sleeping Giant," which was later released on Wonder's 2015 project Memories of the Fewture, got into the hands of producer Jahlil Beats, who added his own spin to it. Slaughterhouse, a group Heron was managing at the time, wanted to use the track, which put Wonder and his future manager in touch. (The track would eventually make its way into the hands of Rick Ross, who would use it for "Crocodile Python." Jahlil Beats ended up with sole production credit, though Wonder's track is acknowledged as a sample source.)
"Mike said, 'We need this record. Did you actually play all this stuff?'" Wonder remembers. "I said, 'Yeah.' And he was like, 'Well, do you have anyone representing you?'"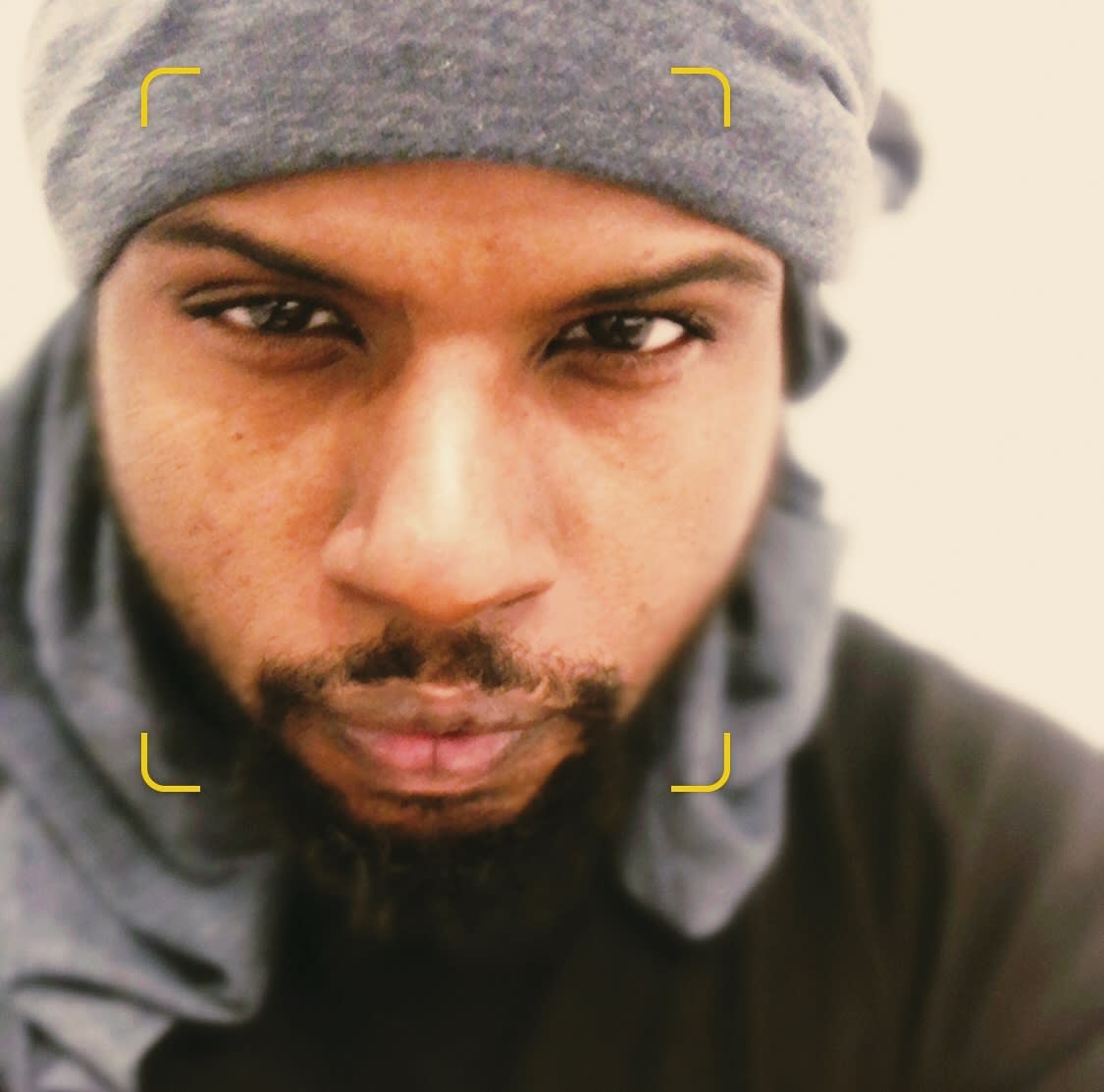 Wonder is adamant about receiving credit for the records he works on—a determination that came from some prior bad experiences.
"There were a lot of people who would try and not credit me," he says of his early attempts at placing his compositions with producers. "There were people who didn't pay me. There were people who would try and go after my publishing."
And even after people like Wonder and Koop started gaining some recognition, the "secret weapon" designation kept getting applied. It's a term that Wonder keeps coming back to in our conversation.
"A lot of people who can't do what you do try and take advantage of it, and call it something like 'secret weapon.' I've been called that and Koop's been called that," he explains. "I've been really against that because we are musicians. We do the music. Why would it be secret? We aren't weaponized secrets. We are people that do some very interesting things. And I don't think that we should ever be treated as a secret or a tool, especially if all you ever have to do is the drums."
Heron shares his clients' commitment to credit. Producers who get music from Koop, Wonder, and the rest have to agree to give credit (and the attendant money) where it's due. While the exact deals vary song to song, the people Heron manages seem happy with their situation. And the prior deals, the ones that didn't work out exactly right? Now it's time to make those public. BeatHustle has not been shy about sharing songs its members have co-created over the years. Heron says that all of the early work, with big promises but small paychecks, is paying off now.



I don't think that WE should ever be treated as a secret or a tool, especially if all you ever have to do is the drums.
"What a lot of these A&R guys do, they'll call you and promise you the world," he says, dropping into his sleazy-A&R-man impression: "'Yo man, there's this project, that project. Do me a favor for $300.' [The A&R guy] sends him the $300 and never fucking calls him again."
"So now," he continues, "you can call me all you want. I don't do the $300 thing. [But] for that $300 [sample] re-play, I'm going to get $30,000 worth of press out of it, whether you like it or not."
The sheer volume of hit songs that get their musical skeleton from one of BeatHustle's producers is endless. From Rihanna's "Woo" (credited to Hit-Boy and Kuk Harrell, with Koop and his co-writer Anthony Caruso nowhere to be found among either producers or composers) to 21 Savage's "Ocean Drive" to Meek Mill's "Slay" (solely credited to Da Honorable C-Note) to JAY and Bey's Everything Is Love opener "Summer," the melodies you're bouncing along to—if not the double-time hi-hats and 808 kicks accompanying them—have come through one of the company's musicians.
"Bad and Boujee" was a song that lifted Koop into the stratosphere. His original track (which is not available publicly, but which he played for Complex over the phone) was completed on Jan. 4, 2016. That turned out to be a very productive day for him—just 12 minutes later, he completed the composition that would eventually get turned into "Ocean Drive." Koop's skeleton of "Bad and Boujee" would sound very familiar to Migos fans. Almost his entire composition is used, slightly rearranged, in the final song. His version opens with the simple melody that would be featured on the end product's hook, and then moves to the dark chords of the intro. 
Koop started getting press and industry attention for his contribution, which suits Metro's camp just fine. Metro Boomin's manager Rico Brooks frequently works with Heron to find music for the producers he works with, a list that in addition to Young Metro includes Sonny Digital and Southside. Brooks has a long-running relationship with Heron, and frequently gets new batches of music from BeatHustle's roster.
"What happens is, we've been in positions where some producers didn't get credit, so it's all about credit. So you want to credit the sources that make these records great," Brooks tells me when I talk to him—appropriately enough, in Heron's office.
For Brooks, sourcing melodies for the Metros and Southsides of the world from new compositions instead of old records is just one more tool.
"I won't say it's taking the place of sampling—sampling will always have a place," he clarifies. "But I think this is an alternative. If producers want an alternative to straight-out sampling, this seems to be the trend, and I think it's going to be around."
The vision for this new batch of composers doesn't stop with rap songs. The film scoring world is their next goal.
"That's where we're going," Heron tells me confidently before launching into a series of questions. "Why can't we take Metro Boomin into that world? Why can't a young black dude go into film composing? When you're watching the chase scenes, when you're watching the love scenes—who is composing that music? I can guarantee you 99.99 percent of the movies that are out right now, it's not a kid who looks like fucking Metro Boomin. I want to change that. So I have Koop who has the degree [and] who has the chops. I've got Metro who has the fucking feel, who has the culture. Let's go."
"My vision is film scoring," Antman Wonder says. "That's my reason for moving to L.A." He seconds Heron's observation about the racial breakdown of film composers.
"Before I even moved over into composing, the first thing people said was, 'You should be scoring.' I feel that way too, but there's not a lot of people of color in that industry. It's something I'm trying to break through."
One question I had when talking to the musicians behind so many big hits: why not cut out the middleman and complete entire beats, drums and all, yourselves?
While Koop and Wonder both do make complete beats sometimes, the reason both persist in their BeatHustle model can be expressed in one word: access. Access, that is, to the JAY-Z or Rihanna-level artists who will give their music the widest possible audience.
"The last few years I've had such success collaborating with other people that I was just like, 'Well if it's not broke, don't fix it,'' Koop says. "Other producers might have different relationships with artists. It's cool to broaden your network by collaborating with other people, and that's a big part why collaboration is so prevalent in the industry today."
"Also," he admits, "there's been such a high demand for me to give melodies to other people. Since I've had some notoriety, everybody's come out of the woodwork to want to get melodies from me. So I had to look at that as an opportunity."
Wonder expresses that he wishes things were different.
"I would rather see people like me be able to do what they do on a scale where nobody else has to drum it," he explains. But he cops to the fact that, while other producers are familiar with him, "With artists, a lot of people don't know who I am. So it's a better segue to get to some of these artists to let someone else do the drums. That's just the honest truth of it."
"Producers and pens move everything," Heron is fond of saying. That attitude explains why he's betting big on his new venture. And how does he think rap fans will react to the knowledge that large parts of their favorite songs are being created by people other than the folks with the producer tag? He thinks fans will share his point of view: that the famous producers deserve credit for how inventively they flip their source material.
"I could give a loop to 10,000 people," he explains. "There's only one Metro Boomin, right? There's only one Murda Beatz. I did beats: give me the loop to 'Bad and Boujee,' I'd make garbage."
Growing more animated, Heron continues, "That's a conversation, an idea, a paradigm, that we need to shift—the way people are looking at loops. These are just loops, man. I send out loops all day to people, I send out melodies all day to people, and they send me beats back. Once in a while, two guys will send me a beat from the same one—very rarely, but it does happen. They're completely different beats. Every fucking time that it's happened, it's a different beat. When these guys work together, this is a collaborative effort. Metro created a new composition, right? It's not Koop, and all I did was the drums. [Metro] took that shit and made it his. It turns into a new piece of art."
Koop agrees. He plays me the track that became Rihanna's "Woo." It's a polyrhythmic piece that is essentially a succession of weird chords. RiRi's version takes just the first four and completely reinvents the rhythm. Listening to his tune, Koop marvels yet again.
"That burned up the rulebook for me," Koop remembers. "That was license to try anything. I feel more courage to just do me now, to do things that I can uniquely hear."