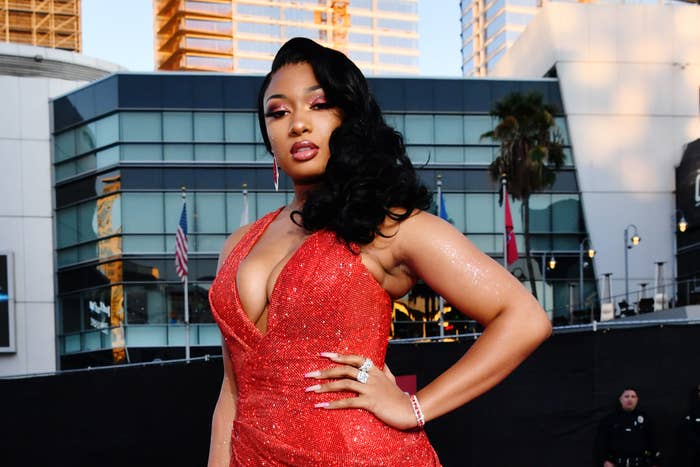 Megan Thee Stallion's contentious situation with her label 1501 Certified Entertainment continues to evolve at a head-spinning pace.
Just a day after a Harris County, Texas judge issued a temporary restraining order, allowing Megan to release new music on Friday, March 6, 1501 head Carl Crawford filed an emergency motion to dissolve that restraining order, according to legal documents obtained by Complex. The motion, filed on Tuesday, has not yet been ruled on by a judge as of this writing. [UPDATE: Late Wednesday, a Texas District Court Judge denied Crawford's motion and ruled that the album release would go ahead as planned.]
Megan signed to 1501 in February of 2018, and signed to Roc Nation management in September of 2019. Her lawsuit filed this week asks for the termination of the 1501 contract, claiming that it does not "conform to industry standards." 
A source close to the situation explains to Complex that March 6 was planned to be Megan's album release date. On January 23 of this year, 1501's attorney sent a letter to Megan's distributor 300 Entertainment saying that the making of the album was "in direct contravention of 1501's contractual rights" as well as demanding that 300 "cease all activity" related to Megan's music until they get permission from 1501. The label also sent similar letters to CAA and, according to the source, to Puma and Live Nation as well, demanding a "full and complete accounting" of all of Megan's deals and insisting it has the right to "grant approval and permission" to anything Megan was involved in.
The plan now, the source says, is to put the album out on Friday as planned and "deal with this situation as it unfolds." Megan confirmed this when she tweeted an album cover and tracklist for SUGA, along with a March 6 release date, on Wednesday afternoon.
Complex obtained a copy of Megan Thee Stallion's original contract with 1501. Contrary to Crawford's claim in Billboard that Megan owns "parts of her masters," the contract says that 1501 "hereby is, the owner from inception of each Master Recording… [T]o the extent that ARTIST may be found to be the owner or author of any Master Recording, ARTIST hereby irrevocably assigns to COMPANY all of ARTIST'S rights in such Master Recording."
The label also takes half of her publishing ("an undivided fifty percent interest...to each composition") and puts itself in charge of administering it as well. In addition, there's a clause where Megan can be fined if she's late to publicity sessions, recording sessions, or appearances. It's a clause that has actually been exercised, Complex is told.
Another part of the deal is that the label gets 30% of live performance money, and all expenses for the concerts come from Megan's share. And despite the fact that any tours must be approved by 1501, the contract includes language that the company "is not a licensed 'Talent Agent'" and "is under no obligation to procure employment" for Megan. The talent agent language is likely there to get around licensing qualifications for talent agents in Texas.
The source close to the situation confirms Crawford's claim to Billboard that, for several months, Megan has been holding back money owed to 1501. But they claim that this is only being done until Crawford can provide a full accounting. "For two years, they've been collecting her money and she's hasn't been paid," they explain to Complex. "They're not paying her or submitting statements to her." 
Crawford's attorney Tom Van Arsdel was not immediately available for comment.