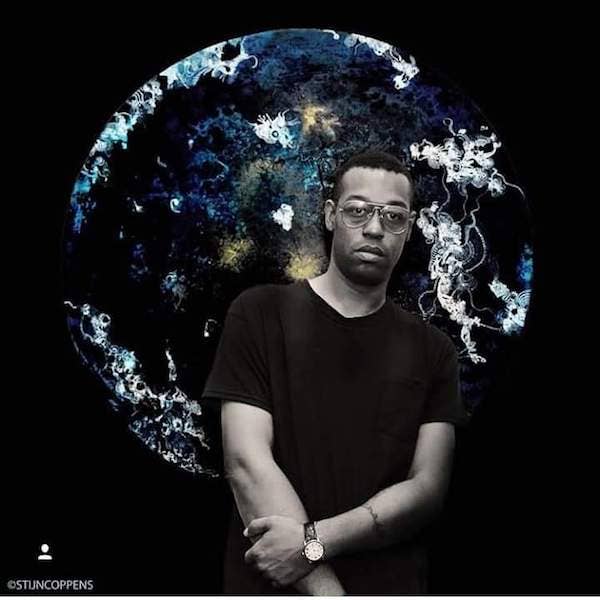 Nas' most recent album Nasir was met with great fanfare—and some serious criticism about what it omitted—when it arrived in June as part of Kanye West's G.O.O.D. Music five-week rollout.
But discerning fans of underground hip-hop quickly noticed several other noteworthy things about the project. Both the album cover and the track "Adam and Eve" bore extreme similarities to earlier work by Bay Area producer The Architect. The overlaps were pointed out by fans and the media—but the producer, who was touring overseas and had coincidentally lost his phone, remained silent.
To make things even more interesting, the sample that The Architect's work has in common with Nas' "Adam and Eve"—the opening few seconds of Iranian rocker Kourosh Yaghmaei 1974 track "Gol-e Yakh"—appeared originally on The Architect's remix of a Nas song.
Last October, the producer released The Architect x Nasty Nas (Remixes), an entire album of reimaginings of classic Nas tracks. The beat for track 9, his spin on "No Idea's Original," should sound familiar to Nasir listeners.
For reference, here's Nas' Kanye West-produced "Adam and Eve," released eight months later.
But four days prior, The Architect released an album with rapper Nowaah the Flood called Trill Life Mathematics. And its cover? The exact same photo.
The Architect is a veteran producer who got his start producing for the influential Stones Throw Records—he actually helmed the label's first three singles. After that, he worked with Dan the Automator's label 75 Ark, and has made beats for a long list of Bay Area and West Coast artists, including Coolio and Planet Asia.
So to try to get to the bottom of how a couple of his ideas ended up on Nasir, I called The Architect, who had just returned Stateside after a tour of Europe DJing for Souls of Mischief. Below are his first extended public comments about the situation.
How did your Nas remix album come about?
I just put together a remix album of my favorite verses that I like from Nas, and threw some beats behind it. It was more like a mixtape kind of thing—not a serious hard release or anything like that. I threw it on my Bandcamp for free, and people were downloading it and stuff. I did that in October of last year.
Tell me about the "No Idea's Original" beat, the one in question. How did you find the song that's sampled on it?
Digging into records, digging into crates. That's the foundation of how I produce music. I just came across the loop. I dragged and dropped the vocals on there through Ableton [recording software] and put the song together. Obviously I didn't foresee that anybody would be using the beat later on or whatever, so it wasn't a real big thought process.
Had you heard anybody use that loop on a rap record prior to you using it?
No, I hadn't. You know how it is: You come across an ill rip and you start going in. You grab it, you start producing. Once it was done, I threw it on the Bandcamp and moved on.
You made that record in the fall of last year?
Yeah. And you know how you @ people [on Twitter]? I @'ed Mass Appeal, I @'ed Nas, I @'ed, all kinds of different people just to try to promote the thing. And I didn't really have much response back. I had people blog about it a little bit—it wasn't really anything that I was super tripping on.
Did you get any indication at all that Nas was aware the remix album existed?
Nah.
A few months after that, you released a project with a very familiar-looking cover photograph. How'd you find that photograph for the cover?
Me and Nowaah the Flood, we have a mutual friend. He was like, "Yo, you guys need to work together." So I hit him up. I started sending him music, he started immediately sending me back verses. We recorded the record in about 28 days. The last day, I was going out of town on tour, and we decided we were going to drop it that day.
Nowaah the Flood hit me up. He was like, "Yo, we got this picture." Nowaah is from Dallas… he's not originally from Dallas, but that's where he has been stationed for a long time. He had a whole reason why he picked that cover. It's taken in Dallas, so he had a whole connection to it. It wasn't like he just said, "Oh there's three kids on the thing. It's tight." It was a whole science to why he picked that cover. And I know that the other guys don't have that science.
The picture originally was just the picture. We felt like we could have done a little more on the artwork side, so Nowaah sent it to his guy Trevor Lang and then he darkened it up and did some spices to it and sent it back. Once he spiced it up, boom, we put it up on Bandcamp. That was on [June] 10. Nas dropped his record on the 14th.
[The cover] was initially what I was alerted to. I was on the road—we were in Finland in the airport or whatever and everybody started texting me like, "Yo, you gotta see this." When I went and looked I was like, "Oh wow, it's the same cover." The thing that bugged me out was when I pressed play and the same beat [as my] remix came on. That's really what initiated me being like "Woah, what's going on here?"
Do you believe one or both of those similarities were on purpose, or do you think they're both coincidences?
First of all, I like to think great minds think alike. I would like to say that first. Second of all, it's very odd when lightning strikes in the same place two to three times. Keep in mind they were noticing [Nowaah the Flood] on Mass Appeal. He was being featured on there a lot. They know about him because he has been around for a while.
But with that said, I'm fully aware that a lot of the material that we use nowadays as far as on the underground is sample-based. Obviously I don't own the samples, so I wasn't going to say anything about it. The fact that I have Nas rapping on it—I don't know.
This is a new era of music where things like that can happen. We all have access to the internet with the picture and the record, I guess. I don't know. I obviously don't know Nas and I don't know Kanye West. I don't know if they have a team working on this stuff. I hate to go around accusing people of stuff. I kind of let the public run with that, you know what I mean?
At the end of the day I don't have any hard feelings. It could also be creative-type minds working alike. If anything, I would like to work with the guys and be running around with them instead. Usually things don't strike in the same place three times, but the internet is new. It's a weird situation.
What kind of responses have you been getting from people about the similarities?
A lot of people I didn't even know were checking came out the blue and took it like it was a bite. I try to be modest about it, 'cause I made the music. But mostly everybody is saying, somehow they must be watching your work. That's the vibe I got from a lot of them.
What has the past month or so been like for you? Have you gotten more exposure? More people like me trying to talk to you?
Yeah, I have. The weird thing was, when I found out, I was on the road with Souls of Mischief with their 25-year anniversary [of the group's debut album 93 'til Infinity] and we were doing shows every day. I actually lost my phone on the road so I had to detach from the whole thing, which was actually good because I have a job to do. I did notice a lot of people reaching out and stuff like that.
But my thing is, among my peers and the people in the industry I work with, I need them to understand the level of creativity. It's not, "Oh wow, you finally made something tight." Nah. I make shit tight every day. And I've heard other things happen. I mean, never this much in this close proximity of each other all on one record, but I've always heard samples and different things I've done get used.