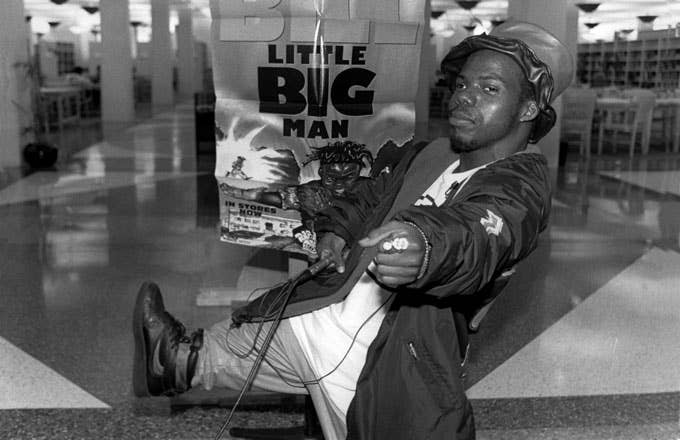 Richard "Bushwick Bill" Shaw may have been small in stature, but the legacy he leaves behind is huge. The Jamaica-born and Bushwick, Brooklyn-raised Bushwick, who died at 52 on Sunday night not long after a diagnosis of pancreatic cancer, started out in hip-hop culture as a graf writer (as a BK teen, his tag was INFANT, according to noted artist Blake "KEO" Lethem) and dancer, and is famous for his tenure in the iconic group the Geto Boys.
The group's best-known lineup consisted of Bushwick, Scarface, Willie D, and DJ Ready Red. But Geto Boys history predates that cast of characters by a number of years. In a 2015 interview, Bushwick recalled being down with the group since 1984, two years before their first single.
"In '84 there was Raheem, Slim Jukebox, and Sir Rap-A-Lot," he explained. "Those were the first three members of the Geto Boys with DJ Ready Red. By '85 it was Prince Johnny C, Slim Jukebox, Bushwick Bill, and DJ Ready Red. By '89 it was Scarface, Willie D, Bushwick Bill, and Ready Red."
Bushwick, who moved to Houston in the '80s, began his tenure in the group as a dancer, not a rapper. But his memorable performance on the track "Size Ain't Shit" (a nod to his 3'8" stature) earned him a place behind the mic.
The prime years of the Bushwick-Scarface-Willie-Ready incarnation of the group gave the world some of the best rap music of the genre's Golden Age. Arguably the first Houston group—and one of the first groups from the South, period—to have massive national success, the Geto Boys proved that hip-hop was far more than a coastal phenomenon. The group's songs ranged from psychological character studies to prescient political diatribes to horrorcore anthems—that last kind of song brought it no shortage of controversy—and Bushwick's unique voice and persona were at the center.
Bushwick released a number of solo albums as well, beginning with 1992's superb Little Big Man. That project contained "Ever so Clear," a chilling account of the 1991 incident where he got shot in the eye during an argument with his girlfriend. (The aftermath is pictured on the classic cover of the Geto Boys' We Can't Be Stopped.) He closed the song with one of his most famous lyrics: "I'm glad that I'm here, G/But it's fucked up I had to lose an eye to see shit clearly."
In 2006, Bushwick would become born again, and his final solo album, 2010's My Testimony of Redemption, reflected that change. But he never shied away from his legacy, frequently jumping on the smallest and strangest of stages to perform the Geto Boys classic "Damn It Feels Good to Be a Gangsta."
Bushwick once summed up his approach to life during an interview for a still-unreleased documentary. "I am a goofy person at heart," he said. "I just believe that live, love, laugh—[that's] basically what it is."