A Wild Theory About the Origins of Drake's Infamous "Half a Xan" Line
What inspired Drake's "half a Xan" line on "Sicko Mode?" Is Hannibal Buress the key to unlocking the truth? Here's a theory.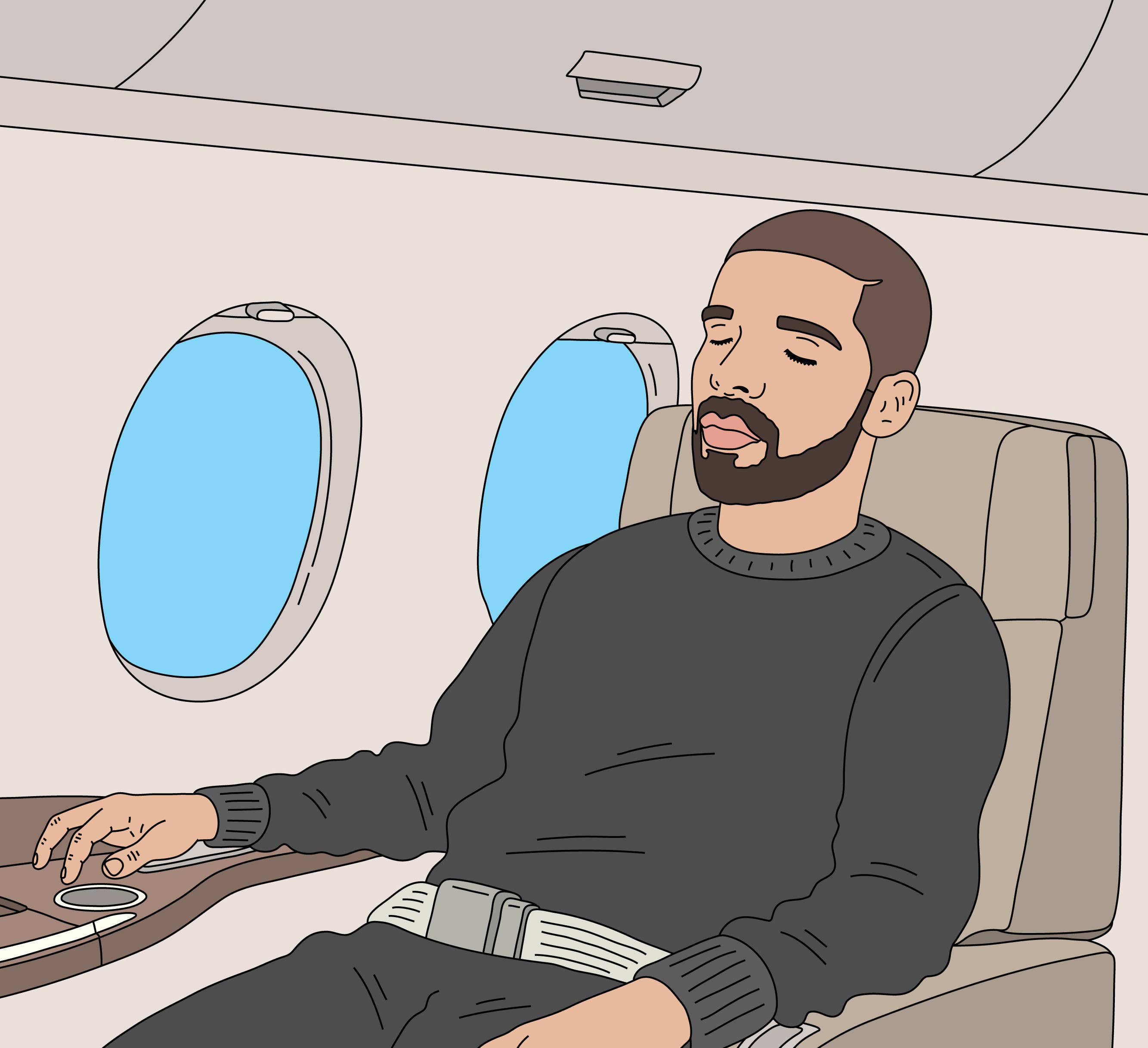 Direct from Artist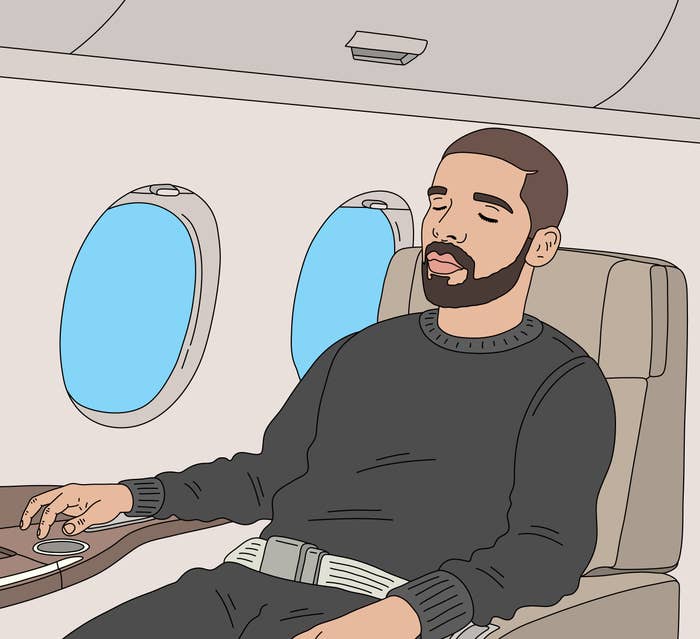 Much has been written about Drake's "Sicko Mode" verse, particularly the line about popping half a Xan and being "out like a light."
The Independent says he "sounds more important on this record" than he did on all of Scorpion; The New Hampshirecalls the Xanax line "the strangest brag of 2018"; DJBooth dubs it one of the "weirdest flexes in rap history;" and The Ringer says it was "one of the best musical moments" of 2018.
It's beyond me why we aren't unanimously applauding Drake's dose of Canadian honesty when he could have easily lied about how many Xans he took. Isn't that what we want out of our favorite artists? More honesty? More vulnerability? More life?
But that's only part of the reason we're here today. On March 19, 2015, Drake boarded a plane, threw on some very large sunglasses, and posted a legendary Instagram selfie. Today is the anniversary of that glorious selfie.
If Canada has a Library of Congress, the post should absolutely be preserved there. One month after the release of the machismo-filled If You're Reading This It's Too Late, the "16 hours…" post reminded us that Drake is still an entertainer with a vivid, silly imagination and a passion for genre films.
"Flight attendants can tell I'm off the shits," reads like Issa Rae's internal monologue if she were three hours into an edible on a 16-hour flight. The very next line, "They's a-whisperin' in the corridors," is straight-up Spaghetti Western writing. Honestly, the whole caption is best enjoyed if you read it out loud in a Sam Elliott voice, in my personal opinion. His ability to switch between genres this effortlessly (while also zooted) is inspiring.
On private jets, is there a designated time to get pajammy'd down that we of the proletariat just don't know about?
The rest seems to be mainly in Drake's own voice. Although I don't think I'm alone in wondering about this line: "Guy next to me is pajammy'd down head to toe we haven't even been on here for 4minutes."
There's no way Drake flew commercial in 2015 (he's much more the FBO type, as he tells us on "Sicko," for reasons including but not limited to the absence of checked baggage limits). So how does he not know who the guy next to him is? Would it not be one of his OVO brethren? Also, on private jets, is there a designated time to get pajammy'd down that we of the proletariat just don't know about?
Anyway, before I get off track: I have a theory about the post in question that only Hannibal Buress can corroborate.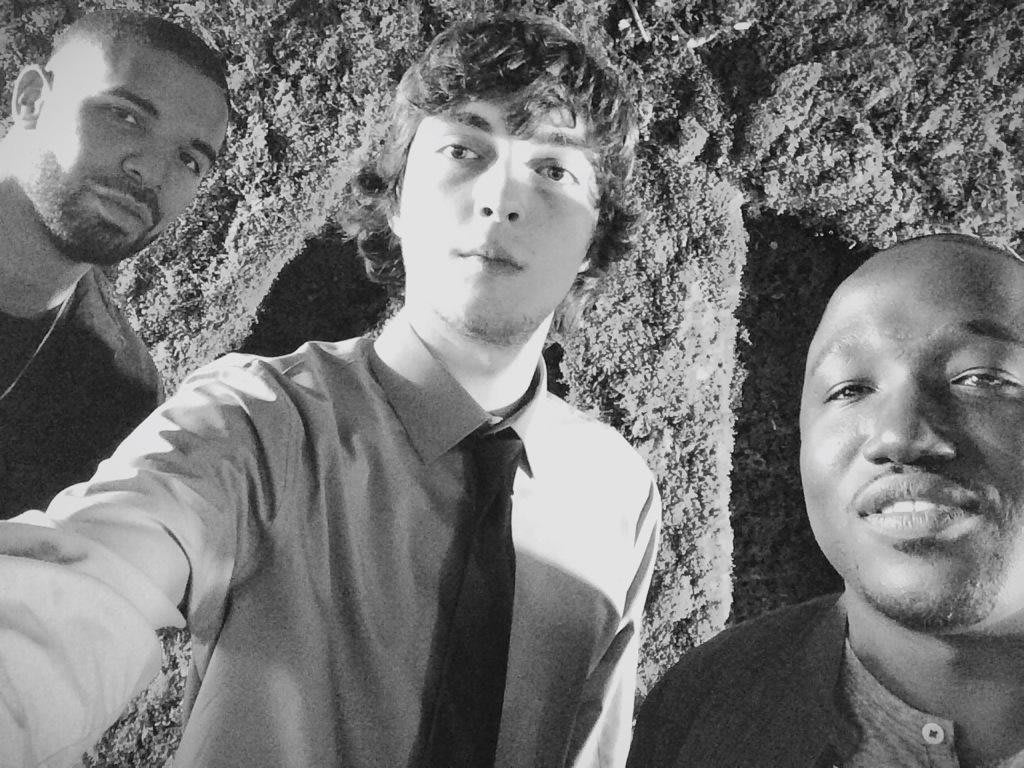 In May 2015, Hannibal and I were heading to Houston from Los Angeles to attend a private dinner that Drake was hosting for our close personal friend Bun B (the legendary rapper, one half of duo UGK). As we were catching up, I sent that iconic Instagram post to Hannibal over text and he immediately suspected Xans. I'm admittedly a bit of a novice in the world of recreational drugs and respectfully deferred to Hannibal's hypothesis. As we rode to the dinner, we made a pact that if we only had time to ask Drake one question, we were going to ask him about the "16 hours…" post. This moment was going to be for science; for all mankind; for our own personal entertainment!
The first thing Drake did when we arrived—apologizing for asking us to be there so last-minute—immediately gave away how Canadian he is.
Drake had Hannibal staying "at the St. Regis up on Briar Oaks" and I was "at the Derek up on Westheimer," so I made my way to the St. Regis. Soon thereafter, Hannibal and I hopped in a luxury Lincoln Town Car to head to the dinner. We did not get to ride in Drake's white Rolls Royce Phantom, although we did get to look at it later.
But why were we in that luxury sedan? I mean, someone from OVO had sent it for us, but why were we there? Without getting too existential, we were there for two reasons. First, someone in Drake's camp had found my UGK documentaries and wanted to play clips from them at the dinner (this was going to be a big tribute to Bun, after all). Second, someone—maybe the same person—in Drake's camp had been told that I was friends with Hannibal and asked if we'd be able to convince him to do a surprise roast of Bun at the dinner. This was shortly after Hannibal had done the Comedy Central Roast of Justin Bieber, and I guess someone in OVO had been watching that too, so I called Hannibal and he said he was down.
So there we were in that luxury sedan on our way to dinner. As Hannibal mentions in our conversation on The Nostalgia Mixtape, "We were super early," so when we arrived at this spruced-up warehouse space, the only people there were us, the catering staff, Drake, and one of his managers. The version of Drake we met was Sir Graham, looking like Bruce Wayne: arms folded behind his back, pacing the building, sampling the hors d'oeuvres, and making sure the feng shui was just right.
The first thing Drake did when we arrived—apologizing for asking us to be there so last-minute—immediately gave away how Canadian he is. We assured him that it was really no problem at all and quickly realized that not only were we going to get to ask Drake our one burning question, we were also going to be forced to carry on an entire conversation with him until people started showing up.
Later, we got to nerd out on music with Sir Graham and even put him onto a band he'd never heard of called Hiatus Kaiyote, whom he'd later sample on "Free Smoke" without crediting us (hear this full story on Hannibal's episode of my podcast). But first we opened up our conversation by getting right to the most pressing matter: that insane Instagram post.
"We gotta ask you about something, man," I said to Drake. I could see Hannibal in my peripherals looking nervous. If I did something embarrassing, this would definitely be a good chance for him to be like, "You know, I don't even know Sama'an like that."
"What's that?" Drake replied with a big Canadian smile.
I had saved a screenshot of the Instagram post in case there was no cell signal at the dinner (this was important), so I unlocked my phone, and there it was. I flashed it to Drake.
He immediately tilted his head back and let out a huge laugh.
"Oh, man," Drake said. And then he told us the story.
Originally, I had planned to save this for my future memoir, but the release of this podcast is a momentous occasion. I really don't have a choice. Also, I don't remember the exact verbiage of our conversation, so I'm paraphrasing here:
The next thing drake remembers is waking up after the plane had landed and his management team being furious with him for posting such an insane caption.
Drake was flying from Los Angeles to Europe (my memory is telling me it was the U.K., but I can't confirm. Drake, please chime in here). He says he remembers being at his house, and, perhaps due to flight anxiety, he popped something. Before he knew it, he was on the plane and felt compelled to take a selfie. The next thing he remembers is waking up after the plane had landed and his management team being furious with him for posting such an insane caption. He says they were threatening to revoke access to his own social media. I think it's not a coincidence that his presence on Twitter, at least, seems to have dropped off since around that time.
So that brings us to 2018 and Travis Scott's "Sicko Mode," where Drake raps, "I did half a Xan, 13 hours till I land/Had me out like a light, like a light/Slept through the flight."
Knowing about our conversation at that dinner, it's kind of obvious now, isn't it? He turned an incredibly silly story and Instagram post into a Grammy-nominated banger. Look, I'm sure some of you will say that Drake has probably popped half a Xanax on more than one flight that he's slept through, but, to quote Four Lions, you cannot win an argument just by being right!
The rest of the dinner was a wild experience. The mayor of Houston showed up to give a speech about Bun, there was a big portrait of Drake drawn by Shea Serrano, Z-Ro was walking around in a suit, and Hannibal used a joke I'd written about how when Drake books your hotel room, all your ex-girlfriends are there waiting for you. Whether or not that's a good joke is up to you. On a personal note, seeing my work playing on the TVs that evening was a moment that truly reinforced the idea that if you have an idea you believe in, you should see it through because you never know who's watching and who will fly you out to an insane dinner and take pictures with you where you forget to smile.
Drake, if you're reading this, the people need to know: Is my theory true?
The story above is inspired by Hannibal Buress' appearance on The Nostalgia Mixtape, a podcast that navigates the intersection of music and memory. Hannibal's episode includes a conversation about his early stand-up days, the first song he ever walked up to (in college), dunking on Kevin Durant (figuratively), and a story about a private dinner Drake threw for Bun B and why he might need to be credited for the Hiatus Kaiyote sample on "Free Smoke."