Premiere: Le1f Drops "Umami/Water" and Talks New Album, 'Riot Boi'
'Riot Boi' drops later this month.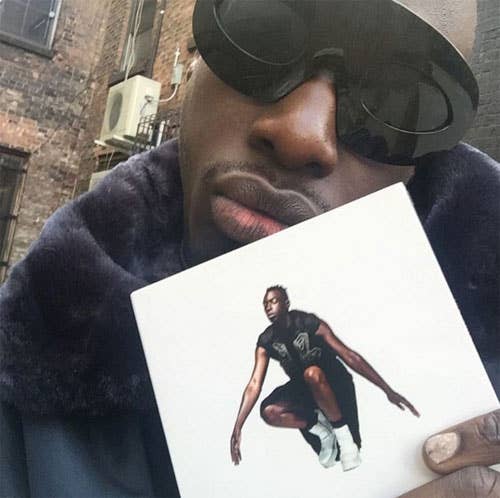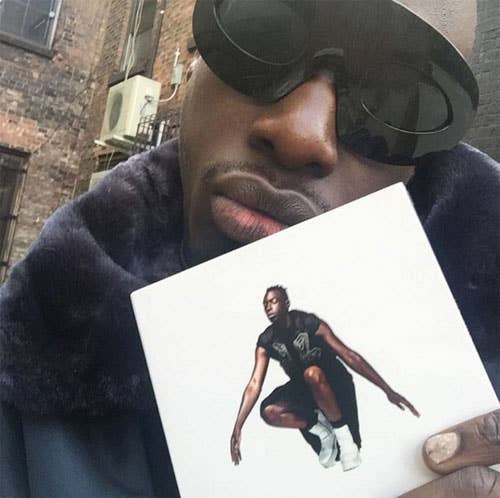 Though New York City-based rapper Khalif Diouf, better known as Le1f, has been producing and recording since 2008, he's about to propel his music beyond his indie roots.
His forthcoming debut album, Riot Boi, out next week via Terrible Records, is a hard-hitting collection of club-ready bangers cut with social commentary. With impressive contributions from artists such as Dev Hynes, Junglepussy, and SOPHIE, the record serves as a trippy synthesis of Le1f's alt-rap and electronic backgrounds.
Today, we're premiering "Umami/Water," the latest single from Riot Boi, which Le1f says was inspired by transgender artist Juliana Huxtable and features production from Lunice and Evian Christ. By taking the track into a darker realm following the aggressively brassy first half, he commands his listeners to enjoy themselves but also consider the complexities behind trans rights. Listen to "Umami/Water" above, and below, peep our interview with Le1f regarding the track, his riot grrrl heroines, and the importance of representation.
You've been on the scene for a while now, but Riot Boi is your first official studio album. What did you want to do with this debut?
I wanted to make something that was totally unique and of its time. I wanted to make something that encapsulated all of these ideas and feelings that I had about the state of my generation and my community: being the first-world, being the gay community, being the gay black community, being the black community. Being, you know, all these different groups of people, I wanted to make music for us and something that was unique. Something that was fun for the clubs and for the car rides, but also showed my passion for a lot of the social and political issues going on right now.
Why did you choose the name Riot Boi?
I was inspired by the way riot grrrl music expressed some really interesting feminist ideals through this classic sound of punk rock music, and I was way more influenced by that than I was conscious rap and that whole old school trip-hop sound. Especially in terms of while I was writing it, my working title was Riot Boi, just so I could stay focused on my task. It stuck with me, so I used it. 
life imitates art often, so if we put [Underrepresented] artists on the platforms that exist instead of rappers that are doing gold chains and booty songs and white people in galleries selling pictures of black people with their braids for $30,000 and we're not seeing any of that money—it's really easy, you know? 
Do you have any particular riot grrrl heroines?
Le Tigre was my favorite. You know, Sleater Kinney, more of the electro side of stuff. Feminist Sweepstakes was definitely in my iTunes. But my personal heroes for female musicians are more along the lines of like, Missy Elliott, M.I.A., Alice Glass. I think, just personally, I'm not a female, so who am I to say what the best riot grrrl music was?
Your live shows are known for being very bold and energetic. Were you considering the performance element while writing this set of songs?
I think, sometimes, yes, sometimes, no. I had this concept of more...I wanted to go for this classic idea of what an album flow should be. A little bit more showing a range of emotions and feelings and moods, but still being cohesive. They all belong together. Just a strong set of songs, you know? That was all I set out to do. While, yeah, I think a lot of them do work visually and I can see a lot of ideas for videos and choreography, when I was writing it I just wanted to write the best music I could make.
There's a lot of collaboration on this album—you have Dev Hynes, Junglepussy, SOPHIE, Balam Acab, and Blood, to name a few—but your sound remains very much at the forefront. How did you decide who to work with on this record?
Well, I used to make beats—that's how I got into music—so I have a really picky ear when I'm choosing beats. Luckily for me, because of that, I feel like producers...even though I haven't been that popping, the people in the music world know what's up and what's good, and are really down to work with me. I've been fortunate to really approach the producers that I really like and work with them. For a lot of these people, I've known them for a while or known of them for a while. SOPHIE and Evian Christ, I've known them for a few years now, and it's really cool to work with people that understand the aggressive production I hear in my head and be on that level. It's cool.
Do most of these collaborations take place in the studio, or do you work remotely with the producers?
All of it. You know, however it needs to get done.
Let's talk about this new song "Umami/Water." What is the story behind it?
I got this beat from Lunice, and I was really inspired to make a song dedicated to my friend Juliana Huxtable. There was a lot of talk in political media, as well as clickbait, about transgender issues. Feeling like I wasn't educated and sensitive enough to trans issues, I wanted to correct that for myself, so I delved a bit more into educating myself on the struggle and a lot of the issues that are happening in the trans community. You know, really just knowing the names of victims and all this transphobic brutality and assaults. It's a multi-faceted issue and also a beautiful thing. I felt that I needed to do that because so many of my favorite people are trans, particularly Juliana Huxtable. She's one of my favorite artists in general.
She's great.
Yeah, she's great. It came around the time where she had that amazing series of pieces and collaborations in the Whitney Biennial. She attended Bard College and booked me for some of my first shows, before I put the "1" in my name. We've been friends for a really long time, so to see her transition into the most amazing human being...I just wanted to make a song that would make her the most proud, and would be helpful for the trans community at large but also my friends who are trans.
Interesting. So, in your words particularly, why do you think these issues—and queer representation, as a whole—are important for the hip-hop community?
I think that there's underrepresentation across the board for so many obviously underrepresented people. Whether it be transgender people, other queer people—especially queer people of color—Latino Americans, Latino people at large. I think, in general, the conversation about race in the states has been so bilateral and black and white, and doesn't fully encompass the gradient situation and classism and the spectrums of immigration that have all these different multi-faceted issues. I think that life imitates art often, so if we put these artists on the platforms that exist instead of rappers that are doing gold chains and booty songs and white people in galleries selling pictures of black people with their braids for $30,000 and we're not seeing any of that money—it's really easy, you know? The culture can change and have a different appreciation of different aesthetics and different ideas of beauty. I think that will affect a lot, including privilege and how people respond to people of different identities.
What is your take on the state of popular music right now?
I think it's beautiful that rap has turned into singing. I think it's cool! That radio rap—the biggest artists, like Fetty Wap and Drake—these people are kind of progressive singers more than anything.
What can fans expect from Le1f going into the new year? Do you have any big plans for this record?
I just hope people enjoy it. I hope people have a good time, or a sad time, or some kind of meaningful time with any of it. I'm excited to make more art, play shows, make videos, and keep making more music.