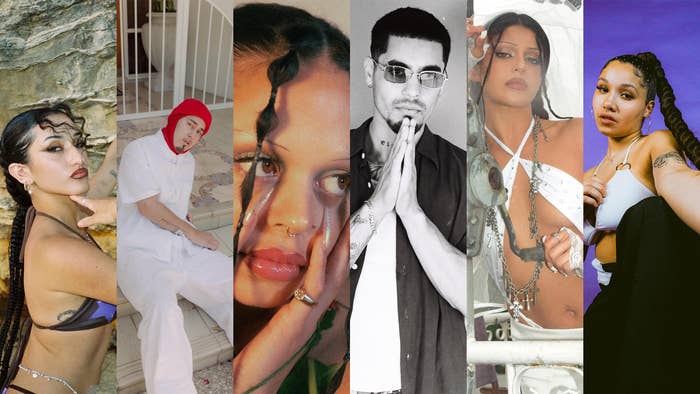 It's time for you to get familiar with the up-and-coming talents dominating the Latin music scene down under. Latine artists in Australia are having their moment—with genres such as Reggaeton, Dembow and Latin R&B slowly making their way into the limelight of Australia's music scene, allowing artists to showcase their talents not only down under, but to the rest of the world.

The diversity of Latin music is unmatched—from pop ballads and mellow R&B tunes, to Colombian salsa and Latin hip-hop, these underrated genres have seen immense growth and change in the last few years. Whether you're into Reggaeton, R&B or hip-hop, the list of emerging names below have been building up the Australian-Latin music scene for some time, and are ready to take their sounds global.

From Melbourne-based beat-maker and singer Cris Gamble to 19-year-old Lamira from Sydney, read on to discover the new wave of Latine musicians you need to add to your playlist.
Cherry Chola, who also goes by Fabiola, has been making moves in Melbourne's music scene since 2022. Her core sound channels a mix of mainstream Latin dance music, Reggaeton and Neoperreo. While her 2022 debut EP exótica demonstrates layers of up-beat notes, Chola has also made it a point to incorporate salient themes into her music, with one example being her track "XO." In an interview she explains that the song is about reclaiming the word "exotic," a term she says has often been used to describe her since she moved to Australia. Most recently, Chola has been experimenting with her distinct sound through singles like "Princess Puta," "Tip Me" and "GASLIGHT."
Reggaeton is a genre yet to be popularised in Australia, and Jalmar is on a mission to do just that. His work doesn't entirely conform to the mainstream Reggaeton sound, as Jalmar only tapped into the genre a few years ago. Jalmar started out in hip-hop—a genre he still blends elements of into his music today. It was via the journey of experimenting with his sound over the course of a few years that Jalmar everntually found himself gravitating towards Dembow and Reggaeton. "One of the main reasons I made the shift was because Reggaeton music and its associated genres aren't huge here in Australia, but everywhere else in the world it's massive, and I consider myself an Australian artist who makes international music," he told Complex. With Chilean roots, Jalmar continues to represent his heritage through his work.
Chilean-Australian artist KHYA has been honing her sound for a few years, but it wasn't until February this year that she dropped her first official single, "maryjane," followed by her debut EP MARYJANE, THE REMIXES in August. Soft, sensual and trance are the words that describe KHYA's music and aura. "maryjane" takes inspiration from '90s R&B, while her EP boasts tracks that can transport you into a daze. Completely raw and full of emotion, KHYA's songs will have you feeling vulnerable—but equally empowered.
Hailing from Melbourne's south-east, Cris Gamble is all about hip-hop and Reggaeton-influenced beats, rhymes and melodies. Coming from an Anglo-Indian and Chilean background, this talented beatmaker and singer/songwriter merges English and Spanish into his tracks, accompanied by robust yet relaxing beats. With his singles like "Domo," "Snow" and "Oscuro" now on steaming platforms, it's only a matter of time before we get a taste of his debut EP.
JUPiTA, previously known as Ruby Sofia, radiates an ethereal presence through her style and music. If you haven't heard of this rising talent just yet, her sound consists of a plethora of genres such as Latin pop, Reggaeton, alternative, dance/house, jazz, jungle and R&B. Taking inspiration from some of the industry's most seasoned artists—Dua Saleh, Rosalía, Amaarae, Solange and Kali Uchis—JUPiTA delivers a versatile sound through her duo-language lyrics. Making her presence more known in the scene, JUPiTA took the stage with KHYA and Cherry Chola at ¡ESCÁNDALO! Nuestro Planeta—a Kali Uchis tribute earlier this year in Melbourne.
At only 19, Lamira has been representing Sydney by making waves across the globe with her Caribbean rhythms and Reggaeton beats. The emerging Venezuelan talent blends both English and Spanish into her music, with the hopes of sharing the beauty of her culture with the world. Her first-ever single "Dame" released in July fuses pop, Reggaeton and R&B. The release of "Dame" is only the start of Lamira's future in music, and we can't wait to see where she goes next.