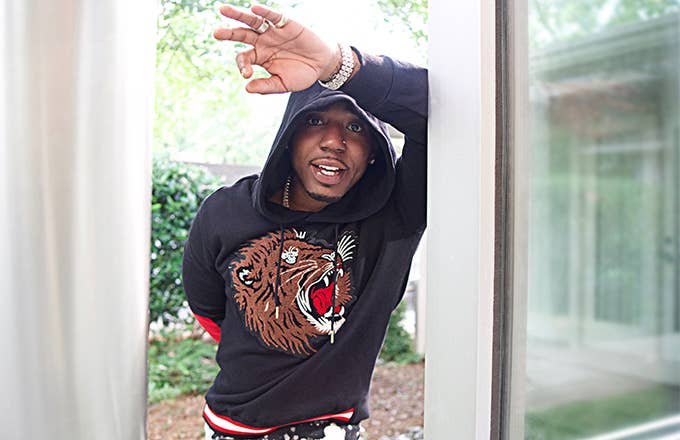 "Growing up, I stayed with my mother, in a single-parent home. We wasn't the richest or the poorest, but she got us through." To hear YFN Lucci reminisce about his childhood is to witness someone who has harnessed his past—with all its tumult and all its tribulations—in order to evolve and move forward. This isn't about forgetting; it's about internalizing everything he witnessed and experienced in a way that's in service of his personal, professional, and creative growth. "We always had a roof over our head," Lucci says today, still marveling at his mother's grit and ingenuity. "She always made the holidays come through." 
That last bit is important. Born Rayshawn Bennett in February of 1991, as a child Lucci was inundated a variety of styles of music, as so many were at the turn of the century. He was enamored with R&B singers like Ashanti, raucous rap acts like the Hot Boys, and by those who were able to blend the two styles, like Ja Rule. And going to school in Atlanta during the 2000s, it was only natural he came to appreciate homegrown legends like T.I. and Jeezy. It wouldn't be long before Lucci was synthesizing those various influences into something new and vital, but he couldn't jump into the musical fray right away. First, he had to experiment on his own, and he did so by recording himself on a tape player his mom had purchased. 
By the age of 9, Lucci was imitating his 12-year-old big brother with some skeleton recordings. "He inspired me to do it the most," he says of his older brother, who raps under the name K. Once he reached his teen years, Lucci ventured beyond self-recording, finding himself for the first time in actual recording studios. This is where the synthesis started to happen. "I had finally got into a real booth," he says, "And I was just playing with my voice in the microphone, yelling, going high." With the added time and technology, Lucci started to formulate the style that would come to define his music: a mixture of serrated, gravelly street rap vocals and a dexterous singing voice. It's an intoxicating blend. Take "Young Fly Ni**a (YFN)" from last year's Wish Me Well 2—it's soulful but world-wearied, grizzled but vulnerable. 
It was with this approach that Lucci began to make minor waves around Atlanta. But it didn't happen all at once. He credits his relationship with the rapper Johnny Cinco for vaulting his career forward, and praises Cinco's integrity. "A lot of people get in the game, but they just do it for the check," Lucci says. But Cinco was different. Through that friendship and various other friends, Lucci was able to make connections in the famously hand-to-hand Atlanta rap community. "I was going to the club, letting DJs hear my songs," he remembers. "In Atlanta, the clubs play a big role in the hip-hop business. I was constantly in the studio, working, trying to better my craft, but you also gotta mingle, gotta go out and politic, meet people."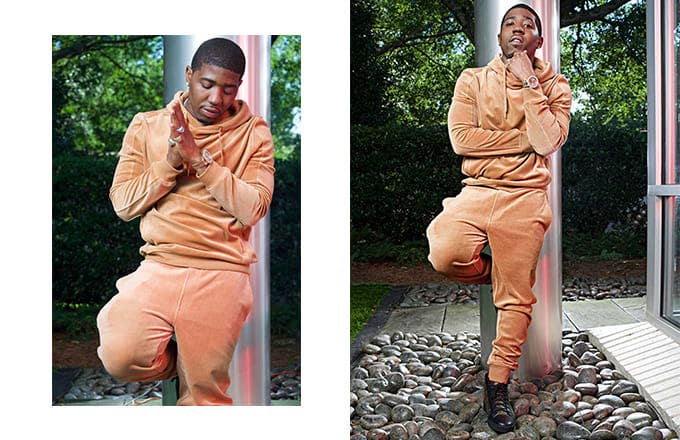 A series of features on Cinco songs introduced him to more and more fans in the city, and the response was immediate. "Money can't buy those relationships," Lucci says, looking back on 2014 and '15. The first installment of Wish Me Well came out at the tail end of 2014 on Think It's A Game entertainment. This was his music in its embryonic stages: all the elements were there, and were starting to cohere into a unique whole, but didn't yet set Lucci aside as a breakout star. 
The breakout was coming, though. The second Wish Me Well came out at the top of 2016, and with it a single called "Key to the Streets." Produced by June James, the song linked Lucci with Trouble and the Migos, and quickly became a runaway hit. It ruled airwaves for most of the year, and was pumping out of apartment windows or car stereo systems from the South to both coasts, and everywhere in between. A video came out over the summer; in the fall, a remix, aided by verses from Quavo, 2 Chainz, and Lil Wayne—a dream come true for a Southern kid who grew up on the Hot Boys' catalog. 
The song went on to be certified Platinum by the RIAA but, more importantly, it announced Lucci as a force to be reckoned with in hip-hop. Most artists in his situation would see their identity overshadowed by the more famous guests on his first hit, but "Key to the Streets" is, above all else, a YFN Lucci song, showing that grit and soulfulness that he'd been honing since childhood. "It was like a dream come true," he says of the success. "That's a major accomplishment where I'm from: People have been rapping for years and don't have that, but I got it in less than two."
As anyone who grew up on hip-hop can tell you, music is only one aspect of the culture. Old heads will remind you of the four elements: rapping, DJing, breakdancing, and graffiti. Of course, as the genre has expanded, becoming first a point of national controversy and then one of international commerce, it's morphed into something larger and more immovable, which contains any number of facets and off-shoots. 
The most obvious avenue through which hip-hop expressed itself was fashion. By the mid-1980s, b-boys in any city were instantly recognizable; by the end of that decade, hip-hop fashion had become dizzyingly fractured and self-referential, where certain clothing sensibilities served not only as forms of self-expression, but as comments on (and distinctions from) other cliques within the culture. Think about what thick gold ropes represent, or Kangol hats, or white Air Forces with the strap unfixed: These images serve as shorthand for cities, regions, styles, and voices, all communicated at a moment's notice. 
You could mount a strong argument that hip-hop's modern ethos is captured best by those within it who merge a strong fashion sense with an entrepreneurial spirit. The genre has long dictated trends—why not capitalize on that? With Sean John, Sean Combs did just that, and furthered his legacy as one of hip-hop's great visionaries. So when the brand came calling, YFN Lucci jumped at the opportunity to represent it.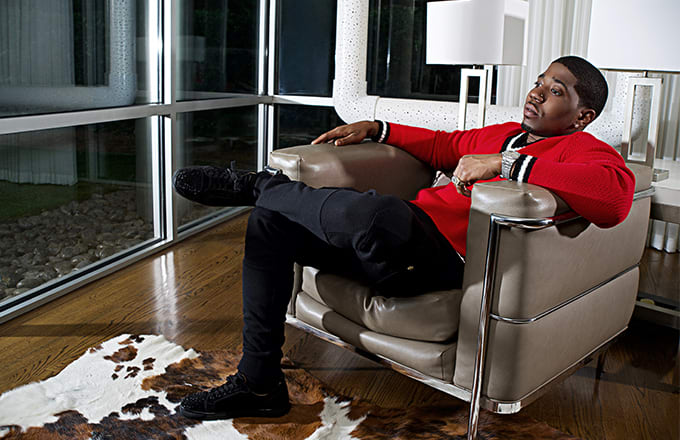 "I was like, 'That's amazing,'" he recounts of the time he was first approached about the partnership. "This is the hip-hop culture. I love fashion. So when they hit me with that, I was amazed." 

Remember Lucci mentioning that, despite growing up without much money, and with only one parent in the house, his mom made sure to keep him and his brother decked out with gifts? Well, the mere mention of Sean John brings back a very fond memory: "That was all I used to wear, so my mother used to buy me Sean John. One time she came home with a jean jacket and a burgundy track suit." Those became staples in young Lucci's closet, and the feeling of putting on the garments for the first time has stuck with him ever since. 
Lucci describes his own style as "fly, but flamboyant at times," and expresses his love for the type of "casual classics" that signify the culture but can be worn in everyday settings. But more than his own experiences, Lucci associates fashion with the role it's played in the careers of some of his favorite hip-hop artists. He cites Missy Elliott and the Diplomats—acts that couldn't have been further apart in terms of fashion sense—as names that excite him when he thinks about that convergence. "Hip-hop music and fashion go together because it's the culture," he says. "People like to listen to good music, feel good, get dressed, and look good."
From the outside, it may seem that Lucci's rise has been meteoric: a dream without drawbacks. That couldn't be further from the case. Earlier this year, Lucci put out what might be his definitive work to date, an EP called Long Live Nut. At just nine songs and 33 minutes, it's a concise, concerted look into what makes Lucci's style tick, and features his most developed songwriting to date. It's a master class in evoking emotion without being manipulative, and in distilling the sound of metro Atlanta into a necessary, singular package. 
But there's that title. The record is named for Nut, a close friend who was one of Lucci's earliest and most ardent supporters. "I met Nut when I was like, 22," he says. Before he continues the interview, he takes a second to address his friend, up above: "My big brother Nut—love you, bro." After a pause, Lucci launches back into the story of their earliest conversations. "He was like, 'Your music make me go crazy,' he really believed in me. He believed in me when nobody was f**king with me. He introduced me to Fly [with whom Lucci eventually signed a record deal], and he said you'll be out of here making all this money." It was the sort of support any young artist needs, but especially Lucci, who places such value on honesty and integrity. Unlike some of the money-hungry figures one inevitably encounters on the road to the top, Nut was helping Lucci out of friendship and belief, never with an eye on his pockets.
But Nut wasn't around to witness the success he envisioned from the very beginning. "He passed away right after I dropped my first mixtapes," Lucci says. It's the sort of loss that's impossible to shake, because the kind of energy and empathy Nut provided are impossible to replace. "I look at it like that's another angel for me, helping guide me through," Lucci says of his efforts to keep a positive outlook in the face of Nut's death. "That's your angel in your corner." In a truly heart-wrenching tribute, Lucci made sure that the final song on the EP, the excellent "Testimony," featured Boosie BadAzz, long Nut's favorite rapper. Though he wasn't here to witness the collaboration, Lucci trusts that Nut is looking down, smiling, and nodding his head. 
There's no doubt that rap's mainstream has a short attention span, and that the whims of the listening public can change seemingly without warning. But YFN Lucci is well on his way to establishing a fan-base, and a catalog, that is impervious to the shifting sands. His brand of radical honesty is sure to lure in a core of rabid listeners, the type who are unlikely to abandon him as long as he's in the studio, putting in the necessary work. While he's fluent in the styles and sounds that are en vogue at rap radio today, they're merely a couple of strategies in a vast and ever-expanding arsenal. No matter what happens in music over the next decade, Lucci will be able to do more than simply adapt—he'll be able to thrive. 
"I just wanna show the kids—and everybody really—that just because you're born somewhere doesn't mean you've gotta be stuck where you're at." Then, after a short pause, as if taking stock of everything that's happened over the past few years—setbacks and successes, funerals and celebrations—he puts an even finer point on things: "If you've got dreams, shoot for them. Dreams come true."