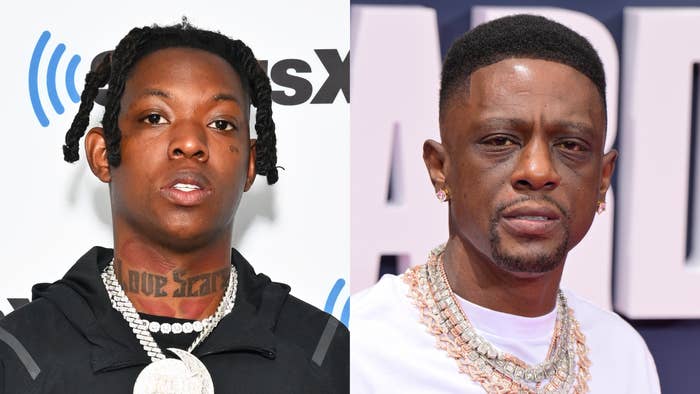 The relationship between Boosie Badazz and Yung Bleu has taken another left turn after they went back and forth on social media over a contract dispute this weekend.
On Sunday, Boosie took aim at Bleu on Instagram after he saw the 29-year-old showing off a bag of $1 million that he likely collected from his Love Scars tour. The Badazz Music Syndicate boss wasn't happy with Yung Bleu's video as they've been on opposite sides of a contract dispute for a year now.
"N THIS N***A STILL DONT WANNA PAY ME!! AT THIS POINT HE PLAYING ME LIKE IM JUST A BITCH ASS N***A [okay fingers emoji]," Boosie wrote on IG.
Yung Bleu got word of Boosie's diatribe and offered a lengthy response in a since-deleted tweet on X, formerly known as Twitter. According to Bleu, Boosie is demanding $10 million but is also a "snake" because he didn't honor their contract or invest much into the young star's career.
The rapper-singer also claimed he offered Boosie Badazz $2 million, the publishing rights to his mixtape catalog, 50 percent of his new material, but Boosie wasn't having it and dragged him in public.
Additionally, Bleu claimed he's not the only artist who suffered on Badazz Music Syndicate and that some of the label's current signees privately complain to him.
"He not a yo gotti!" Bleu wrote. "N***a [want] 10 million for not investing 1 dollar. Yo brother put up money! I gave u my whole first deal funds. 100k off the love and the rights to all my mixtape shit. And 50% split. And offered u 2 million."
He added, "Roc Nation told me I was stupid for letting u have all that when I coulda walked away from the contract it was VOID! And his old artist and the ones on side of em they write me every day complaining but scared to speak up."
Boosie Badazz wasn't going to take Bleu's tweets lying down and proceeded to conjure up a lengthy response on his end where he called his former artist "Mr. Ungrateful" and also claimed he took care of him by giving him chains and mink coats to wear on tour.
"N***a u big cap … u have a lying disease. You so stupid everything u got I gave to u whether through [Boosie's brother] TQ [or] whether u was asking me for it. Yo promotion came from by bank account clown!" he wrote in an iPhone Note shared on Instagram.
He added, "You go do a deal for 5 mill [and] forge my signature [and] don't tell me nothing #snake then wait till I get shot [and] bring me 100k on Instagram [and] say this for being my CEO but still never tell me about a deal[.] Guess your conscience was eating u up #snake."
Boosie continued calling Bleu a liar and said that karma would catch up to him. He also claimed no one knew who Yung Bleu was before he came into the picture.
"They playing u like a duck," Boosie said. "The whole world knew u was my artist. Me singing yo songs [and] sending them viral what got yo songs hot clown … U mad at yourself for what u did cause you know u ain't have to do that to me. Go get it tatted #MrUngrateful."
Check out more of Boosie Badazz and Yung Bleu's public argument below.