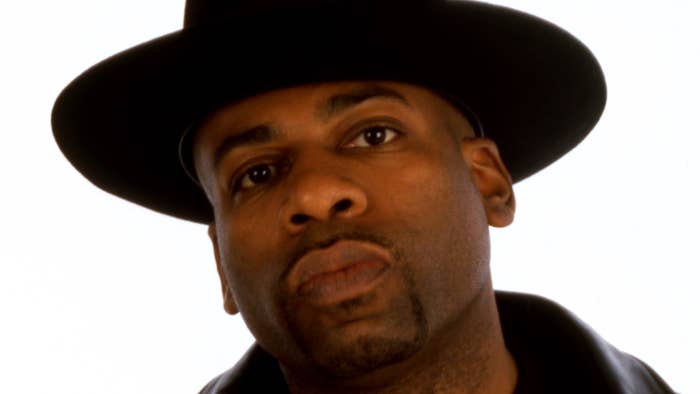 Another man was charged with murder in the 2002 killing of the legendary DJ Jam Master Jay, which brings the number of people accused in the slaying to three, according to the New York Times.
Prosecutors stated the man, named Jay Bryant, 49, was already in custody awaiting trial for a separate drug-related case when he was charged. The charges related to the Run DMC member's death include murder while engaged in narcotics trafficking and other drug trafficking counts.
"Securing an indictment in a secret grand jury, applying an extremely low burden of proof, is one thing. Proving it at trial is another matter," Bryant's lawyer, César de Castro, said.
In August 2020, Karl Jordan Jr., 39, and Ronald Washington, 59, were charged with murder relating to Jam Master Jay's death, and authorities believed the fatal shooting resulted from a cocaine deal that went awry.
Prosecutors stated Jordan and Washington "executed" Jay after he planned to exclude them from "a multi-kilogram, multistate narcotics transaction." Court papers also stated in July 2002 — months before he was killed — Jam Master Jay received about 10 kilograms of cocaine "on consignment" from a connect in Maryland.
Washington and Jordan were supposed to have been involved in the deal, but after an argument, the DJ threatened to cut them out. According to court filings, Bryant entered Jay's recording studio in Queens, New York, with Washington and Jordan on October 20, 2002.
Washington had pointed a gun at another person in the studio and told them to lie on the floor while Jordan approached Jam Master Jay and fired two shots at him at close range. One of the shots was to the head and killed him.
The indictment also stated that Bryant was seen entering the building right before the shooting occurred, and authorities found clothing with his DNA on it at the scene. Bryant later admitted to participating in the murder and even told someone that he was the shooter. However, prosecutors weren't buying it and said Jordan was responsible for firing the shot that killed the hip-hop pioneer.
Jordan and Washington have pleaded not guilty and are scheduled for trial in January 2024. According to his lawyer, Bryant will also plead not guilty and is waiting for arraignment.