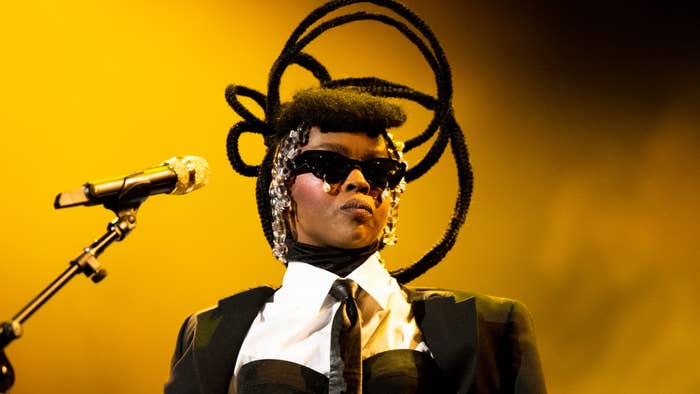 Lauryn Hill's name was back in the headlines recently after comments she made about showing up on time. During the Los Angeles, California, stop on her tour celebrating the 25th anniversary of her debut album, The Miseducation of Lauryn Hill, Ms. Hill was a bit tardy to her show. She addressed her lateness while also making some head-turning remarks about what happened regarding her seemingly mythical sophomore album.
According to Hill, fans are "lucky" she made it on the "blood ras stage" that night, and God "allows" her to perform while putting "family and community" around her when she said there was no "support." The 48-year-old also claimed no one approached her to make a follow-up to her solo debut.
For years, fans had a complicated relationship with the singer as she would constantly be late to shows and deliver lackluster performances. It didn't help that she also periodically released music in the form of singles. All that combined turned Hill, one of music's biggest stars, into an industry enigma. Following the earth-shattering success of her only solo studio album, how did we end up here?
Hill was on top of the music world when she dropped her solo debut. Released in 1998, Miseducation debuted at No. 1 and sold 422,000 copies in its first week (the most for any female artist at the time). It also won five Grammys, three American Music Awards, and a Billboard, Soul Train and MTV Video Music Award.
Doors were opening left and right for Hill, from movie deals to magazine covers, and more. Not only was she becoming a global icon, but she seemed like the perfect artist to lead us into the 21st century. But things went downhill. How can someone who had an incredible run as a member of The Fugees break out on her own, sell 30 million albums of her solo debut, only to leave the spotlight and become one of the music industry's most perplexing figures?
How did Lauryn Hill break into the music industry?
When she was a freshman at Columbia High School in New Jersey, Hill met Pras Michel and later Wyclef Jean, Pras' cousin. The collective became officially known as The Fugees. While performing at local showcases and talent shows, Hill also added to her acting résumé, starring in roles on As The World Turns and Sister Act 2: Back in the Habit. She left Hollywood behind to enroll at Columbia University in New York City in 1993.
A year later, The Fugees released their debut album, Blunted on Reality, in 1994, but it flopped and was panned by critics. Things changed two years later when the group released their sophomore album, The Score. Fueled by smash singles like "Ready or Not" and "Killing Me Softly," the album peaked at No. 1 on the Billboard 200 chart and stayed in the top 10 for half a year. The Score sold 7 million copies in the United States, over 20 million worldwide, and won two Grammys. The success didn't last long, though, as friction between the members caused the group to split in 1997, a year after The Score was released.
What was Lauryn Hill's role in the breakup of The Fugees?
According to an article by Rolling Stone, Pras said things began to change once Wyclef began working on his solo album. Clef received support from his labelmates but allegedly didn't show the same effort when it came to Hill's solo music.
To make things more complicated, Hill and Wyclef dated while in the group. He blamed the Fugees' breakup on their tumultuous relationship. To give a scope on how messy their relationship was, Wyclef married his wife Marie Claudinette while still dating Hill in 1994. Their competitive natures also played a role in the friction as a source told Rolling Stone that the two competed to see who was better, and Hill was determined to show out on her debut album.
What was the controversy behind Lauryn Hill's debut album?
The Miseducation of Lauryn Hill is regarded as one of the greatest albums of all time. The inspiration for the album came from Hill dealing with the fallout from The Fugees breakup, her relationship with Wyclef, dating Rohan Marley and having his baby, and other life experiences. Hill put all those issues on wax for the world to hear.
She recorded the album first in 1997 in New York City before completing it a year later at the legendary Tuff Gong Studios in Kingston, Jamaica. While in Kingston, Hill linked up with four musicians who called themselves New Ark and worked together on the album. When Miseducation was released, the linear notes credited Hill with producing, writing, and arranging the whole thing.
New Ark filed a 50-page lawsuit against Hill, her label Columbia Records, and management, stating she "used their songs and production skills but failed to properly credit them for the work." She claimed New Ark was trying to take advantage of her popularity but eventually settled and paid the four men $5 million.
What happened to Lauryn Hill in the aftermath of the lawsuit over credits on Miseducation?
Hill's life drastically changed after settling with New Ark. She began to trust people less and also sought a closer connection with her spirituality. She dipped out of the public eye as the pressures of being a celebrity and fame began to take a toll on her. She met a man named Brother Anthony, who greatly impacted her life, inspiring her to go to bible study, turn away from the celebrity lifestyle, and speak highly of religious figures.
According to Rolling Stone, many felt Hill's relationship with Anthony was bizarre. Pras said the man was on "some real cult shit." A friend of Hill even stated, "His whole demeanor was real possessive, aggressive and crooked to me. You know how people are slick? He's a quick talker."
After a brief hiatus, Hill returned in 2001 with an MTV Unplugged performance that was later released as a live album the following year. The project didn't receive the praise that Miseducation did, as fans and critics alike were divided on Hill's musical output at the time. She abandoned the hip-hop/neo-soul vibes on her debut for a more acoustic folk and soul sound while reflecting on her personal and artistic struggles in spoken interludes on the live album.
In an interview 2013, Hill said of her time following her debut, "The wild thing is no one from my label has ever called me and asked how can we help you make another album, EVER…EVER. Did I say ever? Ever! With the Miseducation, there was no precedent. I was, for the most part, free to explore, experiment and express. After the Miseducation, there were scores of tentacled obstructionists, politics, repressing agendas, unrealistic expectations, and saboteurs EVERYWHERE. People had included me in their own narratives of THEIR successes as it pertained to my album, and if this contradicted my experience, I was considered an enemy."
Since then, Hill's musical output has been close to nonexistent. In 2003, Hill was supposedly working on her sophomore album. Columbia reportedly coughed up $2.5 million to fund it, building a studio in her Miami apartment and purchasing flights and rooms for various artists to help with the album. However, Columbia allegedly pulled the plug financially as the artists that flew out spent most of their time in their hotels due to getting calls from Hill's team that they would "start tomorrow." The artists were eventually sent home, and no album came out.
A source told Rolling Stone at the time, "[Lauryn Hill] couldn't drive half a mile to the studio. Columbia bent over backwards for her, in pure self-interest, and I think they still believe in her, but you can't abuse the system like that. You can't do that." Other sources stated that when the musicians asked how they would get paid for their contributions to the album, Hill told them, "Do it for God," pretty much telling them to work for free.
Since then, Hill has released singles sporadically, spent time in prison for tax evasion, changed her look several times, and gone on several tours, including a comeback with The Fugees that was later canceled due to animosity between the members and the singer reportedly demanding everyone on the tour refer to her as Ms. Hill. Additionally, Hill was often late, a habit she would keep up throughout the mid-2000s to now at her shows.
Why was Lauryn Hill showing up late to shows?
By 2007, Hill was doing solo shows that received mostly mixed reviews for several reasons, such as performing unheard renditions of her songs, wearing eccentric attire, and her latenesses. Hill's tardiness ranged from several minutes to two whole hours. Hill addressed her lateness during shows in a Facebook post from 2016, stating it's not because she doesn't care about her fans or the music. According to Hill, it's a matter of her embracing the right energy to give the best show that she can.
"I don't show up late to shows because I don't care," she wrote. "And I have nothing but Love and respect for my fans. The challenge is aligning my energy with the time, taking something that isn't easily classified or contained, and trying to make it available for others. I don't have an on/off switch."
She added, "I am at my best when I am open, rested, sensitive and liberated to express myself as truthfully as possible. For every performance that I've arrived to late, there have been countless others where I've performed in excess of two hours, beyond what I am contracted to do, pouring everything out on the stage."
It's imporant to note that some of her shows were also canceled due to health issues, like when she passed out during a show in Europe in 2009.
How has social media responded to Lauryn Hill today?
Lauryn Hill has developed a reputation on social media that sharply contrasts how she was celebrated in the '90s. She's become known as an artist who just doesn't care and whose self-interest is more important than anything else. The jokes and memes that people have made about her tardiness and being a diva have only fueled this image of herself.
However, some still stand by Hill and have no problem waiting to see the artist at work, given how rarely she performs or releases music. In her 2016 Facebook post, Hill stated that even though she shows up late there are fans who wait even longer to meet her after the show.
"What hasn't been touched upon by the media, I'm sure, are the hundreds of people who rushed the stage and stayed in excess of an hour after the show ended last night, just to connect," she wrote. "Our challenge is to figure out the best way to accommodate the vitality, spontaneity, and spirit that make the performances worthwhile and special to begin with, while also making that experience available and accessible to others. If I didn't Love and respect the art, I wouldn't be doing this. The audience and I should have that in common."
Things have seemingly gone well on this current tour for the 25th anniversary of Hill's debut album. Besides her lateness, Hill has been delivering a quality show for fans and even tapped Wyclef and Pras to join her on the tour to celebrate the legacy of The Fugees as well. But as history has shown, anything can happen with Lauryn Hill.