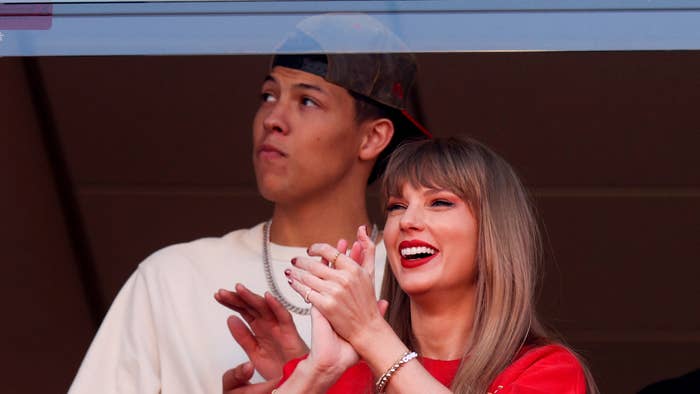 Well, it was only a matter of time.
Taylor Swift once again attended a Kansas Chiefs game, where she finally crossed paths with Patrick Mahomes' controversial little brother, Jackson Mahomes. As one might expect, Swifties and casuals alike had a lot to say about the world's biggest pop star cavorting with one of the football world's most polarizing figures,
Throughout the game, cameras caught Swift partying it up with Patrick Mahomes' wife Brittany, with Jackson hanging out just behind them.
Jackson has long been a target for people on social media for what's deemed as the cheesy, desperate nature of his TikTok videos, and his general dorky disposition. So it was no surprise that people immediately cringed when Swift and Jackson were seen yukking it up during the game.
Jackson's recent legal troubles didn't help, either.
In May of this year, Jackson was arrested and charged with three felony counts of aggravated sexual battery and one misdemeanor count of battery after an incident at a restaurant where he forcibly kissed a woman and assaulted a waiter. The incident was caught on surveillance video, and the Chiefs QB's younger brother has been even more of a pariah ever since.
Given the fact that Swift is a sexual assault victim herself, and is a voice for those affected by it, people were quick to buck against what they were seeing on television.
Check out some reactions to the unlikely pairing below.