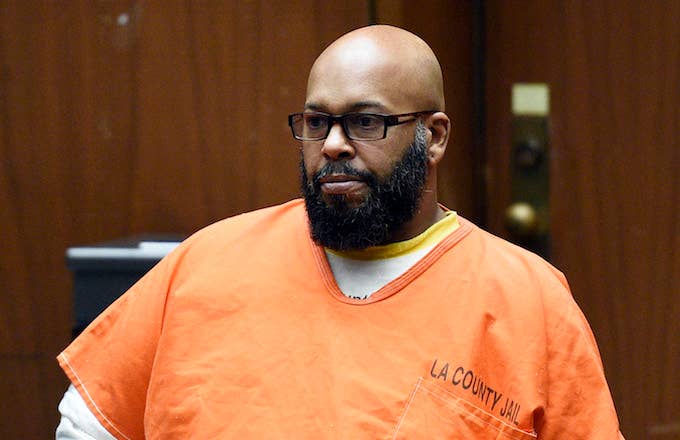 Suge Knight has claimed Dr. Dre was not responsible for producing Snoop Dogg's album Doggystyle or 2Pac's "California Love."
During a conversation with TMZ from a California state penitentiary, Knight made the bold statement that the legendary producer wasn't the one behind the boards on some of Death Row Records' most popular records. Instead, Daz Dillinger — Dogg Pound rapper and producer who is also Snoop's cousin — was the actual architect.
"What's so great about Daz is, this guy, I went to and said, 'We gotta finish the album,'" Suge told TMZ during the jail call. "He did the whole — he did everything on Doggystyle. By himself. The whole album was done. He did everything. He produced it." 
According to Suge, Dr. Dre was the bigger draw by popular opinion, and knowing that caused the Compton native to insert himself into the conversation. Dre allegedly spoke to Daz and convinced him to let him be the main producer. 
"So when it was time to come out, the streets said, well, they want Andre [Dr. Dre] to be on it," Suge added. "And Andre said, 'I want to be on there.' So Andre went to Daz and said, 'Look man, let me say it was produced by me, and put my name on it. You'll get paid, but let me be the one who produced it.
"So I told Daz, 'That's something he wanted to do. I don't recommend it, because you're the one who produced it, and you're giving up your publishing.' So, Daz signed paperwork, and said it was produced by Dre."
With "California Love," Suge Knight claimed Dr. Dre and 2Pac never directly worked with each other in the studio for the song. The reason was that Dre and Pac allegedly "hated" each other. 
"'Pac and Dre was never in the studio together," he said. "They wasn't in the studio doing 'California Love.' They hated each other. That simple."
Earlier this month, Daz Dillinger revealed to the Home Grown Radio podcast that he strong-armed Suge Knight at the Death Row office for a $2.5 million check while on shrooms in 1997. According to Dillinger, the discrepancy began with him being owed money in connection with the Sunset Park soundtrack-featured track "Just Doggin" and he went to Suge armed with "one of those big, long Diesel screwdrivers." 
"We went up there to get that money and they was playing with the money. … Suge walked into the office and the way his eyes were looking, he was gon' do something to me," Dillinger said toward the end of the interview below. "So he put his arm around me and I put my arms around him, like this [and said] 'I'm gonna stick you.' He's like, 'Hold on, Daz. Let's go in the office.' And I walked out of there with 2.5 [million]."