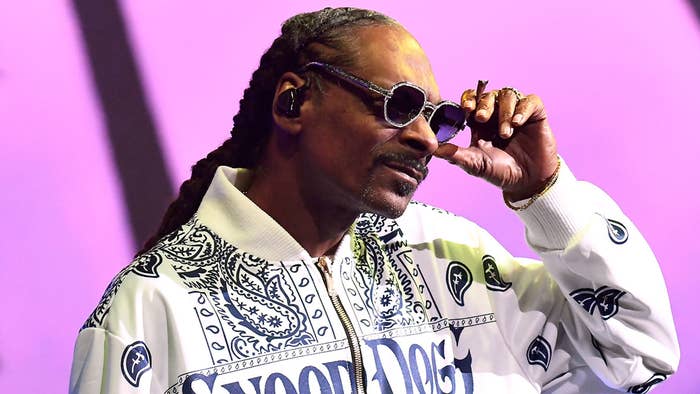 Snoop Dogg has revealed he's terrified of horses on the latest episode of Double G News.
In the episode, which was filmed in 2020 but released last week, the Doggfather made it clear that he's not a fan of horses after his special guest Tiffany Haddish explained how she wanted to be a horse farmer.
"I'm scared of horses," Snoop Dogg stated. "To this day, Tiff. I don't know why I'm just fucking scared of them."
He continued after Haddish asked if he was telling the truth, "I'm so serious. You ain't never seen me in a scene with a horse. I done been in a scene with ostriches, iguanas, all kinds of shit. N****s ain't never been in a scene with a horse. N***a get that muthafucka away from me. I don't know why."
Tiffany Haddish said that Snoop might've fallen off a horse in a past life, and the Long Beach legend agreed by saying, "I think I may have been the Headless Horseman or some muthafuckin' body."
Snoop also revealed that his wife once owned a horse and he kept very far away from it: "I ain't finna go meet this n***a, 'cause I don't fuck with horses."
He continued, "Maybe one day somebody can introduce me to a baby horse. A little jackass or something I can learn how to be around you muthafuckas."
While hanging out with baby horses may help him get over his fear of much bigger ones, Snoop was recently motivated to get back in the gym and go harder than before. During an episode of Club Shay Shay, special guest Stephen A. Smith made a joke about Snoop's lean physique, and the 51-year-old took to Instagram to let people know he won't be lean forever.
"@stephenasmith @shannonsharpe84 I'm getting my weight up so when I come on the show will talk about 🏋️‍♀️" he wrote. "Thanks 4 the motivation."