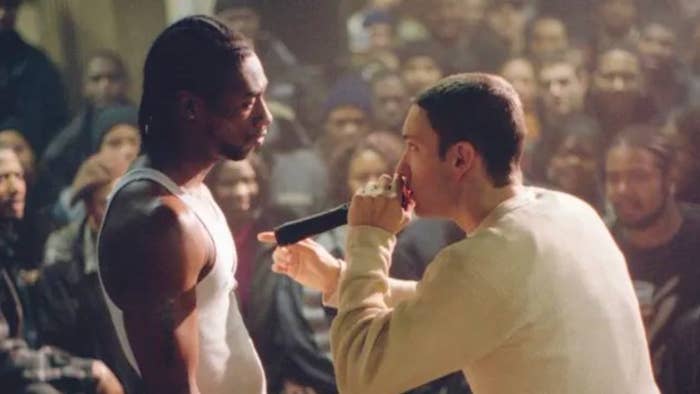 Nashawn Breedlove, the actor who faced off against Eminem at the end of 8 Mile, has died.
A family member confirmed to TMZ that Breedlove died in his sleep in his New Jersey home on Sunday at age 46. There is no word on his cause of death.
Rapper Mickey Factz was one of the first people to pay tribute to Breedlove with an Instagram post that remembered the rapper for his "tenacity" and "aggressiveness."
Breedlove's mother also mourned his death on Facebook, writing at one point, "Nashawn was a rapper, singer, songwriter, and actor. No one could deny his talent. Nashawn's departure from this world has left an immense void in my life, one that words cannot fully express. I can't put into words the pain and hurt that I feel. He was not just my son; he was a remarkable man whose character and strength inspired all who crossed his path."
The 46-year-old starred in 8 Mile as Lotto, the battle rapper who took on Eminem's character B-Rabbit in the iconic freestyle competition at the end. In the film, Lotto is a member of the rap group The Free World, B-Rabbit's rivals.
One of his most famous lines is when he says he's "gotta murder that dude from Leave it to Beaver," which causes the audience to erupt in cheers. However, B-Rabbit destroys Lotto with a freestyle over the instrumental to Mobb Deep's "Shook Ones, Part II."
Before getting the role as Lotto, Breedlove was a rapper known as OX. He was featured on the soundtrack of the 2001 cult classic The Wash, starring Snoop Dogg and Dr. Dre.