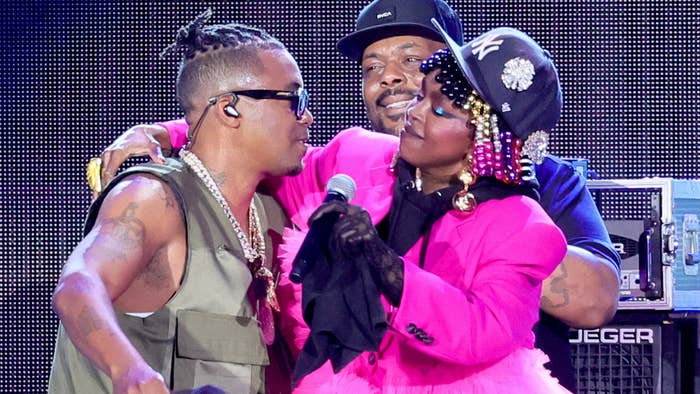 Nas took fans down memory lane at Mass Appeal's Hip Hop 50 Live concert when Ms. Lauryn Hill joined him on stage at Yankee Stadium on Friday night.
Esco took the stage on Friday in front of over 50,000 fans as he performed a medley of his classic hits. Toward the end of his set, the Queensbridge rapper spoke to the crowd before L. Boogie took the stage.
"Right now I feel like I'm in the only place I should be. Since '73, Hip Hop was born for you and me," Nas said before welcoming Hill in front of the raucous crowd as she performed "Nobody."
Nas and Hill then went into a rendition of their classic song "If I Ruled The World" off the rapper's It Was Written album. Lauryn Hill also performed "Ready or Not," "Doo Wop (That Thing)," "Killing Me Softly With His Song" and "Fu-Gee-La."
The Illmatic rapper also brought out Kool G Rap as a special guest while promising to bring the tribute concert back to Yankee Stadium in 2024. Other performers at Hip Hop 50 Live included members of the Wu-Tang Clan, Snoop Dogg, Lil Wayne, Ice Cube, Fat Joe, Lupe Fiasco, Eve, Lil Kim, Remy Ma and Trina.
Nas was recently honored by Billboard and inducted into the outlet's Hip-Hop Hall of Fame with Lil Wayne at a special celebration last week. According to Nas, the moment was special as he did the most he could to stay away from award shows but found a way to finally appreciate them.
"I didn't get into it for awards; we got into it because we love the artform," he said. "50 years of Hip Hop. 50 years of Hip Hop saluting some of the pioneers who inspired me…since DJ Mr. Magic started rap radio, since Marley Marl and Red Alert made us record mixtapes of our own when this shit was underground."
He continued: "From seeing it from back then, I'm just so honored to still be alive to see it be 50 years as a fan. So I want to thank you all for getting awards at 49, not when I was 29. But I appreciate you. I ain't gonna lie, I stayed away from award shows back then, I thought that shit was the devil … But it ain't. You make it what it is."