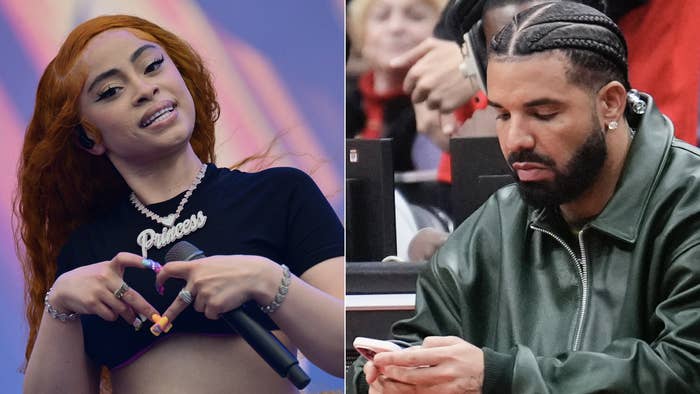 Ice Spice has revealed Drake is one of the biggest coaches she has in her corner, despite fans initially believing the 6 God was trying to make a move on her last year.
During her new conversation with Zane Lowe on Apple Music 1, the 23-year-old broke down her connection with the Her Loss rapper and revealed he's somewhat of a coach who she can ask for advice and bounce ideas around with. According to Ice, she and Drake talk consistently, and he always offers some great tips on how she should move through the music industry.
"We talk all the time, and we're always just laughing about some things that go on," Ice Spice said. "And I'll ask him, 'What should I do with this? Or how'd you go about this? Or did you ever experience that?' And he'll...I'm not going to give real examples, but...he'll tell me, 'I did this and you should do that too, because you can.' And I'll be like, 'You're right. Period. I'm going to do that.' It's like coach vibes."
Her explanation of that relationship with Drake starkly contrasts what fans believed when he allegedly flew her out to OVO Fest last summer. Rumors started to fly when Drizzy played "Munch (Feelin' U)" along with several other Ice Spice tracks during an episode of his radio show last year, and he started following the young star on Instagram.
The "In Ha Mood" rapper did in fact pop up at OVO Fest and was spotted hanging out with Drake and his team, which led more people to assume he was trying to make a move. Fans got even wilder with their assumptions once they saw Drake unfollowed Ice Spice on IG.
All those rumors were false, though, as Ice Spice told Rap Caviar last fall about the Canadian meet-up and what it was actually like hanging out with Drake. According to Spice, Drizzy was "nice" and "respectful," while adding that watching him perform in Toronto for the first time in a few years was incredible.
"When Drake DM'd me, I did not really expect that," Spice said in September 2022. "I had just landed in L.A. for my Genius Open Mic for 'Munch,' and he was actually like, 'Yo, 'Munch' is hard and your 'On the Radar' freestyle is hard.' And I was like, 'Damn, that's crazy because I'm really in L.A. about to shoot the Open Mic.'"
She added, "Linking up with him was so cool. Like, he's mad nice and respectful. ... So [OVO Fest] was just a movie, everybody was excited. The energy was high. Nicki [Minaj] performed, it was lit. [Lil] Wayne did his thing. That shit was crazy."
Catch more of Zane Lowe and Ice Spice's conversation on Apple Music.