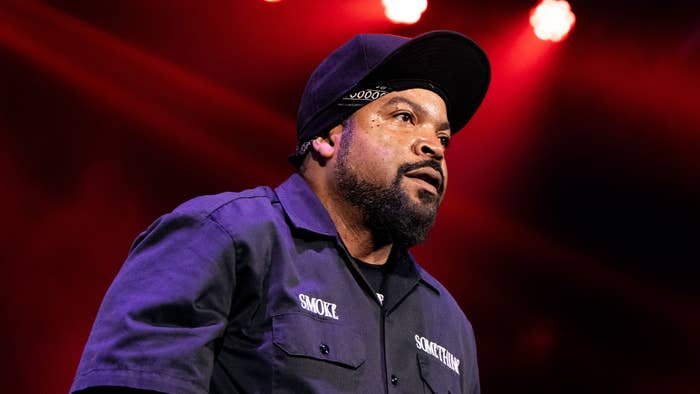 Ice Cube has revealed his iconic N.W.A diss track "No Vaseline" was something he had to get off his chest instead of just being an incredible lyrical assault.
On Monday, the West Coast rap legend took part in a Q&A session on X, formerly known as Twitter, and two questions that stood out reflected on his time with his group N.W.A. One person had asked Cube if his diss track "No Vaseline" was his "favorite lyrical accomplishment," and he claimed that wasn't the point of making the record.
"No. It was something I had to do," Cube wrote. Another fan asked the 54-year-old if N.W.A was created to "destroy" conscious rap, which had been bubbling at the time, and he replied, "No. N.W.A started out as a straight underground rap group with no expectations of commercial success. Fans and the media turns us into a mainstream juggernaut."
N.W.A was formed in 1987, consisting of Arabian Prince, Dr. Dre, Eazy-E, Ice Cube, DJ Yella, and MC Ren. Arabian Prince left the group when they dropped their debut album, Straight Outta Compton, and rose to superstardom.
Ice Cube left the group in 1989 over concerns with how the group was being managed alongside several royalty disputes. He went solo and released his debut AmeriKKKa's Most Wanted, where he made zero references to his former bandmates.
However, N.W.A dissed Cube on various songs such as "100 Miles and Runnin'" and "Real N***az." Cube referenced the group on the song "Jackin' for Beats," but the most vicious blow came on the song "No Vaseline" off his second studio album, Death Certificate.
In that song, Cube completely eviscerated his former group with several graphic lines aimed at the members, including, "You lookin' like straight bozos / I saw it comin' that's why I went solo / Kept on stompin' / When y'all Muthafuckas moved Straight outta Compton / You got jealous when I got my own company / But I'm a man, and ain't nobody humpin' me."
He also aimed at the group's manager, Jerry Heller, rapping, "Get rid of that devil real simple / Put a bullet in his temple / Cuz you can't be the 'Niggaz 4 Life' crew / With a white Jew tellin' you what to do."
The song was controversial and added another ugly chapter to the beef between Ice Cube and N.W.A. Eazy-E passed away in 1995, long before the members of the group managed to bury the hatchet. In 2015, they released their biopic Straight Outta Compton and were inducted into the Rock N' Roll Hall of Fame the following year.